Negative Rate Experiment in Denmark Seen Stretching to 2015
Peter Levring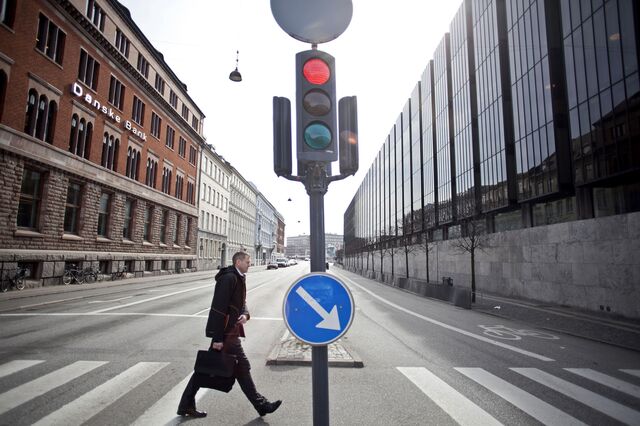 Economists at Denmark's biggest banks predict the nation's benchmark interest rate, which has been negative since July 2012, won't climb over zero until 2015 marking an historic experiment with extreme monetary policy.
Copenhagen-based Nationalbanken, which uses rates together with currency reserves to defend the krone's peg to the euro, will be anchored in sub-zero territory by crisis measures taken by the European Central Bank, according to economists at Danske Bank A/S, Sydbank A/S and the Danish unit of Svenska Handelsbanken AB. Jyske Bank A/S and Nordea Bank AB see negative rates until the end of next year.
How such a policy affects an economy is under renewed scrutiny as the ECB signals it's ready to consider similar measures to revive growth in the euro area. In Denmark, a stable AAA-rated economy, the central bank has struggled to counter an investor influx that threatened its euro peg, resorting to negative rates after building up a record 514 billion kroner ($93 billion) in currency reserves last year.
"If the ECB cuts its deposit rate, Denmark will go even lower to protect the peg," Jacob Graven, the chief economist at Sydbank A/S and a former researcher at the central bank, said in an interview. "It's what the central bank needs to do to defend the krone."
Crisis Lessons
Since taking monetary policy to the brink, the central bank in Copenhagen has had fewer tools to work with in its efforts to defend the euro peg. The bank on Nov. 7 held its lending rate at 0.2 percent, following a quarter-point cut by the ECB to 0.25 percent the same day. It was the first time since October 2008 that Denmark didn't follow an ECB move with a change in rates.
Denmark's deposit rate is minus 0.1 percent, compared with zero at the ECB. The Danish central bank doesn't hold scheduled meetings.
While commercial banks have only placed 145 billion kroner in the central bank's deposit facility, the negative benchmark rate has dragged down the much larger krone money market, which has a daily turnover of about 140 billion kroner. Short-term Danish government debt also carries negative rates, with 91-day bills auctioned today at a yield of minus 0.17 percent. Bills due in 182 days were auctioned at a yield of minus 0.13 percent today, the central bank said.
Costly Policy
Though Danish banks stopped short of charging their clients to hold deposits, for fear of losing customers, lenders elsewhere did. State Street Corp. and Bank of New York Mellon Corp., two of the world's biggest custody banks, revealed last year they were charging clients for Danish krone deposits.
"It's costly for banks," Niels Roenholt, a senior economist and vice president for economic research at Jyske Bank, said in an interview. "They have problems increasing rate margins."
It's also proving a disincentive to save in a nation that is home to the world's most indebted consumers, according to figures provided by the Organization for Economic Cooperation and Development. Danish households owe their creditors 321 percent of their disposable incomes, the OECD estimates. Though partly offset by pensions and home equity, the central bank and the International Monetary Fund have warned those assets may be hard to tap when markets are squeezed.
To ease the cost of negative rates to the financial system, Denmark's central bank has expanded a current account facility that pays a zero return. Even with the extra facility, Danish bank interest rate margins -- the difference between deposit and lending rates -- shrank in October to the lowest since January 2012, according to central bank data.
No Limit
Central bank Governor Lars Rohde said in May there's no limit to how much he's willing to cut Denmark's deposit rate to defend the krone peg. The lending rate can't drop below zero, he said.
Denmark's currency reserves were 491 billion kroner in October. Though the buffer has eased since 2012, current reserve levels dwarf the central bank's average holding of 189 billion kroner between December 2000 and the end of 2007, according to data compiled by Bloomberg. Rohde said last month the 2008 crisis taught the bank to keep reserves "high."
The bank will only raise its deposit rate, which became Denmark's main tool for steering the exchange rate in 2009, if demand for kroner abates and weakens the currency beyond its targeted 7.46038 against the euro, according to Nordea.
Normalizing Policy
That may happen in late 2014, Jan Storup Nielsen, Nordea's senior economist in Copenhagen, said in an interview. Danske economist Jens Naervig Petersen, Handelsbanken's chief economist in Copenhagen, Jes Asmussen, and Graven at Sydbank all say the deposit rate won't rise above zero until 2015.
The central bank's lending rate, which was Denmark's main tool for guiding the currency before the global financial crisis, won't be restored to its original role for the foreseeable future, according to Handelsbanken.
The shift will only occur once "monetary policies are returned to normal and central banks pull back the excess liquidity," Asmussen said. "That won't happen for years."
Before it's here, it's on the Bloomberg Terminal.
LEARN MORE