German Unemployment Rises Fourth Month in Uneven Recovery
Alessandro Speciale and Weixin Zha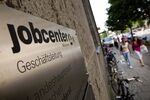 German unemployment rose for a fourth month in November, signaling an uneven recovery in Europe's largest economy.
The number of people out of work climbed a seasonally-adjusted 10,000 to 2.985 million, after gaining by a revised 3,000 in October, the Nuremberg-based Federal Labor Agency said today. Economists predicted no change, according to the median of 33 estimates in a Bloomberg News survey. The adjusted jobless rate was unchanged at 6.9 percent.
German companies are trying to extend an economic upswing against a backdrop of a fragile rebound in the euro area, the nation's biggest export market. At the same time, a planned minimum wage domestically threatens to push up costs.
"After the introduction of a minimum wage, it will be hard to squeeze additional positive effects out of the labor market," said Carsten Brzeski, an economist at ING Group NV in Brussels. "Today's numbers send a clear warning that the labor market has reached its natural rate of unemployment. To continue the current job-market miracle or start a new one, a minimum wage should be flanked by additional measures to create new jobs."
Coalition Deal
Chancellor Angela Merkel's Christian Democratic bloc yesterday struck a deal with the Social Democrats to form a coalition government, more than two months after she won national elections. The agreement, which must be approved by the SPD's membership, includes a national minimum wage and spending on pensions and infrastructure, while Merkel held firm on her refusal to raise taxes.
RWE AG, Germany's second-largest utility, said this month that it plans to cut about 10 percent of its workforce as earnings fall on a weaker outlook for power prices. MTU Aero Engines Holding AG said it will eliminate jobs and reduce costs to boost profitability
Germany is relying more on its home economy as the euro area struggles to sustain its nascent recovery. The country's third-quarter growth of 0.3 percent was entirely driven by domestic demand, led by capital investment and construction. Consumer confidence will rise next month to the highest level in more than six years, a survey by GfK SE showed yesterday.
Economists forecast that German gross domestic product will expand 0.4 percent in the final three months of this year, twice as much as their prediction for the euro area.
Unemployment climbed by 9,000 in western Germany this month and by 1,000 in the east of the country, today's report showed.
"We expect little change in the coming months," Frank-Juergen Weise, president of the Federal Labor Agency, said at a press conference in Nuremberg. "For the jobless, that means it will continue to to be difficult to find employment."
Before it's here, it's on the Bloomberg Terminal.
LEARN MORE