Miner Cameco Trains Canadian Aboriginals to Beat Shortage
Greg Quinn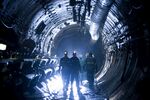 Phil Morin is in demand. Mining companies are recruiting worldwide to find skilled workers like him they need to develop projects in remote parts of Canada.
The problem, Morin says, is that they're hunting in the wrong place. They could more easily solve their shortage if they looked closer to home, hiring and training aboriginals like him, the industrial mechanic said.
Cameco Corp. hired Morin 13 years ago to drive a truck between uranium mines and mills in northern Saskatchewan. With company training, he now has certifications for industrial mechanics and electrical work. About half the company's 3,300 workforce at its Saskatchewan sites are natives, who are also known as First Nations or Indians.
"That opens a lot of doors not only for yourself but your family's future, your children's education," Morin, 41, who is also head of the local union, said in a phone interview. "I would love to see this grow right across Canada and to help with aboriginal people."
Cameco is implementing its policies of training and hiring aboriginal workers as the country prepares for C$650 billion ($616 billion) of resource development over the next decade. Projects including Enbridge Inc.'s Northern Gateway pipeline have faced resistance from local native groups seeking to win more benefits and prevent environmental damage. Cameco has addressed flooding it experienced at its Cigar Lake mine in 2006. Monitoring ensures that emissions from operations are "well below" allowable limits, according to the company's website.
Labor Practices
Cameco, the world's third-largest uranium miner, set targets for aboriginal hiring as part of labor practices established decades ago with original land-use agreements to open sites in northern Saskatchewan.
"Cameco has always been held up as a best practice" for other companies, Perry Bellegarde, chief of the Federation of Saskatchewan Indian Nations, said in a phone interview. "Why can't other companies model that?"
Aboriginals are a large potential labor pool with one of the youngest and fastest growing populations in Canada. The 1.4 million people represent 4.3 percent of the nation's population according to Statistics Canada. Their communities in many cases are the closest to projects in the resource-rich west and north.
While Saskatchewan had Canada's lowest jobless rate in October at 3.6 percent, unemployment among the province's aboriginals is higher -- with the Conference Board of Canada estimating it at 15.5 percent in 2011. If aboriginals were involved in the labor force at the same rate as the rest of the population, Saskatchewan's economy would grow by C$1.8 billion as locals filled 15,000 jobs and eased labor shortages, according to a September Conference Board study.
Foreign Workers
Canada has turned to foreigners to supply skilled labor, a practice criticized by unions and opposition lawmakers. Companies brought in about 213,600 temporary foreign workers in 2012, a 12 percent jump from the year before, according to the immigration department.
Instead of using out-of-province or foreign workers, other companies should follow Cameco's efforts to train aboriginals, said Mike Pulak, a United Steelworkers union organizer. "I have my battles with Cameco, but I think they do this very well," Pulak said by telephone from Saskatoon, Saskatchewan, where the company is based.
All of Cameco's entry-level staff in northern Saskatchewan are aboriginals and Cameco is focused on boosting the 30 percent of its skilled-trades employees drawn from the population, said Sean Willy, the company's director of corporate responsibility.
Building Skills
Keith Chartier has had success building his skills through the company. The 36-year-old has been with Cameco for 10 years since being hired as a summer student and has one year left on an industrial mechanic apprenticeship, work he estimates may pay him about C$120,000 a year when he finishes.
Chartier credited his seniority and Cameco's practice of seeking out aboriginals for his apprenticeship. The money he expects would be well above Canada's median earned income of C$30,000 reported in the last national household survey.
"We can train our own people, he said, and ''the wages are probably some of the best'' in Saskatchewan, Chartier said. Morin said workers who take night classes offered by the company can almost double their entry-level wage to as much as C$50 an hour.
One plus for hiring aboriginals is reduced turnover, an important consideration with Saskatchewan's workforce being raided by Alberta companies paying higher wages to develop the world's third-largest oil deposits.
Strong Loyalty
''Loyalty is number one," said Willy, himself an aboriginal. They won't be lured to Alberta oil sands companies "for higher wages because their family and friends are all working in the operations" here, he said.
Canada's nuclear regulator renewed the license for Cameco's Key Lake and two other operations last month after public hearings, and said it would look at the company's environmental performance in future reviews. Cameco has said a measure of work-related injuries fell to a record low last year and there have been no on-the-job deaths from 2009 to 2012.
A recent agreement Cameco signed was with the English River First Nation, a group of 1,400 people on seven reserves in northern Saskatchewan. The deal, which formalized C$600 million of jobs and other benefits over a decade, came after two years of negotiations with local officials. Some of the money will go into an independent trust for projects such as education and recreation controlled by the community, located near the company's Key Lake site.
Become Independent
"Without the investment I think we would be a poor community fighting with the government," Marie Black, English River First Nation's vice chief, said in a telephone interview. Cameco has worked with the community for decades and "what it has done is allow a lot of our community members to become independent" and move off social assistance, she said.
Aboriginal input, including talking with local elders, has generated better ways of running the business, Willy said. For example, the company improved its waste water disposal by installing diffusers on outlet pipes placed at the bottom of local lakes, a move that created less habitat disturbance, he said.
That cooperation contrasts with the strained relations between First Nations members and Prime Minister Stephen Harper's federal government. Stalled talks about resource sharing and poor living conditions sparked weeks of nationwide protests last year known as the Idle No More movement.
More Resistence
Since then, aboriginal leaders have vowed more resistance to major developments. Top federal officials met earlier this year with native leaders to attempt to build support for proposals such as Enbridge's Northern Gateway pipeline that would bring Alberta oil to the Pacific coast of British Columbia.
Enbridge has spent about C$180 million since 2009 on doing business with aboriginals through "project development and operations," and their employment on some projects has been as high as 35 percent, spokesman Graham White said by e-mail. "We are also engaged in and looking to increase our involvement in training for these groups," he said.
Other companies are also looking for ways to improve relations with First Nations communities. West Fraser Timber Co., North America's largest lumber producer, said the Vancouver-based company uses scholarships and forestry training to attract candidates though it doesn't have a "formal hiring policy" for aboriginals. "Like many other companies, we are looking to make more progress in this area," spokeswoman Tara Knight wrote in an e-mail.
Gold Producer
Agnico Eagle Mines Ltd., the fifth-biggest Canadian gold producer, says 32 percent of its workforce at a mine in Nunavut is drawn from local First Nations workers, according to spokesman Dale Coffin. The company also hires only aboriginals to train for driving its haul trucks.
Even if companies take steps to build training programs for aboriginals, Cameco's model may still be difficult for others to reproduce, aboriginal and union leaders said. Pulak of the Steelworkers union said Cameco set its goals before major investments began and it's harder to impose them afterward. Chartier said the political sensitivity around uranium production means Cameco has more incentive to be a good corporate citizen.
"I don't think other industries get that pressure," he said.
Renewal Hearings
At the hearings to renew Cameco's license, Sierra Club Canada said the mines should have been subject to a full environmental review. The Committee for Future Generations, a citizens group formed in 2011 opposed to nuclear waste being stored in Saskatchewan, said the company was creating health risks.
The Canadian Nuclear Safety Commission decision "to grant 10-year licenses for our McArthur River, Key Lake and Rabbit Lake sites reflects confidence in our safety and environmental performance," Rob Gereghty, manager of media relations for Cameco, said in an e-mail.
Aboriginal workers are ready to take on the work, and industrial mechanic Morin said he hopes that other companies make the effort to hire more.
"The opportunity is there," he said.
Before it's here, it's on the Bloomberg Terminal.
LEARN MORE