Mexico's Surprising Engineering Strength
The country's auto industry gets a boost from homegrown talent
By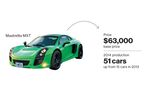 As global automakers pour billions of dollars into their Mexican factories, Marcos Perez is trying to make sure the nation's future goes beyond assembly lines. The head of product development at Ford Motor's Mexico unit, Perez has helped the company almost triple its local engineering staff, to nearly 1,000, since 2010. His engineers have filed for 40 U.S. patents in the last three years, including one for a low-cost crash protection system that boosts safety ratings without adding much weight or cost. "It's an inflection point," Perez says. "We used to be a simple-assembly kind of country, and we moved to a truly core manufacturing country, where most of our assembly plants are hitting record numbers on productivity, on quality, on cost. Now we are transitioning from Made in Mexico to Designed in Mexico."
In a cubicle at a Ford assembly plant on the outskirts of Mexico City, Gerardo Rodriguez, a 24-year-old mechanical engineer, is working on reducing noise in the Ford Fiesta, which is exported from the factory to the U.S., Canada, and Latin America. He participated in a Ford trainee program as an undergraduate at Universidad Iberoamericana and was hired two weeks before graduating. "I went into the program knowing almost nothing," he says. "I knew quite a lot by the time I started working here."
Mexico had 579,814 students enrolled in engineering programs in 2011, double the number five years earlier and more than Brazil or Germany, according to data from the United Nations Educational, Scientific, and Cultural Organization (Unesco). The country has almost 4.9 engineering students per 1,000 people, compared with 3.6 in the U.S. A Mexican company, Mastretta Cars, has used local engineers to design and build most of a high-powered sports car, the Mastretta MXT, which sells in Mexico and the U.S. for $63,000.
It typically takes 1.3 engineers in Mexico to do the work of one in the U.S., says Cary Leslie, Chrysler Group's director of engineering for Mexico. In part that's a function of experience: Engineers in Mexico have been on the job an average of about eight years, compared with 25 in Michigan. Labor costs including benefits for Mexican engineers are typically 40 percent of U.S. costs, according to Ford and Chrysler.
Automakers hiring engineers in Mexico are catching up to companies such as General Electric, which has about 1,600 engineers working in Querétaro on turbines to sell to makers of jet engines and power plants. Siemens has opened three engineering centers in Mexico in the last three years to work on electrical systems, according to Louise Goeser, chief executive officer at the company's Mexico and Central America unit.
More such jobs will open up routes to the middle class. Engineering graduates, the most sought-after by employers, usually make as much as 45 percent more than people with nontechnical degrees, according to the Mexico City office of Michael Page International, a recruitment company. "As that value chain expands, from manufacturing to suppliers, from manufacturing to research and development, you get a much broader, stronger economy," Goeser says.
Outside a few world-class companies and universities, Mexico has a long way to go to match educational levels in the U.S., Germany, and South Korea. Its 8.5 average years of schooling for people older than 25 is almost a year less than in Argentina and almost five years less than in the U.S., according to Unesco. With the exception of Chile, Mexico spends the smallest share of gross domestic product on research and development among the 34 countries in the Organisation for Economic Co-operation and Development.
The expansion of auto manufacturing could sharpen competition for the highly skilled, says Ricardo Haneine, an auto consultant with A.T. Kearney in Mexico City. "We can get a lot of low-level assembly workers, and we can train them with the basic skills," he says. "But if you go to more advanced technical skills, we don't have enough people."
Global automakers have announced $12.7 billion in Mexican investments over the last three years, according to the Center for Automotive Research in Ann Arbor, Mich. That includes a $2 billion Nissan Motor plant in Aguascalientes that opened in November, the company's third in Mexico. Honda Motor and Mazda Motor are opening factories in a nearby state next year, and Volkswagen's Audi is building a $1.3 billion plant east of Mexico City.
After gaining a few years' experience, engineers at a Delphi Automotive technical center in Ciudad Juárez, across the border from El Paso, have a similar skill level as those in developed countries, says Duane Collins, the center's director. About 1,300 engineers in Ciudad Juárez design engine parts, transmission components, fuel pumps, and electronics for use in auto factories around the world.
General Motors is increasing its emphasis on design in Mexico. About 400 of its 640 engineers in Toluca, 40 miles west of Mexico City, design components such as door panels, air conditioning systems, and noise reduction equipment, says David Rojas, head of GM's Toluca engineering operation. The city is also home to a Nissan technical center with almost 500 engineers and a Chrysler operation with 350.
The next step may be for Mexico to play a leading role in developing an entire vehicle for mass production, from the chassis to the body, says Juan Santillan, who oversees product-development engineering for the Ford Fiesta at its Cuautitlán plant. Santillan returned to Mexico in 2009 after spending nine years at Ford plants in Michigan, Japan, and Germany. "When I left Mexico, we were 60 or 70 engineers," he says of the product-development group. Now they have the critical mass to do something memorable—and Mexican.