GE Turns to 3D Printers for Plane Parts
The company is leading a push toward assembly-line printing
By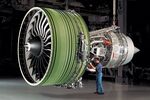 General Electric, on the hunt for ways to build more than 85,000 fuel nozzles for its new Leap jet engines, is making a big investment in 3D printing. Usually the nozzles are assembled from 20 different parts. Also known as additive manufacturing, 3D printing can create the units in one metal piece, through a successive layering of materials. The process is more efficient and can be used to create designs that can't be made using traditional techniques, GE says. The finished product is stronger and lighter than those made on the assembly line and can withstand the extreme temperatures (up to 2,400F) inside an engine. There's just one problem: Today's industrial 3D printers don't have enough capacity to handle GE's production needs, which require faster, higher-quality output at a lower cost.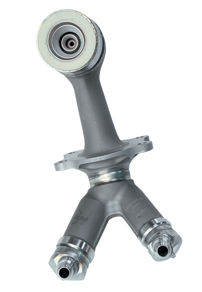 "With today's technology, it would take too many machines," as many as 60 to 70, to efficiently make the nozzles, says Greg Morris, business development leader for additive manufacturing at GE Aviation. Morris joined the aerospace company last year, as part of GE's acquisition of his 3D company, Morris Technologies. "We can start ramping up with the current generation of technology, but within two to three years we're going to have to be onto the next generation to meet our cost targets," he says. So GE is waiting for development of new printers with three to four times the capacity.
As part of a $3.5 billion investment in its aerospace supply chain, GE says it will spend tens of millions of dollars to invest in new technology and, over the next five years, triple the size of its 70-person 3D-printing staff and expand its factory floor fourfold. (The 85,000 nozzles are for engine orders that will enter full production in late 2015.)
The company's embrace of 3D printing throws the weight of the world's largest jet-engine maker behind a process invented in the 1980s to fabricate scale models. As the technology has advanced, 3D printing has evolved. Today, Boeing uses the process to make plastic air-conditioning ducts for its 787 Dreamliner jet, and Nike has a football cleat made on 3D printers. "[GE's] investment changes everything, and it's also unprecedented," says Terry Wohlers, president of 3D printing consulting company Wohlers Associates. The company's annual report tracking 3D technology estimates that the industry is poised to almost triple, to about $6 billion in sales, by 2017.
Sales of 3D printers and related services rose 29 percent in 2012, to $2.2 billion, according to Wohlers. They're on track to keep rising as GE, Siemens, and Rolls-Royce among others invest in industrial-grade systems capable of producing metal parts. Demand from the aerospace industry alone is driving huge growth, Credit Suisse Group said in a Sept. 17 note. That's creating opportunities for companies such as 3D Systems, the largest maker of 3D printers in the U.S. GE is testing equipment from the Rock Hill (S.C.)-based company, as well as from Concept Laser.
"We have an excellent relationship with GE at the highest levels, and we've been collaborating with them for several years now on a variety of additive manufacturing applications," says 3D Systems Chief Executive Officer Avi Reichental.
The stock price of 3D Systems has more than doubled this year through mid-November, while that of another major 3D printing player, Stratasys, has jumped 59 percent, beating the 27 percent advance for the Standard & Poor's 400 MidCap Index, to which they both belong.
Expanding 3D printing will give GE clout with device manufacturers, an opportunity to guide the growth of the industry. "There doesn't exist a supply chain out there right now for this kind of work," Morris says. "GE has to be involved in developing it."