Soccer World Cup Stadium Costs Soar by $435 Million in Brazil
Tariq Panja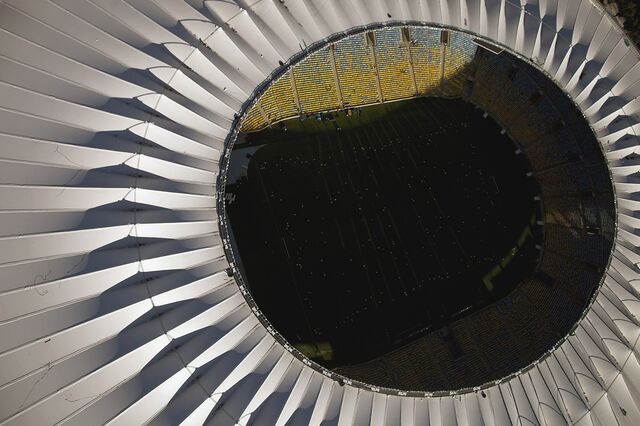 The cost of 12 stadiums being prepared for next year's soccer World Cup in Brazil has soared by almost 1 billion reais ($435 million), according to the government.
The increase was expected following delay and cost overruns at several venues. Soccer's governing body has demanded all the work be completed by next month, a deadline unlikely to be met in some cities.
The stadiums, a mix of newly built and remodeled arenas, will now cost 8 billion reais, according to official data published on the government's World Cup website. In December, when the last data were published, the costs were estimated at
7.03 billion reais. In 2010 the budget for stadiums was 5.3 billion reais, according to news website Terra.
Protestors have seized upon the cost of the World Cup, sport's most-watched event, and held street rallies during the Confederations Cup, a test for next year's main event. Demonstrators compared poor public health and education services with the new arenas built for soccer's showpiece.
The event's overall budget rose slightly to 25.8 billion reais, with a larger increase avoided after several urban mobility projects were scrapped.
Brasilia's 71,000-seat Estadio Nacional is the most costly venue, at 1.4 billion reais. It's being entirely funded by public money and its future use is uncertain as no major soccer team plays in the city. Since it opened, clubs including Rio de Janeiro-based Flamengo have relocated games there to attract higher-paying crowds.
Before it's here, it's on the Bloomberg Terminal.
LEARN MORE