German Parties Clash on Spending as They Agree on Minimum Wage
Patrick Donahue and Arne Delfs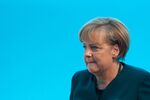 Chancellor Angela Merkel and the Social Democrats reached agreement on a nationwide minimum wage and pension increases amid discord on capping increased state spending.
SPD parliamentary group spokesman Hannes Schwarz said a minimum wage and retirement benefits had been agreed upon as Merkel, who defeated the SPD in elections on Sept. 22, met Social Democrat leaders with the goal of presenting a coalition deal later today.
Deutsche Presse-Agentur reported that a nationwide minimum wage of 8.50 euros ($11.50) an hour will be introduced from 2015. Bild newspaper said agreement had been reached on reducing the retirement age to 63 from 67 with no benefit cuts for people who have worked for 45 years.
Talks led by the chancellor and SPD leader Sigmar Gabriel began shortly after noon yesterday in Berlin. An expanded session with 75 officials, planned for 7:30 p.m. yesterday, was delayed due to differences over state spending health and education and still hadn't convened at 12:45 a.m. today.
"This is going to take a long time," Peter Hintze, a deputy economy minister and member of Merkel's Christian Democratic Union, told reporters. The larger group may be called back in the early morning should higher-level negotiators make progress, Hintze said.
Merkel, 59, accepted SPD calls for a minimum wage while rejecting income tax increases after deciding to seek a rerun of her first-term 2005-2009 coalition of Germany's two largest parties to govern Europe's biggest economy.
Cabinet Delay
Cabinet posts won't be announced until after the SPD's roughly 470,000 members vote on whether to accept a possible coalition deal, SPD spokesman Tobias Duenow told reporters. If an agreement is clinched today, the vote will take two weeks and ballots will be counted Dec. 14-15.
The chancellor's Christian Democratic bloc and the SPD have already agreed that they'd oppose joint euro-area debt, introduce a national tax on financial transactions including currency trades and derivatives contracts, tighten rent control laws and reduce subsidies for wind power.
A collapse of the talks or SPD rejection of a coalition deal would "reduce the prospects for a stable German government in the near term" and "complicate decision-making at the European level, including for banking union and rescue programs," Ebrahim Rahbari, a London-based economist at Citigroup Inc., said in a note to clients.
Before it's here, it's on the Bloomberg Terminal.
LEARN MORE