This App Plans Your Career and Provides Kelley B-School Courses to Reach Your Goal
Francesca Di Meglio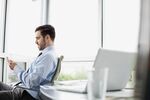 Let's say you got your MBA a few years ago and then went to work as a marketing manager for a leading consumer product company. Now you're ready to take your career to the next level—vice president for marketing. How do you get there? There's an app for that.
Indiana University's Kelley School of Business has teamed with Zapoint, a provider of career management software, to create an app that helps employees plan their careers and identify the courses they'll need to get the position they covet.
Here's how it works: Download the Zapoint SkillsMapper app to your smartphone, iPad, laptop, or desktop PC.  Put in that you want to be vice president for marketing, or chief executive, even. Using assessments and profiles supplied by companies that sign with Zapoint to make the software available to their employees, the app will assess your skills and the additional things you need to get that promotion. The program also identifies people in the company who already have those skills or others who currently hold the desired position. SkillsMapper then develops a plan for reaching that goal.
This is where Kelley Executive Partners, the school's executive education arm, comes into the picture. The school provides Zapoint with specially designed courses from Kelley faculty in the areas of finance, accounting, supply chain management, human resources management, and marketing.
Each subject is available in three skill levels—introductory, in depth, and advanced. For example, someone who wants to be a human resource manager might take the intro-level finance course and stop there, whereas someone who one day plans to run the finance department would take all three levels. You can pick and choose the subjects and levels based on your profile and aspirations. The content has been tailored to specific industries, as well. Someone in life sciences studying finance would learn about the financial requirements for launching new drugs, whereas a person in consumer packaged goods would not find this material.
The course work is "like a video game" but with quizzes and some reading material, says John F. Cady, executive director for executive education at Kelley. After employees complete courses, they take proficiency exams and earn certificates from the school. Employers can track their progress. While going through the curriculum, employees can network with others who are taking the same courses.
You won't find this app in iTunes. Zapoint works with client companies to make its program available only to their employees. Chris Twyman, founder and CEO of Zapoint, says the latest version of the app with Kelley courses is currently available for new customers, as well as such existing clients as Société Générale, the U.S. Army, and DirecTV. Depending on the services selected and size of the organization, companies pay from $40 to $100 per employee per year.
Before it's here, it's on the Bloomberg Terminal.
LEARN MORE