The Importance of Managing Your Personal Brand
Roxanne Hori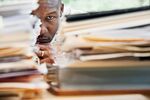 You may think that managing your image at work is a no-brainer, but my experience is that people do not take this as seriously as they should. How people perceive you and how you choose to leverage your personal capital (i.e., your advantages at work) are important to your success, but also to your ability to get the right experiences—all of which impact your career progression.
Recently the Kellogg School of Management's Black Management Association held its annual conference. This year's event focused on cross-cultural influences in the global economy, and one of the panels focused on managing and developing your brand.
There were seven themes covered by the panelists that are important for MBA students to keep in mind when they return to the workforce.
Be yourself. This requires you to be true to yourself, which is helpful as you figure out where you'll be most likely to succeed. This also means you shouldn't try to be someone else, as it leads to pursuits that will be more difficult, less successful, and ultimately unsustainable. Students will often follow the herd vs. being themselves.
Share yourself. Work at sharing your knowledge and gifts with others. This is a great way to burnish your image in the workplace and for others to be able to articulate who you are and your personal assets.
Value your capital/expertise. We all bring different skills, knowledge, and expertise to every situation. Don't diminish the importance of what you have in your portfolio. Your expertise may play to a niche space, but it is still important. Also realize that just because your attributes don't seem special to you doesn't mean they aren't valuable to others.
Value the capital of others. On a team, differences are strengths. Value what others bring to the table, help them contribute and develop their skills and expertise, and listen to their point of view. Your work and perspective can only benefit from this approach.
Cultivate your brand. Always be mindful of your personal brand. Pay attention to how others perceive you and gather input as to how you can improve it. Do you need to spend more time developing a deeper knowledge/expertise in a particular area? Are you leveraging opportunities to showcase your knowledge and its value to your employer?
Empower others to do the same. If you haven't figured it out yet, this isn't all about you. Many people who are held in high regard and have a strong image and brand have done so in part because they have supported so many others along the way. Think of the movie Pay It Forward.
Know the rules of the game. To be successful, it is important to manage your own image and personal capital, but also be aware of how to play the game in your organization. You can be the world's expert on something and be recognized for that, but if you don't understand how to operate successfully in your organization, it doesn't matter.
My experience has been that managing and leveraging your personal capital is not that difficult to do, but it does require your awareness and constant effort.
Before it's here, it's on the Bloomberg Terminal.
LEARN MORE