BMW Has Seen the Future, and It's Carbon
The luxe automaker is betting on lightweight carbon fiber for cars
by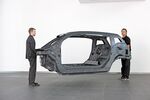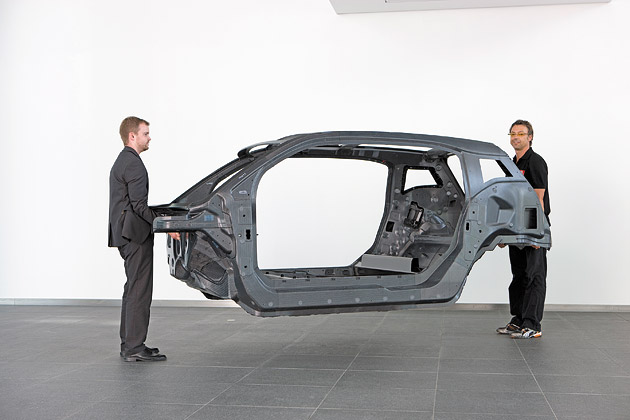 For many auto brands, a corporate makeover turns on a radical restyling of their cars or a shifting of sales toward emerging markets. But BMW is betting a big part of its future on hundreds of thousands of fine white filaments snaking through a $100 million factory in rural Washington State. Looped through an almost mile-long course, the strands are stretched, toasted, and eventually scorched black to create carbon fiber. The material, which is thinner than human hair yet tougher than steel, is what BMW used to fashion the passenger frame on its i3 electric car, which went on sale on Nov. 16 in Germany and will hit U.S. showrooms in the first half of 2014.
Already a staple in the production of superjumbo jets and Formula 1 racers, carbon fiber is trickling down into commercial auto manufacturing, heralding what may be the biggest shift since at least the 1980s, when the first all-aluminum car frames were made. "BMW's decision to go all-out and do carbon-bodied electric cars is brave," says Sanford C. Bernstein analyst Max Warburton. "It's a reminder that they're [thinking] more long-term than the competition."
The strategy was hatched six years ago, when executives at the luxury automaker concluded that increased environmental awareness would likely prompt tougher emissions regulations for autos. "Looking forward to 2020, we saw threats to our business model," says Chief Financial Officer Friedrich Eichiner, who ran strategic planning at the time. "We had to find a way to bring models like the 6 Series, 7 Series, and X5 into the future." BMW concluded it needed a viable electric vehicle to meet demand from the growing ranks of city dwellers—and to offset the emissions of its gasoline-powered large sedans.
When the company came up with the strategy, electric cars were considered sluggish, because of the heavy battery needed to hold a charge capable of propelling the vehicle at least 100 kilometers (62 miles), the range considered necessary for daily use. To reduce the size—and cost—of the power pack and improve handling, the body of the car had to be slimmed down. The lightest and strongest material available for the job: carbon fiber.
The downside is that carbon fiber is expensive—roughly 20 times more expensive than steel, according to figures compiled by consultancy Frost & Sullivan. So the automaker decided it needed to make the stuff itself, an unusual step in the modern-day auto industry, which has largely outsourced the manufacture of components to cut costs. "BMW's approach recalls the days of the industrial revolution, when manufacturers started with raw iron ore or located factories near power sources," says Aravind Chander, an analyst with Frost & Sullivan. "It's an aggressive approach and still unproven."
In 2009, BMW entered into a venture with Germany's SGL Carbon, a leading manufacturer of carbon products. Because of the strategic importance of the project, the automaker subsequently acquired a 16 percent stake in SGL. Susanne Klatten, a member of the Quandt clan that controls BMW, independently bought 27 percent of SGL, putting the company effectively out of reach of rivals.
The i3 weighs 20 percent less than Nissan Motor's Leaf, the best-selling electric car. That helps the vehicle accelerate to 100 kilometers per hour in 7.2 seconds, more than 4 seconds faster than the Leaf, according to company data.
No other carmaker is embracing carbon fiber as aggressively as BMW. Rival Audi prefers to mix and match materials, including aluminum, lightweight steel, and carbon fiber, rather than rely on one solution, says spokesman Josef Schlossmacher. Daimler's Mercedes-Benz plans to roll out fuel-cell-powered cars by 2017, which have a longer range than battery-only vehicles. "Let's see who has the better answer," says Daimler CFO Bodo Uebber.
BMW and SGL broke ground on the factory in Moses Lake, Wash., in 2010. The choice of site was influenced by its proximity to the Columbia River. The hydroelectricity that powers the plant's furnaces and other machinery costs about 3¢ per kilowatt hour, less than one-fifth what the company would have to pay in Germany.
Executives say the company's fiber production will continue, even if the i3 falls flat. Carbon components will start finding their way into the rest of the company's lineup with the next 7 Series, due out in 2015. "The investment in carbon fiber isn't about a single vehicle," says Eichiner, "but about future-proofing our entire portfolio and therefore our business."
Before it's here, it's on the Bloomberg Terminal.
LEARN MORE