Warning Congress Not to Mess With Grandma
Lobbying groups campaign to protect payments to the elderly
By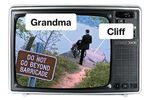 Campaigning for vice president in 2012, Paul Ryan learned firsthand what happens to politicians who dare to propose taking money from old people. One of Ryan's big themes was the need to reform entitlement programs so the rising costs of Social Security, Medicare, and Medicaid wouldn't bankrupt the nation in coming decades. That summer television ads began airing in Colorado, Florida, and Ohio depicting an evil Ryan doppelganger violently pushing a panicked, wheelchair-bound grandma off a cliff. The tag line read: "Is America beautiful without Medicare?"
As members of Congress work toward a self-imposed Dec. 13 deadline to reach a tax and spending agreement for reducing the federal budget deficit, the maker of the Ryan ad—an organization called the Agenda Project—is cautioning members of Congress that they could wind up starring in the next ad if they vote for a budget deal that includes entitlement cuts. "Granny will continue to roll over any candidate, Republican or Democrat, who tries to take benefits from older Americans who've worked their entire lives to get them," says Agenda Project President Erica Payne.
Payne's group is one of several organizations that have joined in an extensive Capitol Hill lobbying campaign to protect payments to retirees. The effort is led by the 37 million-member AARP, along with labor unions and Democratic-activist groups such as MoveOn.org and the Progressive Change Campaign Committee. Lawmakers are "terrified" of the seniors lobby, says Steve Bell, a former staff director of the Senate Budget Committee who's now with the Bipartisan Policy Center, a Washington think tank. "They have everybody on warning all the time."
AARP, formerly the American Association of Retired Persons (it's so well known it no longer spells it out), is one of the largest nonprofits in the U.S. and arguably the most powerful lobbying group in Washington. It reported revenue last year of $1.2 billion and spent $174 million on lobbying and advocacy campaigns. David Certner, director of legislative policy for AARP, says seniors' groups can't let down their guard: "It seems pretty clear that Medicare and Social Security, if not on the table, are always on a side table."
The mere suggestion that lawmakers might consider changes to entitlements—such as raising the Medicare eligibility age from 65, requiring the wealthy to pay more for some health coverage, or trimming Social Security cost-of-living increases—triggers a deluge of angry phone calls and e-mails orchestrated by interest groups. That's what happened to Democratic Senator Mark Warner of Virginia. Appearing on CBS News's Face the Nation on Oct. 20, he said, "Democrats are going to have to give on entitlement reform" in the budget negotiations. Two days later the Progressive Change Campaign Committee, a political group that raised and spent more than $1 million in the first six months of this year, sent an e-mail quoting Warner to its 950,000 members. "We need to pressure Senator Warner and other Democrats on their home turf to stop pushing for a Grand Bargain that cuts Social Security," it said. Warner's spokesman, Kevin Hall, says the senator "is aware" of the e-mail and that Warner has received "several dozen" phone calls from concerned constituents.
An Associated Press-NORC Center for Public Affairs Research poll of Americans older than 50 conducted in August and September found that 58 percent object to raising the age at which people can begin receiving Social Security benefits. And they oppose 44 percent to 41 percent any effort to reduce benefits for seniors with higher incomes.
Although those numbers aren't surprising, they matter to members of Congress facing reelection next year. Older Americans vote at higher rates than younger ones, and the ranks of those 65 and older are growing. U.S. census data show the senior population at 13.7 percent of the total last year, compared with 12.4 percent in 2000. The Department of Health and Human Services estimates seniors will rise to 19 percent of the population by 2030—a figure that also helps explain why entitlement costs are swelling.
Seniors are always ready to remind their representatives of the dangers of crossing them. It's "fairly easy to galvanize members to act," AARP Executive Vice President Nancy LeaMond said at an Oct. 30 conference on Capitol Hill. "Frankly, I've been very worried that we were going to have show-up fatigue. That hasn't been the case."
BOTTOM LINE -
The bottom line: AARP, which raised $1.2 billion in 2012, spent $174 million lobbying for seniors in the states and on Capitol Hill.
Before it's here, it's on the Bloomberg Terminal.
LEARN MORE