Why Rob Ford Happened
Toronto's business leaders aren't calling for Rob Ford to quit
By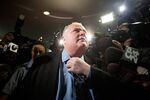 Brutus the Barber Beefcake showed up at Toronto city hall on Nov. 7 to address the media on the troubles of the city's admitted crack-smoking, binge-drinking mayor, Rob Ford. Hours before, several newspapers had released a cell phone video showing Ford ranting and screaming about murdering someone who had insulted him in the press. "He dies or I die, brother," Ford barked, frantically pacing around a dining room, promising retribution, like a high school jock with a Scarface poster above his bed. "I'll rip his f-‍-‍-‍-‍-‍- throat out. I'll poke his eyes out … I'll make sure that motherf-‍-‍-‍-‍-'s dead!" Mr. Beefcake, the heavily tanned former professional wrestler, asked the reporters to gather around. He flexed his biceps, pulled out his signature barber shears, and started in on Ford. "I just watched the video, and he was completely out of his mind. He needs some help." Ford needed an intervention, Beefcake said, "I am going to be his angel of mercy!" Mr. Beefcake's plan included a steady diet of Belly Buster sandwiches, which he had come to promote. A groan emanated from the press corps. "This is getting pathetic," grumbled a television cameraman, who accepted a free turkey sub.
Two days before, Toronto's embattled mayor had finally admitted, after six months of media reports, police investigations, and Ford's own denials, that yes, he had smoked crack cocaine. When asked by a stunned reporter when that happened, the mayor replied, "probably during one of my drunken stupors." That's stupors, plural. Already that week, the hallway outside the mayor's office, which has turned into an encampment for every media organization in Toronto, had hosted a wheelchair-bound Iron Sheik, a singing man in a banana suit, and several evangelical Christians, who came thumping bibles in the hope of saving the mayor's tattered soul.
Last Friday, Toronto's city council overwhelmingly voted to strip Ford of his executive powers, effectively reducing him to a defanged Egyptian president. Today, councilors are voting to reduce his office budget and staff to a shell. Although he may be the most ridiculed politician in the world, there is no legal mechanism to remove him, short of a jail sentence. (No charges have been brought against Ford.) So Ford defiantly remains mayor and has promised to run for reelection next October. The longer his circus goes on, the more Ford seems to revel in his role as its clown prince. When reports came out last Thursday that the mayor allegedly made remarks about oral sex to one of his female staffers in 2012, Ford denied it all, adding that he was a happily married man with "more than enough to eat at home."
That all of this is happening in Toronto makes the situation even more surreal. The fourth-largest city in North America—population: 2.8 million—revels in its reputation as an orderly, prosperous, "world class" economy. But Torontonians are an insecure lot. As observers around the world ask how a city like Toronto could wind up with a mayor like Ford, locals are wondering how much damage Ford will do to Toronto. (Ford's office did not respond to requests for comment for this article.)
Ridiculous mayors are nothing new in North American politics. Washington, D.C.'s Marion Barry smoked crack and then won another term in office, while Montreal has seen two mayors led from power in handcuffs in the past four years, to say nothing of places such as Louisiana or Providence. Ford is a different creature. His political appeal rests on a platform of populist fiscal conservatism. The youngest son of a multimillionaire label-company founder, Ford has nevertheless managed to portray himself as the humble, working everyman who understands the needs of business. As a city councilman, Ford became known for personally attending the problems of his constituents, returning their phone calls and driving to their houses to make sure pot holes and fallen trees were taken care of.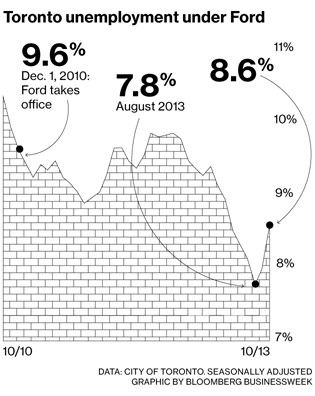 In 2010 Ford won election mostly on his campaign promise to "Stop The Gravy Train" of coddled bureaucrats, decadent city councilors, and municipal unions—all of whom, in Ford's eyes, were draining the city of its lifeblood. He was the last angry man, who respected the taxpayer's hard-earned dollar above all else and tapped into a sense of frustration from those left behind by the city's rapid growth. Housing was absurdly expensive for many, commutes were excruciatingly long, and home buyers despised the land transfer tax that Ford's left-wing predecessor, David Miller, had instituted to reduce the city's deficit. Ford promised to lower property taxes, slash city spending, clip the wings of unions, and bring a sense of fiscal discipline and private-sector professionalism to the city, all without cutting city services.
Although his political base—known as Ford Nation, a Tim Hortons-loving answer to the Tea Party—rested with working and middle-class voters, especially in the city's newly absorbed inner suburbs, Ford garnered support from conservatives of all stripes, including partners at white-shoe law firms, wealthy real estate developers, and immigrant entrepreneurs. "We look at him as a bulwark against the overreaching imposition and government power and control and expense," says Neil Flagg, owner of the online shop Sports Poster Warehouse and the founder of the I Hate the War on Mayor Rob Ford Facebook page. "This is why he still hits the nail on the head and why I'll defend him to the political death: because he respects the money we send to him."
Ford's brusque nature and substance abuse problems were well known before he ran for office, but he was straightforward and conservative, and thus electable, even to many in the business establishment. "People recognized that the city's economic fundamentals were out of whack, and we needed to fix that," says Janet Ecker, the president and chief executive of the Toronto Financial Services Alliance and a former conservative politician in the Ontario government. "It's not like people didn't realize he was a little rough around the edges. He was elected to be a bull in the china shop. People wanted city hall to be shaken up." Rob Ford was Ted Cruz in a fat suit.
Shortly after being sworn into office by Hockey Night in Canada commentator Don Cherry (who blasted bike riding "left-wing pinkos", while wearing a garish double-breasted pink blazer), Ford set about implementing his fiscal agenda. He immediately repealed a $60-a-year car registration tax. Next, Ford took on the unions. He successfully lobbied the province of Ontario to declare the Toronto Transit Commission (which operates the city's busses, streetcars, and subways) an essential service, depriving its workers of the right to strike, and then contracted out trash collection in the western half of the city to a private company. For residents who had endured a six-week municipal workers' strike in the summer of 2009, the memory of lugging their garbage bags to city parks, where they were heaped into putrid mountains atop hockey rinks, was still raw. Ford's victory over the unions was swift and total, and it appeared that his promise of financial responsibility was actually sound.
"It seems like the private garbage contractors are saving money, with no drop-off in quality of service," says Edward Keenan, author of Some Great Idea,, a history of Toronto under the past three mayors, and probably Ford's most pointed critic in the media. "I think his relationship with the labor unions and avoiding a big long strike is legitimately a win. That's an example that carries weight with his supporters."
But when Ford turned to the city budget in early 2011, with promises to root out the waste, his effectiveness waned. He commissioned a report from the consulting firm KPMG to identify efficiencies in the city's spending, but the report found little sign of the massive waste Ford had declared war on. Toronto wasn't mired in unsustainable debt (structural deficits are actually illegal), and the city's credit rating had remained solid under Mayor Miller. The report's proposed measures, such as closing or selling off libraries, theaters, and the zoo, or slashing the police force, were seen as drastic and unnecessary by the public, but Ford kept railing against the gravy, focusing on the lunch budgets of city councilors and the cost of watering the plants inside city hall. "I guess there's been a lot of fuss over things like reducing councilors' office expenses and the mayor's office expenses," says Enid Slack, director of the Institute on Municipal Finance & Governance at the University of Toronto's Munk School of Global Affairs, "but thousands of dollars on an $11 billion operating budget, though symbolic, [is] very small."
Ever since the crack scandal first erupted in May—the U.S. gossip site Gawker broke the news of the video—Ford has wrapped himself in the claim that he's saved Toronto taxpayers a billion dollars so far, so who cares what he does on the side? But even a cursory examination has proven that claim to be wildly exaggerated at best. "It's completely nonsensical," says Keenan, who examined Ford's logic in several articles for the newspaper The Grid. "He'll count a user fee [such as the vehicle registration tax, which brought in roughly $60 million in revenue a year] as something he eliminated as saving the taxpayers money but will include user fees on community recreations centers, that he increased, as savings too. They're on opposite sides of the budget ledger."
The Mayor of Toronto is a politically weak office. Ford wields only one vote on the city council, and he has proven ineffectual at maintaining alliances, even with his shrinking inner circle, alienating constituencies as he goes along. He has painted over newly built bike lanes, pushed for vastly more expensive subways over light rail lines (which would serve more commuters), and spontaneously floated the idea of replacing decades of careful planning on waterfront development with a mega-mall, complete with a Ferris wheel and monorail. When questioned by other councilors on these issues during debates, Ford often demonstrated ignorance of the relevant facts, retreating behind the assertion that he'd been out in the community, speaking to the people. He knew what the people wanted, and that was all that mattered.
Long before the drug allegations surfaced, Ford had squandered his chance to rule. "The biggest problem with him was [the] lack of [a] conciliatory approach. He came in very brash," says Anthony O. Maniaci, a real estate and corporate lawyer who supported Ford's campaign, based on his fiscal policies. "I think the crack issue was the straw that broke the camel's back. You have this multitude of things that happened that didn't really seem like a big deal, but [they] compounded on each other and turned into a monster, and the beast was unleashed."
Mike Del Grande, a city councilor who was Ford's budget chief during the first two years of his administration, gave up on the mayor after he voted down Del Grande's proposed budget in January. "I had given two years and 80-hour weeks to pull all the numbers together for the budget," says Del Grande. "[Ford] voted against it. … He didn't have the realization that if you just lowered the tax rate, you had to make up for the shortfall. You can't just arbitrarily introduce a lower tax rate, without accounting for the difference in revenue that the lower tax rate could bring."
Over the past year, Ford increasingly devoted his time in office to returning constituent phone calls, checking on potholes, and coaching a high school football team, from which he was later fired. The crack scandal only heightened Ford's leadership flaws. He refused to answer media questions, cooperate with the police, resign, or seek treatment. Instead, Ford took to the airwaves each Sunday with his brother Doug on their radio talk show, which turned into their right-wing version of Hugo Chavez's Alo Presidente. As qualified staffers fled Ford's office, he brought in several former football players, recent university graduates, and made an old pal from high school his "chief of operations and logistics." (Regarding that last hire: "You can't teach loyalty," Doug Ford, the mayor's brother and mouthpiece, told a Globe & Mail reporter in May.) Ford says he has nothing left to hide, but more police evidence remains under court seal, which local media are working with lawyers to have released. So it's fair to expect that the longer Rob Ford stays in office, the crazier this story will become.
The consensus in Toronto's business community seems to be that Ford's kamikaze run won't stop the city's economy any more than Silvio Berlusconi's bunga bunga parties could derail Fiat sales. But the current political stasis will make it difficult to work through long-needed solutions to the city's crippling transit infrastructure, waterfront redevelopment, and public housing, which would invariably affect the quality of city life, the ability to attract talent, and Toronto's coveted reputation as a global cultural and economic hub. Richard Florida, a well-known urban theorist and academic and a fierce critic of Mayor Ford, says the "business will go on" argument that has so far kept the city's business leaders from openly denouncing Ford is shortsighted. The longer this continues, the greater chance Ford's fiasco will do lasting damage to Toronto's reputation. "I think it's troubling that no one will speak out," Florida says.  "The costs of a bad mayor don't show up in the short run; they show up in the long term. It's costs deferred and projects not done." When presented with the very real scenario that Ford could actually survive this scandal and win reelection, Florida says such an outcome would send a signal that Toronto is "off its rocker."
None of this seems to have shaken the faith of Ford Nation's core supporters. Before Ford confessed to smoking crack, they believed that the mayor was a victim of a left-wing media conspiracy; now, many say they don't care. Opinion polls still show that even though a vast majority of Toronto feels the mayor should resign, roughly a quarter believe he's doing a good job. "There's not a soul in Toronto who would justify a mayor running around with the characters he's running around with, or doing what he's doing," Neil Flagg says, noting that Ford Nation's ranks are sticking with their leader, because his issues are personal, and he remains their best hope for a different future for Toronto. "He's one of a kind," says Flagg. "He's created a genie that cannot be put back into that bottle."
BOTTOM LINE -
The bottom line: Ford, who ran on a platform of shrinking government and cutting taxes, still has the support of a determined minority.
Before it's here, it's on the Bloomberg Terminal.
LEARN MORE