Singapore Home Sales Fell 48% in October After Loan Curbs
Pooja Thakur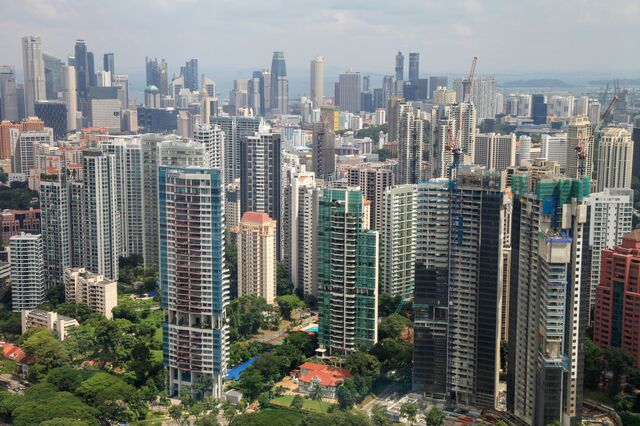 Singapore's home sales fell 48 percent in October from a year ago, signaling that the government's efforts to cool the property market are working.
Home sales slid to 1,009 units last month compared with 1,949 in October 2012, according to data from the Urban Redevelopment Authority released today. From the previous month, sales decreased 19 percent, the data showed.
Home sales have been declining in the past four months compared with figures last year after the government imposed new rules in June governing how financial institutions grant property loans to individuals. Record home prices amid low interest rates raised concerns of a housing bubble and prompted the city-state to introduce new taxes and higher minimum down-payments since 2009 to curb speculation in Asia's second-most expensive housing market.
"Developers have been a bit apprehensive about the sentiment so they seem to have marketed fewer projects," said Nicholas Mak, an executive director at SLP International Property Consultants in Singapore. Home buying has "stabilized", he said, citing the fact that 90 percent of the homes marketed were sold last month, based on today's data.
Home prices in the island-state rose at the slowest pace in six quarters in the three months ended Sept. 30, according to figures released by the authority on Oct. 25.
Shoebox Units
Prices and transaction volumes of Singapore residential properties are expected to moderate for the rest of the year due to the cumulative impact of government property measures, CapitaLand Ltd., Southeast Asia's biggest developer said on Oct. 31. Developers are beginning to cut prices in existing and new projects and take lower profit margins, City Developments Ltd., Singapore's second-largest developer, said on Nov. 12.
Shoebox units, which measure 50 square meters (538 square feet) or less, accounted for 14 percent of total private-residential transactions in Singapore in the nine months to September, according to a report from Knight Frank LLP on Nov. 13. Shoebox units as a percentage of total apartments sold has been rising every year since 2009, the data showed.
The island-state's private residential property price index rose 0.4 percent to a record 216.2 points in the three months ended Sept. 30, after climbing 1 percent in the second quarter, URA data last month showed. That was the smallest gain since the first quarter of 2012, when the index dropped 0.1 percent.
Before it's here, it's on the Bloomberg Terminal.
LEARN MORE