Why Lincoln Is Quietly Keeping Its Town Car Alive
by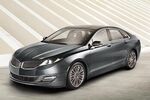 Ford Motor unveiled another new Lincoln yesterday, the latest step in its campaign to close the sales gap with such luxury thoroughbreds as BMW and Mercedes. This one is a small SUV dubbed MKC. It has wood trim, an all-glass roof, and push-button gear-shifting. But it's lacking something critical: the words "Town Car" plastered on the side.
Lincoln scrapped the Town Car in 2011 as it launched its bid to move upmarket. The model may not have been as sexy as a Mercedes E-class sedan, but it was a horse when it came to pulling revenue. For a number of years in the 1980s and 1990s, the company sold more than 100,000 Town Cars.
The new Lincolns haven't come close to putting up numbers like that. This year through October, Ford has sold only 19,420 MKX SUVs in the U.S. and 26,684 MKZ sedans. By comparison, BMW's 3-series is on a pace to do that every two or three months.
Here's the interesting thing, though. The incessant string of newsmakers who sweep into Bloomberg's New York headquarters often arrive in black Lincolns. The cars are Lincoln's new crossover, the MKT, but they also carry the "Town Car" brand, bolted prominently on the side panel.
The marketing folks at Ford are employing a weird double-badge strategy to try to trade on both the Town Car legacy and the MK newness. The line is dedicated for liveries and has a few amenities not found in the mass-market version, including audio controls in the backseat and a higher ride height to make it easier to get in and out of.
"Obviously the Town Car name is kind of famous," Lincoln spokesman Stephane Cesareo said in explaining the strategy.
Livery companies are great car clients. They buy in bulk and they burn through vehicles quickly. Lincoln doesn't want to lose that business, but it also no longer wants to be known as the maker of fancy taxis; that's what makes the zombie branding particularly sneaky. It wants to attract a younger, more diverse group of buyers while secretly shuttling around suits.
In short, the company would much rather talk about its new MKC. It will start stamping out the new SUVs in Louisville in the spring. They are expected in showrooms in the summer. We'll have to wait and see if they too will be "Town Cars."
Before it's here, it's on the Bloomberg Terminal.
LEARN MORE