So Much Fun-ukkah to Celebrate … Thanksgivukkah?
The joint holiday, Thanksgivukkah, is a dream opportunity for some
By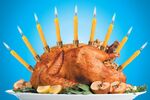 Jennie Rivlin Roberts, the proprietor of the online Judaica and Jewish gifts site ModernTribe, knew Thanksgivukkah was destined to be a hit. For the first time since 1888—and the last time for another 70,000 years—a rare calendrical phenomenon will mean Thanksgiving and the first day of Hanukkah fall on the same day, making for some once-in-a-lifetime merchandising opportunities. And if there's one thing Roberts has learned from running a tchotchkes business, it's that people love a good souvenir T-shirt.
What she didn't realize was just how excited people would get over the idea of lighting candles and eating turkey and stuffing on the same night. "It's crazy," she says. "I've never seen anything like this."
The response to Roberts's Thanksgivukkah merchandise—everything from notecards to aprons celebrating the hybrid holiday—has been so overwhelming that she's had to move ModernTribe out of the basement of her Atlanta home and into a temporary commercial space. The site's Thanksgivukkah pop-up store opened on Nov. 17 and runs through the holiday season. "I think we're the only Thanksgivukkah store in the world," she says.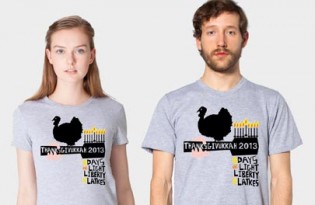 Roberts can't take credit for naming the event. That distinction belongs to Dana Gitell, a social media marketer with Boston-based nonprofit Hebrew SeniorLife. Gitell coined the term last fall while driving to work one morning; by lunchtime she'd launched a Thanksgivukkah Facebook page and Twitter account announcing the mash-up holiday. "Every time I told someone about it, their jaw would drop," she says. "I realized it was a huge deal from a pop-culture standpoint." Before long, Gitell trademarked the name, started a website, and contacted Roberts to pitch the idea of selling Thanksgivukkah products on ModernTribe.
The exclusive product line hit the site in August. Roberts initially thought the timing was too early. "Dana was like, 'No, we have to get on this,' " she says. The T-shirts and menurkeys—that's right, turkey-shaped menorahs—started selling right away. As of mid-November, Roberts and Gitell had moved more than 3,000 T-shirts (at $36 apiece) and 600 of the menorahs ($50 each). Demand was so high, Roberts had to hire seven more employees, for a total of 10, to keep up with the orders. Even so, the ModernTribe team is working around the clock to ship the Thanksgivukkah items on time.
Charlie Harary, a professor of management and entrepreneurship at Yeshiva University's Syms School of Business, is not surprised by the popular reaction. "This is one of those rare opportunities where people hear about Thanksgivukkah and stop and say, 'What is that?' and pay attention." Plus, he says, "Hanukkah's already pretty mainstream." That only adds to the curiosity around the celebration.
Roberts and Gitell aren't the only ones looking to capitalize on the convergence of the two holidays. Manischewitz, the leading producer of processed kosher foods in the U.S., has started its own holiday website. Thanksgivukah.com (that's with one less k) includes recipes, videos, and a feature called Eight Days of Leftovers. Latkes with cranberry sauce, anyone?
Manischewitz decided not to make special Thanksgivukkah items, however. Why bother, since they wouldn't be used again for another 70,000 years? Instead, the company is using the event as a way to market existing products. According to Avital Pessar, brand manager of Manischewitz, Jews and non-Jews, kosher or not, have flocked to the site for the recipes. It's been a nice boost for the 125-year-old private company, which was founded, coincidentally, the same year as the last overlap of Thanksgiving and Hanukkah.
"Thanks to Thanksgivukkah, we're about to break 10,000 Facebook likes," Pessar says. "Our numbers aren't huge like Swanson's, but for the kosher market, that's pretty huge."
Before it's here, it's on the Bloomberg Terminal.
LEARN MORE