pursuits
Sportsman Gone Sartorial: Dwyane Wade Tries the Necktie Game
By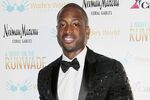 What goes well with NBA championship rings? Apparently, bow ties and garish socks.
Star point guard Dwyane Wade has unveiled a line of neckwear in collaboration with The Tie Bar, an e-commerce outfit based in his hometown Chicago. The collection, which goes on sale Nov. 20, includes 30 bow ties, 15 ties, 15 pocket squares, and a smattering of tie bars and cuff links.
Earlier this month, Wade also put his name on a line of loudly patterned socks at Stance, including one particularly gaudy pair—Monet meets Nascar meets safari.
Wade is certainly a natty dresser. It takes some swagger, for example, to pair a peak-label, navy suit with a contrast collar and a shiny green bow tie … and to pull it off, no less. Such bold plays garnered Wade an MVP nod in 2006 from GQ magazine: best-dressed NBA player.
The Miami Heat perennial All-Star told Women's Wear Daily that he wears ties often and is so into fashion that he Instagrams his socks. "It's an opportunity to do something unique and cool," he said of the new venture. "My whole thing is to bring my taste, my style, my fashion to whatever I'm a part of."
The problem is that Wade's "whole thing" is actually driving the lane and feeding alley-oops to LeBron James. A lot of athletes have found that success in the stadium does not transfer easily to high-end apparel stores. It's no surprise that the world has yet to see the much-promised Ryan Lochte fashion line. And the success of Venus and Serena Williams's clothing ventures has been spotty at best.
One challenge is that athletes are most often seen wearing jerseys. Actors and pop stars, by comparison, might not wear their own clothing lines every day, but branding their personal look is less of a stretch. Justin Timberlake has done fairly well with his William Rast, a clothing brand named after his grandfather. And after 15 years, P. Diddy's Sean John brand is still around and pushing a new line of footwear.
At the end of the day, sports-star collections only make sense when the player's name can make the product more attractive. The Tie Bar certainly seems to think Wade has that sartorial power: It's charging $25 for his creations, a premium over its standard $15 ties.
Wade's ties are certainly sharp. They would pair nicely with a Steve Nash suit (Indochino, $529). But outside of the Tie Bar website, they're not likely to be recognized as anything particularly special.
Indeed, athletes tend to succeed with apparel when the product stays close to their particular sport. After flirting with runways, the Williams sisters' Eleven brand has settled on workout wear and tennis dresses. Tony Hawk has his name on hoodies for skater kids at Kohl's. And Jack Nicklaus brand apparel is straight out of the country club. There's a reason Air Jordan's still don't come in wingtips.
Before it's here, it's on the Bloomberg Terminal.
LEARN MORE