Euro Recovery Wanes as Germany Slows and France Contracts
Stefan Riecher, Jeff Black and Mark Deen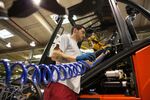 Germany's economy lost momentum in the third quarter while France and Italy contracted, adding to evidence that the euro region's recovery is flagging.
German GDP rose 0.3 percent from the second quarter, when it increased by 0.7 percent. That's in line with the median of 41 estimates in a Bloomberg News survey. The French and Italian economies both shrank 0.1 percent. The European Union's statistics office in Luxembourg is due to publish data for the euro area at 11 a.m., for which economists predict growth of 0.1 percent compared with 0.3 percent in the prior three months.
The reports so far from the region's three largest economies add to evidence that the 17-nation currency bloc is still struggling with the legacy of its debt crisis. Euro-area unemployment stands at a record 12.2 percent and the European Central Bank cut its benchmark rate to a record low of 0.25 percent last week to fight low inflation and rekindle growth.
"French data are a grave disappointment and an indicator that the euro crisis isn't over," said Andreas Scheuerle, an economist at Dekabank in Frankfurt. "The region's recovery remains a fragile affair. Germany's performance is alright but growth is by no means sparkling."
German Demand
German growth in the third quarter was driven exclusively by domestic demand, the Federal Statistics Office said today. Investment in equipment and construction increased, and private and government consumption rose slightly, according to the report. Net trade damped output in the three months through September as imports gained and exports stalled.
France's unexpected contraction underlines the issues President Francois Hollande is confronting as he tries to revive the economy and reverse an increase in unemployment that's at a 14-year high. Facing taxes equivalent to 46 percent of GDP, companies such as Cie de Saint Gobain SA are cutting spending or holding off raising it.
Investment by non-financial companies fell 0.6 percent in the quarter, while consumption rose 0.2 percent, national statistics office Insee said in Paris today. Economists had forecast the French economy stagnated in the third quarter after growing 0.5 percent in the second.
"We're at the moment where the economic machine is re-starting," French Finance Minister Pierre Moscovici said on RTL radio after the report. "We knew the third quarter would be a pause. It's not a surprise, it's not an indication of decline."
Italian Slump
In Italy, GDP fell 0.1 percent, extending the nation's record-long recession to a ninth quarter. That matched the median forecast in a survey of 21 economists.
With the second and third-biggest economies contracting, Germany continues to drive of growth in the 17-nation euro area, with help from its neighbors in northern Europe. Separate data today showed Austrian GDP increased 0.2 percent, while the Netherlands exited recession with a 0.1 percent gain.
"The euro-zone recovery will be a slow affair," said Nick Kounis, head of macro research at ABN Amro Bank NV in Amsterdam. "The recovery certainly does not look strong enough to get inflation back close to the ECB's price stability goal in the foreseeable future. The weak growth figures therefore keep further ECB action on the table."
Euro-area inflation slowed to 0.7 percent in October, the lowest in four years, and ECB President Mario Draghi said it may remain low for a "prolonged period." He will present new economic forecasts in December.
In a prelude to that, the ECB today released its quarterly survey of professional forecasters. Economists cut their outlook for inflation in 2015 to 1.6 percent from 1.8 percent, suggesting an undershoot of the institution's mandate for price stability of just below 2 percent.
"We are seeing a slowdown in the pace of recovery," said Frederik Ducrozet, senior euro-area economist at Credit Agricole CIB in Paris. "Germany will likely remain one of the strongest reasons for growth in Europe."
Before it's here, it's on the Bloomberg Terminal.
LEARN MORE