Clean (but Pricey) Coal in Mississippi
Southern Co.'s new plant will have fewer emissions—and a very high price tag
by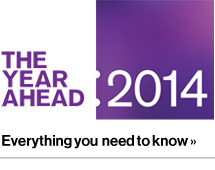 Can coal-fueled power plants meet the Environmental Protection Agency's proposed carbon dioxide emission limits? Next year, Southern Co. will fire up a coal plant in Mississippi, marking the industry's biggest and most expensive bet that the answer is yes.
The Atlanta-based utility is hoping the Kemper County plant represents the future of coal. It's designed to meet looming EPA standards with a new process that extracts pollutants, then sells them, rather than burning or dumping them. The future doesn't come cheap: With $5 billion projected in total costs, the plant is 65 percent over budget and rising. In April, the Department of Energy estimated that a utility buying a plant with the new technology would pay double the price of a conventional plant. The Kemper County plant is even more costly, says Alan Beamon, director of Energy's coal and electric power division. That makes it among the most expensive fossil fuel projects ever. Construction delays are preventing the planned May opening.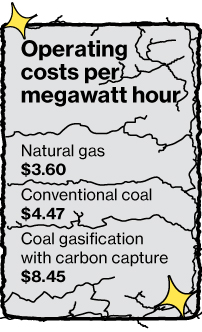 When finished, the plant will use a process known as coal gasification, where it burns gas extracted from pulverized coal. Although other plants gasify coal, this will be the first to remove carbon dioxide, which will be sold to Denbury Resources. The Texas oil and gas extraction company will inject it into an oil field to thin the fuel and allow it to flow to the surface. That should bring the new plant's carbon dioxide emissions to about 850 pounds per megawatt hour of power produced, Southern says, better than the 1,100 pounds-per-megawatt limit proposed by the EPA for new plants. According to the EPA, the average carbon dioxide emission rate is 2,249 pounds per megawatt.
While Southern has no plans to replicate the plant in the U.S., it sees a market for the technology overseas. Along with Houston-based construction company KBR, which is helping build the Kemper County plant, Southern is trying to sell similar plants in China, where natural gas is more costly and coal abundant.
The project's soaring cost might scare other companies away from similar projects. Yet Jeremy Sussman, a New York-based analyst for Clarkson Capital Markets, says it's a positive development. "If it works to specification and there's some hope that costs can come down significantly for the next one, it does provide some ray of hope for the coal industry," he says. "Most coal companies and even coal investors are operating under the assumption that no new coal plants are likely to get built in this country."

Before it's here, it's on the Bloomberg Terminal.
LEARN MORE