Kitchen Appliances' New Aesthetic
Moving beyond the stainless steel kitchen
By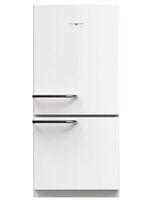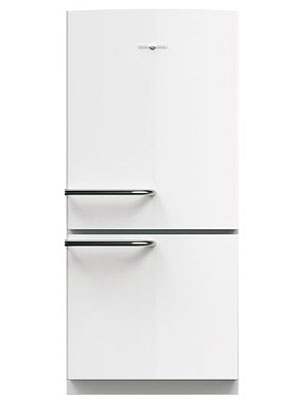 Once tucked away from public view, kitchens have become a nexus for home life and entertaining. To make the utilitarian spaces more welcoming, appliance makers are rolling out kinder, gentler appliance looks. "We're on the cusp of a new aesthetic," says Lou Lenzi, director of design for GE Appliances. For a while, everybody wanted to be Emeril Lagasse, he says, flaunting "big, chunky knobs on the range and big, heavy grates on the cooktop." The new aesthetic, he says, involves "more furniture-like appliances," with rounded edges and handles, less metallic sheen, and sometimes even a little color.
This year the U.S. market for consumer appliances will grow 3.8 percent, to $56 billion, while the global market will expand 3.7 percent, to $373 billion, according to Euromonitor International. U.S. sales are set to rise an additional 5.8 percent in 2014. Stainless steel appliances remain the runaway favorite, says John Petrie, 2014 president of the National Kitchen & Bath Association. "It's a good neutral, and it works well in lots of environments," he says.
A handful of more colorful looks are getting attention, he says, such as Whirlpool's white Ice Collection and General Electric's matte gray Slate finish. Marketed as white, "with soft cues of metal," Ice is an attempt to offer an alternative to stainless that is "more modern and fresh," says Richard Gresens, Whirlpool's senior director of North American design. "There's been a revival of white in certain industries; Apple obviously uses a lot of white, [and] there've been some fashion trends," he says.
Slate appliances sold twice as well as expected last year, says GE, which will introduce more Slate offerings in 2014. The color, Lenzi says, jibes well with the shift away from appliances that mimic commercial kitchens. "Large walls of stainless steel are giving way to this softer, neutral gray in a matte, metallic finish."
In June, GE began targeting millennials with its retro-inspired Artistry appliance line—available only in black and white. There are limits to the lengths appliance makers will go to challenge stainless, however. Says Lenzi: "I don't think we'll ever see avocado again."