Easy Mobile Payments Are Almost Here
The race for frictionless mobile payment is nearly over
By and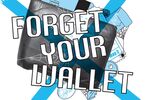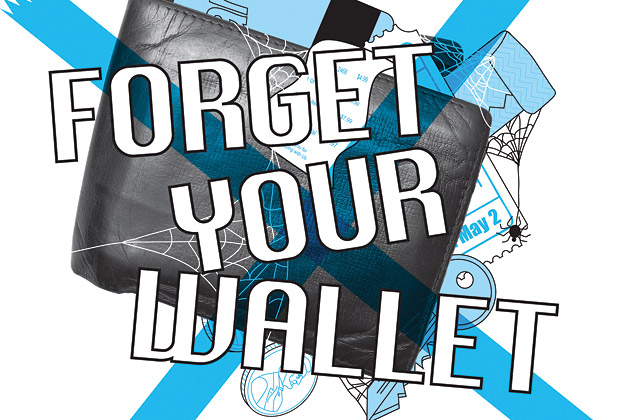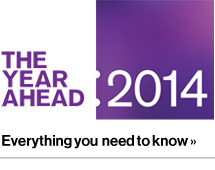 It's noon at the crowded Steins Beer Garden in Mountain View, Calif., and executives from EBay's PayPal are discussing the future of the massive market for retail and restaurant payments with a reporter who's paying for lunch. Without ever opening his wallet, the reporter enters a four-digit number printed at the bottom of the check into a PayPal app on his smartphone. An itemized bill for three smoked chicken salads, a tomato bisque, and two Diet Cokes appears on the screen. One click later, without ever needing to flag down a waiter, the check is paid.
Over the past 60 years, plastic has gradually supplanted cash and coins when a bill arrives. For all their relative simplicity, though, credit cards still require busy sales and service staff to take objects bearing a customer's private information to specialized terminals and hand back receipts that need signatures and further processing. For the past decade, payment companies have been trying to figure out how to take advantage of mobile devices to make the process easier and more secure. After some false starts, the next revolutionary shift in payments is gathering momentum. Worldwide mobile payment transactions will total $235.4 billion in 2013, a 44 percent increase from $163.1 billion in 2012, according to tracking firm Gartner, which projects a 38 percent jump to $325 billion next year.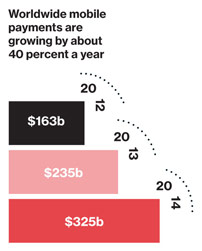 The new wave of mobile payments doesn't look anything like it did even a few years ago. Back then, a technology called near-field communication promised consumers a way to store credit card data in a secure chip for a smartphone, which they could tap against a merchant terminal to make a payment via secure short-wave radio. NFC failed to catch on, as early adopters didn't stop using their cards. Apple refused to integrate the chips into the iPhone, and other interested parties—Google, Verizon, AT&T, and Visa—couldn't agree on which company would manage the customer payment platform. NFC "didn't solve any real-world problems," says David Marcus, PayPal's president.
In most versions of the current model, customer payment data are stored on the Internet for access via smartphone applications, such as the mobile version of PayPal's site or specialized apps developed by a particular merchant. Starbucks customers can download the company's app to their phone, load it with a credit or debit card, then pay at most of the coffee chain's 11,437 U.S. locations by opening the app and waving their phone under a scanner. The company says more than 11 percent of payments in the U.S. and Canada are now made with mobile devices, thanks in part to a discounts and rewards program.
Other merchants have toyed with variations on that model. The 26,000 U.S. locations of sandwich chain Subway don't have specialized barcode scanners, but their registers can print barcodes for a customer with the company's app to scan with a phone camera and use to authorize an online payment. Chipotle Mexican Grill's app lets customers order from the road to avoid standing in the chain's serpentine lunch-hour lines. Besides reducing barriers to payment, this can give retailers a much better way to contact a customer—and a closer look at her long-term behavior, says Richard Crone, chief executive officer of payment advisory firm Crone Consulting. "The real value is that they now know who their customer is and can reach out to them at any time," he says.
Companies interested in reaching mobile shoppers are quickly jumping aboard. Apple and Google are working to turn their mobile software into popular one-stop wallets that could usurp Visa and MasterCard as go-to forms of payment at brick-and-mortar stores, generating fees for them instead. Online reservations company OpenTable announced this summer that it would begin testing a service to allow users to pay a check and leave a tip with their phone at restaurants that use its service, without ever calling for the bill.
"It's all happening today," says Chris Gardner, co-founder of Paydiant, a Wellesley (Mass.)-based mobile payment company that helps power Subway's app. "What you'll see over the next year is that grocery and convenience stores and restaurants will all come out with mobile payments." In three to five years, he says, consumers will be able to conduct half of transactions through phones, without juggling a boatload of different apps, a scanner, or a photograph of a barcode.
In September, PayPal introduced Beacon, one possible way to streamline things further. The company is making a small, wand-shaped device available to merchants, who can plug it into a PC or a power outlet. The device emits a short-range wireless signal that triggers the PayPal app in a customer's phone when she walks into the store. If a customer has explicitly approved the service for that location, the merchant will automatically see her profile, including order history and image, on the retailer's computer terminal. It can also automatically charge the customer's account without ever presenting a bill. PayPal says it will test the service with merchants, including the Telegraphe Café, a Manhattan sandwich shop, before rolling it out more widely in 2014. "This is a completely hands-free, friction-free experience," says PayPal's Marcus.
Mobile apps such as the taxi service Uber are pushing payment transactions further into the background. Uber, operating in more than 50 cities and 20 countries, stores its customers' payment credentials on its servers. When a customer orders a ride, the driver's photo and location on a map appear on her phone as the car approaches. It's a seamless experience that can feel a bit disconcerting when the ride is over: The flat fare is deducted automatically from her credit card; she exits the cab without ever paying or tipping the driver.
Uber's payment feature is powered by Braintree, a six-year-old Chicago-based startup, which PayPal said in September it would buy for about $800 million. Braintree processes about $4 billion in mobile payments annually for Uber and other apps, including the room-booking companies Airbnb and HotelTonight and errand marketplace TaskRabbit. Transactions for all of these services are completed with one click, or even automatically behind the scenes. Bill Ready, Braintree's CEO, says a whole class of shopping experiences will soon happen this way. "People are willing to shop and browse on mobile devices, but they never want to do data entry," he says. In five years in-store checkout transactions "will seem as foreign as a green-screen terminal does today."
As smartphones become the preferred way to pay, consumers will have to wrestle with the implications for privacy. From Google and PayPal to your favorite pizza place and the coffee shop down the street, companies will know more about your shopping habits and what and when you buy. In exchange for this personalized information, they'll likely offer a wealth of perks and discounts, at least for now. Consumers and privacy regulators will have to decide whether the tradeoff is worth it and ensure that companies have explicit user consent—and that they can protect the information they're collecting. "A big issue with mobile payments is simply the privacy and security of the phone itself," says Lee Tien, senior staff attorney at the Electronic Frontier Foundation. "You also have to consider whether there are any signal leakage issues," meaning that a payment platform's Wi-Fi or phone network connection may be vulnerable to hackers.
The shift to mobile could be far more disruptive for established payment companies. Most mobile shoppers pay by entering their Visa, MasterCard, or American Express account numbers in their smartphone apps, then forgetting them. The additional payment volume is good for these companies right now, but in the long run they may find themselves struggling to stay relevant. "The brand of MasterCard and Visa goes away" in many mobile transactions, says Keith Rabois, a partner at the venture capital firm Khosla Ventures, which has invested in several mobile payment firms. "Arguably their brands are the most powerful assets Visa and MasterCard have. Now a whole generation is going to be buying stuff in a nonbranded way."
The credit card giants may have a little time to adapt. At Steins Beer Garden, where mobile payments are being tested and a purple neon PayPal sign hangs on the wall, owner Ted Kim says some of his customers and waitstaff aren't yet comfortable with the idea of paying by phone. Recently a pair of regulars ate at the bar and tried to use the numbered-code system but departed without noticing that their transaction hadn't completed successfully. A bartender had to chase them down the street, the old-fashioned way.

Before it's here, it's on the Bloomberg Terminal.
LEARN MORE