business
A 2014 Cheat Sheet
We know what you're thinking. If only all the invaluable information contained in this issue could be distilled to one handy list—a series of tidbits you could use to impress friends, foes, spouses, and maybe a few teenagers. Reader, wish no longer.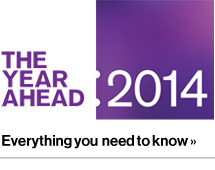 Finance
Looking Ahead: Expect a year of investigations, litigation, and settlements involving UBS, JPMorgan Chase, Deutsche Bank, Barclays, Citigroup, Bank of America, and other banks.
The Big Number: Geico spent $1.12 billion on advertising in 2012.
Quoted: "I drive a Tesla now. The sedan. It's awesome, by the way. Everybody's going to have one in 10 years." Eric Smith, CEO of Swiss Re Americas, which encourages employees to think green
The Big Question: Actually, there are two of them: When will the Fed slow its $85 million monthly bond-buying program? And will it ever raise its target interest rate?
Energy
Looking Ahead: The shale fever sweeping the U.S. hadn't caught on elsewhere—until now. Next year 400 wells may be drilled outside the U.S., with most of the action in Russia and China.
The Big Number: A coal-fueled power plant in Mississippi designed to meet new EPA emission limits will cost $5 billion by the time it opens next year. That's 65 percent over budget and rising.
Quoted: "Iraq is the only country in the world where you can put a pipe in the ground and the oil starts flowing. It's the last easy oil." Maria van der Hoeven, executive director of the International Energy Agency
The Big Question: Last year 90,000 families and businesses installed solar panels on their roofs, the equivalent of a large coal plant. With more people taking energy into their own hands, will the power industry start feeling the heat?
Technology
Looking Ahead: The end of plastic is coming. New mobile payment apps, courtesy of PayPal, Starbucks, and others, are frictionless and secure and look completely different than they did just a few years ago.
The Big Number: 100 percent of 4G smartphones in the U.S. use Qualcomm chips.
Quoted: "There's a feeling that among friends, partner nations, that we shouldn't have to worry about being spied upon." Outgoing Deutsche Telekom CEO René Obermann
The Big Question: EBay, Wal-Mart Stores, Amazon.com, and others are racing to provide same-day delivery to the greatest number of impatient customers. And the winner is …
Retail
Looking Ahead: Supermarket loyalty programs are going mobile. Customers are getting targeted pitches as they stroll the aisles. Arriving in stores now: personalized pricing. That means you may pay less at the register than what it says on the shelf.
The Big Number: Macau had casino revenue of $38 billion last year—six times larger than the amount wagered on the Las Vegas strip.
Quoted: "When you hear less sodium, your mind hears less taste." Elizabeth Stewart, marketing director at Subway, which like other chains is stealthily trying to make food healthier
The Big Question: Spider-Man, Rocket Raccoon, Ant-Man, Wolverine, Captain America, Thor. Will they save the box office?
Defense & Transportation
Looking Ahead: U.S. carmakers, almost driven to ruin by their dependence on SUVs and pickups, are now churning out inexpensive compacts that appeal to young buyers. The goal: build brand loyalty and shift the Japanese into reverse.
The Big Number: Business is so good for Trinity Industries, the nation's biggest rail car maker, that it has a backlog of orders for 40,050 cars valued at $5.1 billion.
Quoted: "We have deterred adversaries and terrorists because they think there's a high risk of failure. So instead they go to Nairobi, and they kill people in shopping malls." Michael Chertoff, former Department of Homeland Security secretary
The Big Question: Will big defense contractors like Lockheed Martin and Boeing be able to sell enough fighter jets and missiles overseas to make up for shrinking Pentagon budgets?
Health Care
Looking Ahead: The device business is going global, with startups sprouting in China, India, and Israel. That could create a pool of acquisition targets for the industry leaders.
The Big Number: The Obama administration has distributed $16.5 billion in subsidies to doctors and hospitals to help them make the switch to electronic health records.
Quoted: "We very clearly recognize there is a profound need to earn the trust of the Chinese people again." GlaxoSmithKline CEO Andrew Witty, after his company was accused of bribing doctors
The Big Question: The Nasdaq Biotechnology Index is up more than 40 percent. Is there a biotech bubble?

Before it's here, it's on the Bloomberg Terminal.
LEARN MORE