Malone's Liberty Global in Talks for Intel TV Service
Andy Fixmer and Ian King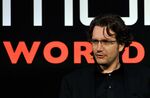 John Malone's Liberty Global Plc, the European cable operator, is in talks to acquire Intel Corp.'s online pay-TV service under development, said three people with knowledge of the situation.
Malone would use Intel's system outside the U.S., said one of the people, who asked not to be identified because the talks are private. London-based Liberty Global owns Virgin Media in the U.K., and operates in Germany, Belgium and elsewhere. Negotiations are early and could fall apart, said the people, who declined to comment on the price being discussed.
Liberty Global's interest creates competition for the advanced set-top box being developed by Intel since at least early 2012. The chipmaker, which promised to offer service this year, balked at making the significant programming investments on its own, and began looking for partners. People with knowledge of the situation said last month that Verizon Communications Inc., operator of a U.S. fiber-optic TV service, was in talks to buy Intel's project.
Marcus Smith, a spokesman for Liberty Global in London, denied the talks, saying Bloomberg's story is "without foundation." Chuck Mulloy, a spokesman for Santa Clara, California-based Intel, declined to comment.
European pay-TV services are rolling out some Web-based features faster than in the U.S. In the U.K., BT Group Plc began offering free access to premium sports programs for its broadband customers. Liberty Global's Virgin Media said in September it will offer Netflix Inc.'s subscription-streaming service with its cable-TV package.
Strategy Shift
Liberty Global fell 1.1 percent to $78.58 at the close in New York. The shares have gained 25 percent this year. Intel added 1.1 percent to $24.43. Malone, through his Englewood, Colorado-based Liberty Media Corp., holds stakes in pay-TV providers including Charter Communications Inc., the fourth-largest U.S. carrier.
Intel, the world's largest chipmaker, hired Erik Huggers, a former British Broadcasting Corp. executive, to run its digital-media operations in January 2011 as the company sought to find new ways of delivering interactive content powered by its chips.
Huggers said in February that the company planned to start service this year. The product, called OnCue, is designed to give consumers access to content across TV sets, smartphones and mobile devices.
Mobile Push
While Intel had planned to offer both live programming and a large library of on-demand video, Chief Executive Officer, Brian M. Krzanich, appointed in May, has focused on selling more mobile-phone chips.
The company decided to scale back its involvement in the pay-TV project earlier this year, and Intel began seeking partners with a base of Internet subscribers or rights to films and television shows, a person with knowledge of the situation said in September.
"Key for us is going to be to have the content lined up so that it's a great experience, and then to have the right partners in place so we can scale it fast," Intel Chief Financial Officer Stacy Smith said in an Oct. 15 interview. "At the end of the day it's all going to be about getting those subscribers and those viewers."
Before it's here, it's on the Bloomberg Terminal.
LEARN MORE