Value Fund Managers Go on a Buyer's Strike
With bargains rare, cash piles up at funds seeking undervalued shares
by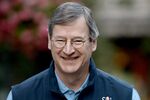 Wally Weitz beat 90 percent of his rivals in the past five years by buying stocks he deemed cheap. Now he says bargains are so scarce that he's letting his cash pile up. "It's more fun to be finding great new ideas," says Weitz, whose $1.1 billion Weitz Value Fund (WVALX) had 29 percent of its assets in cash and Treasury bills as of Sept. 30. "But we take what the market gives us, and right now it is not giving us anything."
Weitz, whose cash allocation is about the highest it's been in his three-decade career, joins peers Donald Yacktman and Steven Romick in calling bargains elusive as stocks trade at record highs. The three are willing to sacrifice top performance for the safety of cash as stocks rally for the fourth year in the past five. The mutual fund managers' comments echo those of private equity executives Leon Black and Wesley Edens, who say steep prices make this a seller's market.
As the Standard & Poor's 500-stock index has risen 23 percent in 2013, the average amount of cash in funds that invest in U.S. stocks increased to 5 percent as of Aug. 31, from 3.7 percent the previous year, according to data from research firm Morningstar. Some fund investors frown upon equity managers who sit on large piles of cash, saying they prefer stockpickers to stay fully invested. "We hire them to run stocks, not time the market," says Richard Charlton, chairman of Boston-based NEPC, which advises institutional investors.
Value managers, who look for stocks that are cheap compared with a company's earnings prospects, cash flow, or assets, have sat on their hands before, including during the runup in 2007 and 2008 to the financial crisis, says Russel Kinnel, director of mutual fund research at Morningstar. Most of the cash-heavy managers say their decisions are based on individual stock prices, not any attempt to call a market top. Holding cash during market rallies can depress returns. Yacktman trailed 60 percent of rivals this year through Nov. 1 and 82 percent in 2012 at his $11.4 billion Yacktman Focused Fund (YAFFX), according to data compiled by Bloomberg. The fund, whose cash level rose to 21 percent as of Sept. 30, from 1.4 percent at the end of 2008, bested 92 percent of rivals in the past five years. "We are having a more difficult time finding bargains," Yacktman wrote in an e-mail.
Romick, managing partner of First Pacific Advisors, took a similar stance in his second-quarter letter to shareholders of the $14.1 billion FPA Crescent Fund. "We find it difficult to invest in an environment that seems manipulated to engineer higher asset prices regardless of business fundamentals," he wrote. His fund, which outperformed 68 percent of rivals over the past three years, had 40 percent of its assets in cash and short-term securities as of Sept. 30, according to FPA's website. It beat 97 percent of its peers in the 2008 bear market. The fund had more than one-third of its assets in cash equivalents as of March 31 that year, filings show.
In bear markets, value managers find it easy to put their money to work. Weitz's Value Fund had 7.8 percent in cash at the end of 2008, regulatory filings show. "It was a wonderful time," he says. "There was so much to buy."
Before it's here, it's on the Bloomberg Terminal.
LEARN MORE