Suitsupply: The 60-Minute Makeover
Suitsupply brings affordable high-end work wear to the impatient American masses
by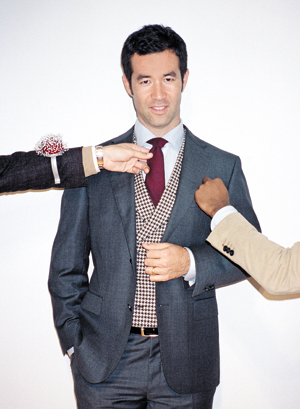 "I tell my guys, you get three chances to find the right fit for someone," says Nishantha de Gruiter, head of U.S. operations for Suitsupply, a Dutch company whose name pretty much sums up what it does. "If it takes longer than that, you lose their trust." We're standing in Suitsupply's Downtown Manhattan branch, a high-ceilinged, light-filled former SoHo loft. It's a mix of men's club and extravagant walk-in closet: The floors are dark wood; the furniture and wall art are candy-colored. The languid sounds of Nu-Soul waft through the air. Mannequins in naturalistic poses and professionally debonair salesmen populate the space. A few times, turning a corner, I mistake one for the other. There's a wall of ties, a wall of shirts, a sprinkling of shoes and accessories and outerwear, and walls and walls of suits.
Suitsupply makes and sells suits for a discerning but price-conscious customer—law firm associates and junior equity analysts, young management consultants and fashion magazine editors. The guys who know Super 150s from Super 110s, full canvas construction from half, but can't afford Ermenegildo Zegna or Kiton and spring for Paul Smith only when it's on sale. The company works to attract those with neither the time nor the inclination to spend an hour perusing the swatch book at a traditional custom suit shop. Suitsupply stores have on-site tailors, often positioned in the middle of the store where customers can watch them work. Basic alterations are done while you wait. Founded in Amsterdam in 2000 by a law student named Fokke de Jong, Suitsupply now has 46 stores worldwide. It's expanding fast, and by the end of next year there will be 14 more in Asia, Europe, the U.S., and Canada. Its off-the-rack suits start below $500 and stay below $1,000—with made-to-measure running as much as $2,000—and style arbiters such as Esquire and GQ have praised the fit, materials, and detailing.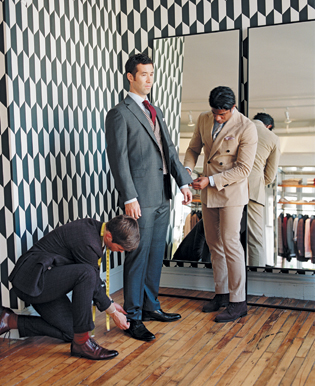 On this particular Thursday, De Gruiter is wearing the double-breasted Soho model in tan cotton from Italy's Beste mill. He began his career at Brunello Cuccinelli, the Italian designer whose coveted cashmere sweaters can easily set one back $2,500, and is erudite in a suave but slightly geeky way about fabric and tailoring. He explains how the best Italian wools come from mills around the town of Biella—"it's high on a mountain, and the water is clear to wash the fleece"—and that hand-tailored suit jackets have a middle layer of canvas woven from horsehair and camelhair, which allows them to conform to the wearer's body. He shows how, unlike plastic, mother-of-pearl buttons are cool to the touch, and points out that hand-sewn shirts have their seams purposely misaligned at the armhole, so they don't come untucked as easily when you reach for something above your head.
It takes only one try for De Gruiter to eyeball my suit (and shoe and shirt) size. I want something in gray, and he brings me a model called the Napoli with a narrow stripe, in Super 120s wool. The number is a gauge of the fineness of the yarn, and, as in a bedsheet's thread count, higher equals fancier. The Napoli is one of the more conservative suits the company makes, which means it's not particularly conservative: slimmish, with a lightly padded shoulder. At $469, it's one of the cheapest, too. I decide I might want something a bit jauntier, so we try the Sienna, with softer shoulders and a snugger fit. Next comes the double-breasted Madison, in a chalk stripe. When I put it on, my posture adjusts, and I unconsciously adopt a chesty strut. A fantasy unspools of extravagantly tipping the craps dealer in a luxurious underground casino, an ermine-clad moll on my arm.
De Jong, now 40, learned two important things in law school: that he didn't really want to be a lawyer and that many of his classmates had clothing tastes that exceeded their purchasing power. "A lot of the guys I studied with needed nice suits for job interviews but couldn't afford the really nice stuff," he says over the phone. De Jong had always been interested in men's fashion. "I found some suppliers and started selling suits out of my dorm room. I folded up my bed and had my racks of merchandise there."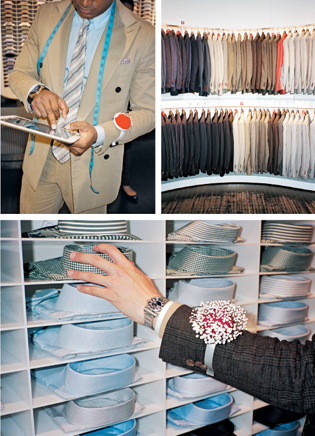 De Jong sees his stores and suits as agents of disruption in a retail sector that still has a lot of bloat. "What I got from my dorm room experience is that if you make a very nice garment, customers will come to you," he says. "You don't have to be where all the people are. You don't have to pay huge rents." To this day, Suitsupply saves money by avoiding prime retail spaces. Neither of its Manhattan locations is at street level; instead, at both there is a door, a snappily dressed greeter, and a stairway up to a second-floor showroom. And the company relies more on customer service and word of mouth than big ad campaigns. Make an appointment for a suit fitting in New York, for example, and an Audi sedan will pick you up—a taste of the private-driver life for customers for whom it remains an aspiration. (De Gruiter got Audi to provide the car for free.)
De Jong is at ease talking about cutaway collars and ticket pockets, but his favorite word is "verticalization." Like Zara and H&M, Suitsupply has wrung costs out of its production and distribution chain by designing, manufacturing, and selling its products itself. The company buys its fabrics in Italy and ships them to its own factories in China (where labor costs are low and skilled textile workers abundant), then sells from its own stores and website. That way it avoids many of the markups that get inserted at each stage, for everything from transport to warehousing to the agents that get the clothes into trade shows and department stores.
Suitsupply also benefits from the fact that men's clothing, and suits in particular, is an area that the big department stores have spent years getting out of. As men have bought fewer suits, stores such as Saks Fifth Avenue and Lord & Taylor, and France's Galeries Lafayette and Germany's Galeria Kaufhof, have shifted resources and floor space to more lucrative women's goods, including fragrances, accessories, and jewelry. As online shopping cuts their margins, the embattled department stores have accelerated the process, even though suits, with their higher prices and tailoring requirements, are the sort of thing people still prefer to buy in person. Suitsupply isn't the only company trying to fill that void. J.Crew and Brooks Brothers have both started offering suits promising high-end detailing at similar prices. "Suitsupply's future is extremely bright, because it's filling a vacuum that took two decades to create," says Burt Flickinger III, managing director of Strategic Resource Group, a retail and consumer-goods consulting firm. "The market's big enough for the company to continue to grow geometrically for the next few years."
Scaling up the methods of Italian and English hand-tailoring to industrial proportions without sacrificing quality is a tricky task. Suitsupply has a technical team that closely monitors the handiwork in all its factories. The faster the company grows, the harder it will be to keep standards at that level: to find enough skilled tailors, and to ensure that sales staff can eyeball a suit size and explain what a sous bras is (an underarm sweat shield, usually made of silk). "Finding the right people is the biggest limitation to our growth," De Jong says.
In the end, I opt for the Napoli, but a slightly pricier version in plain gray. The times when I wear a suit, I realize, tend to be occasions when I want to project seriousness. Besides, De Gruiter promises, I can always add a bit of flash. While the jacket sleeves are being shortened and the pants taken in by one of the store's on-site tailors, he brings up some ties and shirts. Fifteen minutes later, the alterations completed, De Gruiter puts my look together—a blue shirt, a burgundy cashmere tie, a white pocket square, and a snug, double-breasted houndstooth vest. The chesty strut returns. I wear the suit out of the store, into the waiting Audi, and glide off.
Before it's here, it's on the Bloomberg Terminal.
LEARN MORE