Saudi King Needs Wahhabi Muslim Support to Modernize Country
Before modernizing, the king must appease the Wahhabis
By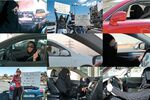 Abdulrahman al-Moshaigeh remembers leaving his mud-brick house and walking on unpaved roads to what was then the only elementary school serving Buraidah. "There's no comparison," says the former member of King Abdullah's advisory Shoura Council. Since his birth in 1945, many changes have swept his hometown, the capital of Qassim province in Saudi Arabia's conservative heartland. "Now we have more than 150 elementary schools for boys, and it's difficult to find a girl not in school," al-Moshaigeh says.
Even in a country where women are barred from driving cars and shops close at prayer time, Qassim has the reputation for being conservative, strictly adhering to the austere interpretation of Wahhabi Islam practiced in the Arab world's biggest economy. Few cars are on the streets of Buraidah during prayer time, a noticeable difference from the Saudi capital of Riyadh, and all shops are shuttered. The city of 614,000 has a small-town feel, even with significant roadwork and construction under way. There are no women walking alone on the streets, which would be a breach of the city's conservative code, and most men wear Saudi national dress—a white robe and checkered red-and-white head scarf.
Saudi rulers pay attention when places like Qassim show signs of resistance to change, says Robert Lacey, a British author and historian of the Saudi royal family. "The Al Saud have no trouble selling their modernization agenda to the traders of Jeddah, to the energy economy of the East, or to the bankers and business community of Riyadh," he says. "Those Western-looking interests want more. But many religious conservatives in Qassim want less."
This is especially true in the matter of women's rights. Allowing women to drive would need backing from Wahhabi traditionalists from Qassim before King Abdullah proceeds with this politically risky move, says Lacey. Such backing is unlikely, especially after the events of Oct. 26, when about two dozen Saudi women drove cars in defiance of the government and recorded their protest on the Web.
Abdullah listens carefully to the clerics of Qassim. One reason is historical. Abdulaziz, the founder of the House of Saud, conquered the country in 1932 with the help of nomadic tribes from Qassim. Today, men from the province still make up a large part of the Saudi military, and Abdullah relies on their loyalty. The king also treats the Wahhabis of Qassim with respect, since he does not want his modernization drive to trigger a backlash in the heartland.
Although the clerics of Qassim are not encouraging revolt, neither are they silent. Sulaiman al-Jubailan, a cleric from Unaizah, another town in Qassim, has mocked the Western pressure for expanded women's rights in Saudi Arabia. In a 2010 video on YouTube, he said women in the U.S. are treated like the "cheapest" of commodities and sold as if at an auction. Sheikh Saleh bin Saad al-Luhaidan, another cleric from the province, told the Sabq online newspaper in September that Saudi women shouldn't drive because they risk damaging their ovaries. Sheikh Abdul Rahman al-Barrak, a local resident and cleric, said in 2010 that people who support the mixing of genders in workplaces and schools should be put to death for being un-Islamic.
Most prominent of the region's conservatives is Salman al-Oudah, a cleric with more than 3 million Twitter followers who was jailed in the 1990s for being a member of a religious movement that called for a more Islamic society. In March he published a letter online saying the Saudi rulers must take steps to stamp out political and business corruption and warned of the risk that "religious, political, and cultural symbols lose their value."
Abdullah's government has directed funds to the province. "Job creation in areas outside the bigger cities is very crucial," says John Sfakianakis, chief investment strategist at investment bank Masic in Saudi Arabia. "There is a disproportionate number of Saudis over the age of 15 years who are out of the labor force in places like Qassim and other rural provinces."
Abdullah al-Wably, a local businessman, says Buraidah's economy is growing at up to 10 percent a year, enough to provide jobs for young people in the region entering the labor force. Nationwide, growth will slow to 3.6 percent this year from 5.1 percent in 2012, according to the International Monetary Fund. "Jobs for the youth, boys and girls, and housing are the priorities," al-Wably says.
While it's common to see women alone in malls in Riyadh or smoking cigarettes at cafes in Jeddah, such scenes are nonexistent in Buraidah. Women have begun working in the city's shopping malls, though. And at Qassim University's College of Business and Economics, Obaid al-Motairy, the dean, says his 3,000 students include 1,000 women whose academic performance is "excellent." Women working in malls or attending college: Those simple acts would have been unheard of in Qassim a decade ago. Maybe change is possible in the Saudi heartland.
BOTTOM LINE -
The bottom line: King Abdullah must keep the conservative province of Qassim on his side while he modernizes Saudi Arabia.
Before it's here, it's on the Bloomberg Terminal.
LEARN MORE