Retiring Boomers Will Hurt Consumer Spending, Economic Growth
Consumption will wilt as the U.S.'s workforce ages and its ranks thin
By
Retired Ford Motor worker Tony Fransetta scrimps on every expense now that he earns about one-third of his final pay since leaving the auto company in 1990. "There is no magic bullet," says Fransetta, 77, who lives in Wellington, Fla., near West Palm Beach. "I have cut vacations and travel. You have to manage your food very closely. You don't go out and buy expensive cuts of beef. You have to catch things on sale."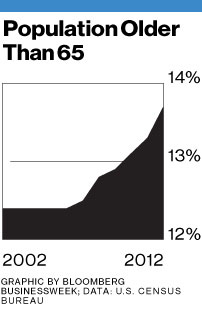 As millions of baby boomers join Fransetta in retirement, income growth will provide less oomph for the economy in the next 20 years. The labor force that remains will include a growing share of workers with less earning power.
Together, the trends will act as a brake on consumer spending, which makes up 70 percent of the gross domestic product of the U.S. "If we don't change, we are grinding to a halt," says James Paulsen, the Minneapolis-based chief investment strategist at Wells Capital Management. "The capability of the economy, its potential to grow, is far less."
Long-term growth of about 2 percent a year over the next two decades is likely, down from 3 percent in the late 1990s, says Dean Maki, the chief U.S. economist for Barclays and a former economist at the Federal Reserve Board. At a meeting in September, the Federal Open Market Committee, which determines Federal Reserve policy, projected long-term growth of 2.2 percent to 2.5 percent, down from 2.5 percent to 2.8 percent in its November 2010 forecast.
As more workers retire and the pool of active ones grows less quickly, smaller advances in payrolls will be enough to hold the unemployment rate steady. Researchers at the Federal Reserve Bank of Chicago projected in June that the unemployment rate will stabilize with job gains of about 80,000 a month, rather than earlier estimates of 100,000 to 150,000.
Making matters worse is a slowdown in the birthrate. Fewer than 4 million babies were born in 2012, near a 14-year low, data from the National Center for Health Statistics show. Without robust population growth, an economy lacks the young families willing to spend on housing, appliances, insurance, apparel, and more. Older consumers are not going to lift the economy by going on a shopping spree, says John Lonski, chief economist at Moody's Capital Markets Research Group in New York. "They will not be in line for the next iPhone."
The mean income of Americans peaks at about age 55. Those 70 and older earn about two-thirds of that, and those older than 80 earn only one-half, according to estimates by economists Richard Burkhauser of Cornell University and Jeff Larrimore of the U.S. Congress's Joint Committee on Taxation.
Baby boomers started turning 65 in 2011, and for the next 16 years, about 10,000 each day will hit the age long associated with retirement, according to the Pew Research Center. The demographic shift will reduce the growth of median income by 0.5 percentage point a year through 2030, Burkhauser and Larrimore wrote in an August 2013 paper released by the Russell Sage Foundation, which funds research in the social sciences.
The slowdown in income growth will be another drag on household budgets that took a hit during the recession. Median household income dropped 8.3 percent, to $51,107, in 2012 from the end of 2007, while the poverty rate remains 2.5 percentage points higher than in 2007, the Census Bureau reported last month.
Expected increases in the black and Hispanic share of the population could also limit median-income growth. Minorities will account for about 35 percent of the U.S. population in 2030, up from about 29 percent in 2010. Minority incomes have historically been about 60 percent of the incomes of whites. While the ratio of blacks' income to whites' has remained largely constant since 1979, Larrimore of the Joint Committee on Taxation says the income gap between Hispanics and whites has widened.
A larger share of minorities in the workforce could restrain income growth, but economists say that's not inevitable. If policymakers are seeking to increase incomes, they could target immigration policies to attract the most skilled workers, says Gary Burtless, a senior fellow at the Brookings Institution. That, coupled with improvements in education and training programs, would help "boost average income and productivity growth."
BOTTOM LINE -
The bottom line: Every day for the next 16 years about 10,000 Americans will turn 65, a shift that will lower median income growth.
Before it's here, it's on the Bloomberg Terminal.
LEARN MORE