Netflix Stock's High Flying Makes Some Folks Queasy
After the stock triples, investors, analysts—and a family—split on whether it can keep climbing
by , , and
Netflix Chief Executive Officer Reed Hastings warned in July that it takes "a strong stomach" to invest in the world's largest video subscription company. He wasn't kidding. After tripling in value in the year's first nine months as the best-performing member of the Standard & Poor's 500-stock index, Netflix swung wildly in October, making it the most volatile stock on the Nasdaq-100 index that month. Hastings himself said market "euphoria" was getting out of hand.
For Netflix, 2013 has been a year of superlatives. Its daring, expensive push into original programming has paid off, with its star-studded show, House of Cards, winning the Internet's first-ever Emmy award in September. Exclusive content has helped the streaming video service pass HBO, its archrival, in paid U.S. subscribers for the first time. Now, after gaining 262 percent this year, shares of Netflix are trading at 192 times profit, the fifth-most-expensive level in the S&P 500. The debate over whether Netflix's epic climb is petering out or just getting started has even split a father and son. Billionaire activist-investor Carl Icahn , the stock's largest individual holder, sold more than half his stake in October while his son, Brett, maintained his bullish outlook.
"It's hard not to like some of the things they've done, from massive subscriber growth, rising viewing hours, international growth, and margin expansion," says Tuna Amobi, an analyst with Standard & Poor's. "The question everyone struggles with is, how long can they sustain this kind of astronomical growth?"
Netflix makes money by selling two kinds of subscriptions: a DVD-by-mail service, which made the company a household name but is in long-term decline, and a streaming video platform that generates about 80 percent of revenue. After a ham-fisted attempt to raise prices and split the company in two in 2011, which drove away some 800,000 customers, Netflix has rebounded and claims more than 40 million subscribers.
On Netflix's ability to outperform the broader market, some analysts point to prospects for raising prices, little direct competition, and signs that the company will be able to continue finding millions of viewers overseas. The bear case relies on escalating costs for films and TV shows, deep-pocketed Amazon.com entering the original-programming game, and that stratospheric price-to-earnings ratio.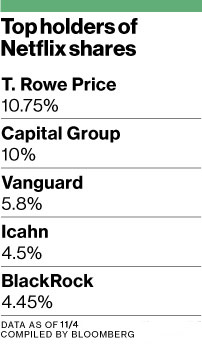 Analyst Michael Pachter of Wedbush Securities is among those who recommend selling the stock, saying investors focus too much on the buzz generated by Netflix's new shows and not enough on the fundamentals of the business—which will suffer as film and TV studios demand ever-costlier deals each time a contract comes up for renewal. "If you talk to HBO," he says, "they'd say 80 percent of the focus is on watching movies and 20 percent is original series. Even if Netflix does get it right every time with originals, what happens then?"
Tony Wible, an analyst with Janney Montgomery Scott, was a doubter for five years, arguing that the stock was too risky and costly. Now he has the second-highest price target among analysts tracked by Bloomberg, at $450, a 32 percent premium over the Nov. 5 price of $342. He says the company could add 6 million international viewers annually, making it harder with each passing quarter for competitors to keep up. "There's significant and increasing cost pressure to being in this business, and to the extent that you can keep rivals at bay, you get the ability to raise prices in the future," Wible says. "Netflix is a longer-term bet on that."
Shares soared to a record $389 when the markets opened on Oct. 22, a day after Hastings reported third-quarter profit had quadrupled, beating analysts' estimates. The stock then fell as much as 20 percent over the next week, as Hastings sounded a cautionary note. "Some of the euphoria today feels like 2003," he warned. Netflix was the Nasdaq's best performer that year—part of a wild history since its May 2002 initial public offering, that has seen shares swing from "$8 to $3 to $39 to $8 to $300 to $55 to $330," he wrote. "We do our best to ignore the volatility in our stock. The progress we've made over the last 10 years is stunning. We want to make the next 10 years even more remarkable."
The elder Icahn was happy to lock in profits from the recent surge. He sold nearly 3 million shares starting on Oct. 10, at what he said was a 457 percent gain; he still owns 4.5 percent of the company. His son, a fund manager at Icahn Enterprises, argues the stock will keep rising—and he will profit if it does. According to a deal with his father, if Icahn Enterprises sells more shares without his approval, Carl will increase Brett's compensation using a complicated formula based on the stock's performance. "We believe Netflix is one of the great consumer bargains of our time," Brett said in a statement.
Carl took to Twitter to tout his move. "Sold block of NFLX today," he tweeted on Oct. 22. "Wish to thank Reed Hastings, Ted Sarandos, NFLX team, and last but not least Kevin Spacey." Sarandos is chief content officer; Spacey plays a scheming congressman in House of Cards.
On Oct. 21, as Netflix shares were rallying after Hastings's earnings announcement, two actors who play prison employees on the network's engrossing series Orange Is the New Black were riding a downtown New York subway. A reporter approached to declare his opinion that the show is the best of the year and mentioned the after-hours trading. One of the gracious actors said he'd heard the numbers were good. He only wished he'd been paid in stock.
Before it's here, it's on the Bloomberg Terminal.
LEARN MORE