Kicking the Yakuza in the Assets
Japan attacks its crime syndicates via the banking system
By and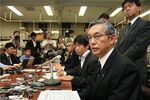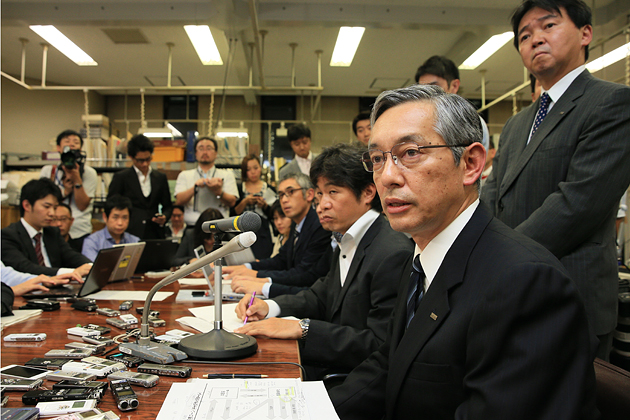 The yakuza, Japan's organized-crime syndicates that have reaped riches from extortion to human trafficking, are finding their ranks decimated by the same strategy U.S. authorities used to jail Al Capone: going after the money.
In the government's latest move against the gangs, the Financial Services Agency (FSA), Japan's financial regulator, on Nov. 5 began inspections of the country's three largest banks, Mitsubishi UFJ Financial Group, Sumitomo Mitsui Financial Group, and Mizuho Financial Group, to determine whether they are complying with regulations meant to curb transactions with criminal organizations. Spokesmen for the three banks declined to comment on the inspections.
The government's efforts are having an impact: Yakuza membership plunged 11 percent in 2011, to 70,300, and fell an additional 10 percent in 2012, to 63,200, following annual declines of about 3 percent or less since 2004, according to data from Japan's National Police Agency. The yakuza have generally been tolerated because of their long history and ties to corporate Japan and politicians. While membership in the gangs isn't illegal, laws enacted nationwide in 2011 made it illegal for anyone to do business with gang members. That same year, a U.S. executive order required American financial institutions to freeze yakuza assets. "Pressure on the yakuza has definitely intensified," says Hideaki Aihara, general manager of the National Center for the Elimination of Yakuza and a former superintendent at the Tokyo Metropolitan Police Department. "There's no doubt they're having trouble doing business."
On Oct. 28, Mizuho submitted a report on its lending practices that the FSA demanded in September after it uncovered 230 suspicious transactions, mostly auto loans to yakuza members made through the bank's Orient consumer credit affiliate. Mizuho President Yasuhiro Sato will give up six months' pay for failing to stop the loans, the bank said after submitting the report. Takashi Tsukamoto will resign as chairman of the bank while keeping his post as chairman of its parent company, and he'll take a similar pay cut. A total of 52 other current and former executives will also be penalized.
The report, written by outside lawyers, said Mizuho's shortcomings stemmed from lax internal controls rather than attempts to mislead regulators. "Megabanks clearly need to take responsibility for a wider array of issues, ranging from management to compliance, as they have many companies under their umbrellas," says Takehito Yamanaka, an analyst at Credit Suisse Group in Tokyo.
Police arrested more than 24,000 yakuza members last year, including 23 bosses of the largest gang, the Yamaguchi-gumi, for extortion, drug violations, gambling, theft, fraud, and other crimes, according to the police agency's website. The yakuza have diversified their business interests in recent years into finance, construction, and waste disposal, a police report says. Alarmed by yakuza involvement in securities trading, the Japan Securities Dealers Association in 2010 began requiring members to take steps to exclude the gangs from the industry.
The move into legitimate businesses helped prompt greater vigilance by the U.S. as well, says Adam Szubin, director of the U.S. Department of the Treasury's Office of Foreign Assets Control. Acting under the U.S. executive order, Treasury has frozen about $55,000 of yakuza holdings, including two American Express cards, according to documents obtained using a Freedom of Information Act request. The $55,000 "is a pinprick in terms of the impact that we're expecting to deliver," Szubin says. Targeting individual gang members won't result in big seizures, because "there aren't just large sitting accounts out there with the name" on them, so the department is working to blacklist companies and individuals that hold, move, or launder funds for the syndicates, he says.
The executive order is only enforceable for assets that are in the U.S. or owned or controlled by American individuals, companies, and their overseas branches. The blacklist includes Yamaguchi-gumi and the next two largest gangs, Sumiyoshi-kai and Inagawa-kai—accounting for 72 percent of yakuza membership—and their top leaders, according to Treasury. The list also includes Mexico's Los Zetas drug cartel, the Latin American gang MS-13, Italy's Camorra mafia, and the Brothers' Circle, operating in the former Soviet bloc and the Middle East.
As soon as the yakuza were added to the department's blacklist, most gang members who had accounts at U.S.-affiliated financial institutions closed them, says Jake Adelstein, a writer and researcher who specializes in the yakuza and lives in Tokyo under police protection. "I didn't expect anything to be found," he says, expressing surprise at the results of Treasury's actions. "They're off to a great start."
BOTTOM LINE -
The bottom line: Amid a crackdown by Japanese authorities, yakuza membership has fallen about 20 percent since the end of 2010.
Before it's here, it's on the Bloomberg Terminal.
LEARN MORE