FAA Says Yes to Civilian Drones—and No to Flying Robots
By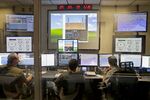 The technology that makes it possible to build self-driving cars is moving much faster than the laws that would allow them to hit the roads. The same pattern may play out with self-flying drones.
The Federal Aviation Administration outlined for the first time how it will deal with the rise of the drones (pdf), moving from a system in which it issues approval on a drone-by-drone basis to a more systematic process. The report, produced on instructions from Congress, notes that drones are already integrated into disaster response, cargo transport, aerial mapping, and commercial photography, among other sanctioned uses.
Discussion of autonomous drones has largely been about the ethics of allowing flying robots to decide who to assassinate, but there are other cases in which self-piloted drones could come in handy. Chris Anderson, the chief executive of 3D Robotics and former editor of Wired magazine, thinks that autonomous drones could be invaluable to farmers. "Farmers don't want to have to fly things," he wrote recently.
The FAA is willing to sign off on agricultural drones, but only if someone can keep them under control from the ground. The policy road map released Thursday specifically prohibits self-flying vehicles for everything beyond small drones that stay within the line of sight of a human "pilot." At the same time, the FAA puts so-called sense-and-avoid technology at the top of its list of priorities for research and development; a system in which every plane can keep track of other vehicles in the area and avoid running into them is a necessity in the long run.
This is all far in the future, of course. Even initial certification of the technology for a sense-and-avoid system isn't expected until at least 2016.
The FAA pretty much punts when it comes to a drone-related issue that people seem to see as an increasingly present concern: privacy. The regulators reject the notion that they write privacy and civil liberties rules while pointing to a way forward—kind of. By the end of the year, the agency is supposed to announce the locations of six testing sites for drones. Each of these sites will be required to come up with a privacy policy and make it public. The test sites' policies are "not intended to predetermine the long-term policy and regulatory framework under which UAS would operate," the FAA writes. But they will "help inform the dialogue."
Before it's here, it's on the Bloomberg Terminal.
LEARN MORE