Khe-Yo's Free Rice, Fiery Duck Banh Mi Sizzle: Review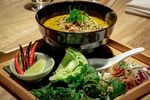 Certain New York restaurants will charge you four bucks for steak sauce; at others, bread might set you back five.
Then there's Khe-Yo, a Laotian-inspired hotspot where the best dish -- sticky rice -- is free. You scoop it up and loosen the mound with your fingers. The warm grains, served in a straw basket, are semi-dry and gently glutinous, with just enough tanginess to make your mouth water.
Two sauces accompany it. One is a mash of sweet, smoky eggplant. The other, called bang bang, puckers the mouth with lime, whets the palate with fish sauce and assaults your lips and sinuses with chile. The sauced rice, without any meat or fat, delivers a sensory pleasure similar to eating Buffalo wings.
Have it with a bottle of dark Laotian lager and there's your $7 dinner. No, nothing is really free in restaurants -- the cost of that rice is surely factored into all of Khe-Yo's prices. Still, it's nice not to feel nickel-and-dimed.
Khe-Yo is a win for chef Soulayphet Schwader, raised in Kansas but born in Laos, whose food is similar to the northern Thai fare we've been gorging on at Andy Ricker's excellent Pok Pok.
It's also a coup for partner Marc Forgione, the Michelin-starred chef and Long Island-born son of chef Larry Forgione, an icon of New American cooking.
No Burgers
Combined with other Thai spots like Uncle Boons and Kin Shop, as well as the Vietnamese Nightingale 9, New York is now enjoying a renaissance of Southeast Asian fare in all its spicy, sour, fishy and fermented glory.
There are no steaks, burgers or burritos at Khe-Yo. No brunch either.
But there is lunch, in the form of a kiosk next door called Khe-Yosk (of course), which hawks a mean banh mi baguette ($11). The sandwich is stuffed with arugula, Thai chile and duck confit.
Dunk it in a cup of au jus and savor the insane sriracha mayonnaise -- and foie gras, a holdover from French colonial times (as is the wine list, which is 100 percent Gallic).
Paul Kubler's "Z" Sylvaner is a fine by-the-glass selection ($15), a soft Alsatian white to counteract the wicked acidity in Schwader's vibrant dishes.
Drizzled Marrow
Beef tartare, a mix of knuckle and skirt, practically sizzles with lime, while a sucker punch of chile keeps your mouth buzzing. It comes with oyster sauce-drizzled bone marrow. Why? Because fat tames the pain. Allegedly.
Khe-Yo does right by laap, zippy meat and fish salads. Try the fluke laap ($13). Schwader drapes paper-thin sheets of the flatfish over eggplant and jalapenos. He roasts sweet cubes of squash, anoints them with toasted rice powder and pairs them with resinous, verdant Vietnamese coriander.
He also lays strips of duck breast over red kale and arugula ($15). Yawn. Pass on the crunchy coconut rice too, a forgettable $10 preparation.
Succulent pork curry broth ($21) is a must. Sip it throughout the meal. As with pho, diners season it themselves with mint, cilantro, pickled chiles and more.
Finger Food
Same goes for the black bass ($33). A waiter debones the fish tableside. Then you wrap it in cress and dip it in tamarind sauce, again with your fingers.
Tete de cochon is a porky profusion of smoky morsels, crisp skin and candy-sweet nuggets. Your more squeamish guests might try the kaffir-and-lemongrass-stuffed chicken, where the tender meat is infused with intoxicating herbs. Pork ribs rock too. No fall-off-the-bone wimpiness here; they're grilled for a chewy heft.
Skip dessert. Let your mouth simmer down on its own.
Rating: ** 1/2
The Bloomberg Questions:
Price: Most dishes $33 or under.
Sound Level: Bustling, but oddly quieter in the bar area.
Date Place: Definitely.
Inside Tip: Lao-Lao tipple is great, like sweet-tea vodka.
Special Feature: Excellent chile prawns with toast ($25).
Back On My Own Dime? Can't wait.
Khe-Yo is at 157 Duane Street. Information: +1-212-587-1089 or http://kheyo.com.
What the Stars Mean:
****         Incomparable food, service, ambience
***          First-class of its kind.
**           Good, reliable.
*            Fair.
(No stars)   Poor.
(Ryan Sutton writes about New York City restaurants for Muse, the arts and leisure section of Bloomberg News. The opinions expressed are his own.)
Muse highlights include Zinta Lundborg on books and New York art auctions.
Before it's here, it's on the Bloomberg Terminal.
LEARN MORE