The Unbearable Narcissism of Edward Snowden
By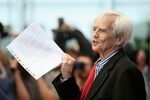 Is Edward Snowden coming in from the cold? Three months after Vladimir Putin granted temporary asylum to the former National Security Agency contractor, thus freeing him from airport-lounge purgatory, Snowden appears to be searching for ways to reenter public life. According to the New York Times, Snowden's Russian lawyer says the 30-year-old is about to start working for a prominent Russian technology company. A Russian newspaper photographed him on a boat cruising the Moscow River. Snowden's father, Lon, tells the Times that Snowden is "safe, secure and happy."
That Snowden, who's effectively been on the run since leaking details of the NSA's surveillance programs last June, might yearn for some semblance of a normal life is understandable. What's harder to sympathize with is Snowden's apparent belief that he shouldn't be held accountable for his actions.
In a meeting in Moscow yesterday, Snowden handed a letter to Hans-Christian Ströbele, a member of Germany's Green Party, in which he expressed a willingness to travel to Germany to testify about the U.S.'s surveillance activities. The letter is testament to Snowden's combination of naiveté, victimhood, and Assange-like narcissism. He describes his decision to disclose classified U.S. government information as a "moral duty" and claims that "as a result of reporting these concerns, I have faced a severe and sustained campaign of prosecution that forced me from my family and home."
That omits the inconvenient detail that Snowden fled the U.S. for Hong Kong for the express purpose of leaking his cache of documents to journalists Glenn Greenwald and Laura Poitras; in an interview with them before he'd been charged with any crimes, he said, "I don't expect to go home." At the time, Snowden signaled an awareness that he'd broken U.S. laws against leaking intelligence information, but that doing so was an act of conscience.
In his letter to Ströeble, however, Snowden strikes the pose of a man being framed for crimes he didn't commit at all. He refers to his leaks as a "public service" and "act of political expression" and contends that "my government continues to treat dissent as defection, and seeks to criminalize political speech with felony charges that provide no defense." It was, of course, Snowden who opted to defect rather than return to the U.S. to face the government's charges against him. And Snowden's suggestion that the U.S. legal system affords him no means to defend himself in a court of law—even as he lives under the protection of the Russian government, which routinely jails critics without trial—is an insult to the intelligence of the citizenry he claims to be serving.
"I am confident that with the support of the international community, the government of the United States will abandon this harmful behavior," Snowden's letter concludes, in a typically cynical appeal for help from governments far more repressive than his own. Perhaps most cloying is Snowden's description of his plight as a "humanitarian" cause, a label usually reserved for those suffering from poverty, war, or disease. Snowden may deserve praise and publicity he's received for blowing the whistle on intelligence-gathering practices that violate the privacy of unsuspecting citizens. But he doesn't need our pity as well.
Before it's here, it's on the Bloomberg Terminal.
LEARN MORE