University of Waterloo: Silicon Valley's Canadian Feeder School
The University of Waterloo looks beyond BlackBerry
by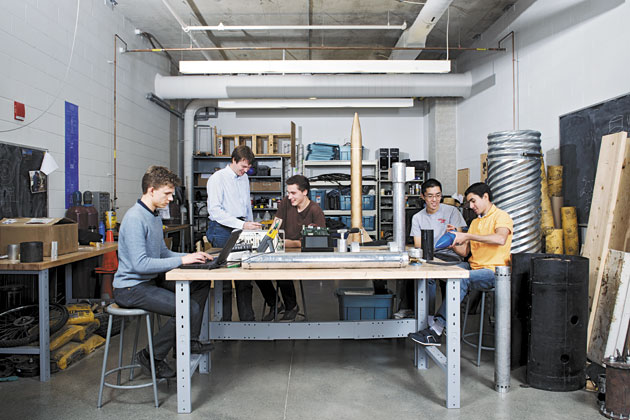 Recent engineering graduate Mike McCauley is living the dream. During his senior year, he and two classmates launched BufferBox, a delivery service that lets consumers send packages and online purchases to secure locations for pickup. After college, the startup was accepted into the Silicon Valley incubator Y Combinator, then Google acquired BufferBox for north of $25 million, according to TechCrunch. "I remember waking up one day and just thinking to myself, things really couldn't get any crazier," McCauley says. "All this is happening, and I'm not even 25."
It's a familiar story in the Valley, except that McCauley isn't the product of Stanford University or the Massachusetts Institute of Technology. His alma mater is the University of Waterloo—as in Waterloo, Ont., home to BlackBerry, one of the biggest flameouts in tech history.
In Canada, Waterloo University is still a source of national pride. It's been voted the country's most innovative school for the past 21 years by the Canadian magazine Maclean's. The engineering program, where tuition runs $12,200 per year, has emerged as a farm system for Silicon Valley companies such as Tesla Motors, Twitter, and Facebook. Last year an estimated one-third of Waterloo's graduating software engineers received job offers from U.S. companies, says Dean of Engineering Pearl Sullivan, adding that Silicon Valley executives often fly into town to drop off business cards. "The University of Waterloo is among the top few universities Google recruits from around the world," says Steve Woods, Google's director of engineering in Canada. "UW graduates do well."
Waterloo is a sleepy, postindustrial city of 100,000, a little less than 200 miles northeast of Detroit. BlackBerry's co-founder, Mike Lazaridis, dropped out of the electrical engineering program, but over the years he's provided the school with regular access to his company's research labs—and with more than $120 million to fund projects, including the construction of quantum computing facilities. Google is among the U.S. tech companies that have opened local offices. During BlackBerry's glory years as a smartphone pioneer, its success helped fuel a boom in local startups eager to recruit UW grads. There were only a handful of such startups in the area in 2000; this year there are almost 700, according to startup coalition Communitech. While the region had only 50 tech firms in 1997, it now has 1,000 that collectively generate at least $30 billion in annual revenue.
Those startups leave the school sanguine about BlackBerry's decline. BlackBerry, which had an $83 billion market capitalization in 2008, is weighing a $4.7 billion takeover bid. In the last couple of months it reported a $934 million writedown for unsold phones and said it would fire 4,500 workers. "I don't think our reputation exists because of BlackBerry," says UW spokesman Tim Jackson. "In large part, BlackBerry is here because of the University of Waterloo."
Waterloo has long attracted professors by promising them full intellectual-property rights for their inventions—a rarity in academia. Dave Dietz, director of the University of Waterloo's engineering research, says Lazaridis's financial gifts have helped lure big names to the area. Once, when Waterloo was about to poach a top professor from MIT but didn't have any lab space for him, Lazaridis agreed to finance the construction of a new building. "To me he's an archangel who comes and solves problems," says Raymond Laflamme, executive director of the school's Institute for Quantum Computing. Lazaridis didn't respond to requests for comment.
Waterloo's biggest strength lies in its co-op program, which requires students to do six four-month stints with companies. It's the world's largest such program, according to the Cooperative Education & Internship Association. Waterloo's engineers fill roughly 7,000 co-op positions at 1,600 companies a year. With two years of added work experience on their résumés, some 96 percent of graduating software engineers find work within six months of receiving their diplomas, according to Sullivan.
For freshmen, co-op positions can begin as soon as four months into their college careers. Most are paid about $8,000, and some fourth-year students make as much as $40,000 per stint. Last year, Waterloo engineering students earned a total of $111 million during co-op terms, working for big tech companies, local startups, corporate labs, or professors at other schools, the university says.
BufferBox's McCauley, now a Google product manager, says Waterloo's co-op program gave him and his co-founders the confidence to start their own company. "If I hadn't done my six terms of co-op," he says, the job offer he received in his senior year would have been so attractive that "I would have taken it in a heartbeat."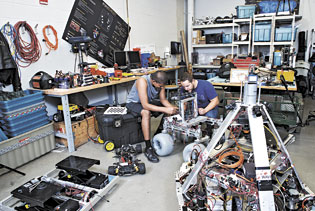 Waterloo's co-op program is costly, as it requires the school to remain open year-round to accommodate students' work schedules. Given that 87 percent of Waterloo's students are Canadian, obtaining American work visas for so many students can be onerous. Waterloo grads who found companies in the Valley often struggle to pay engineers twice as much in California as they would in Ontario, McCauley says. "There've been a slew of companies that started in Waterloo, went to Silicon Valley, and then came back," he says, though he adds that hometown pride has a lot to do with that.
As BlackBerry struggles, Waterloo has made it a priority to encourage development closer to home. In 2010 it finished a state-of-the-art design center with an airy communal work space where students work on extracurricular projects such as solar cars and, believe it or not, concrete canoes. The university also connects engineers with local incubators such as VeloCity, located in the huge building that once housed Canada's largest tannery.
With offers from Google and Twitter, Waterloo graduate Trevor Creech stayed in town to co-found a startup that simplifies the purchase of the electronic currency Bitcoin. He says he's the exception, though. "Most of my friends are down in the Valley," Creech says. "At Facebook, Twitter, and a lot of startups."
Before it's here, it's on the Bloomberg Terminal.
LEARN MORE