Tyson Foods Looks to Convenience Stores to Sell More Chicken
Tyson Foods looks for growth in the 7-Elevens of the world
By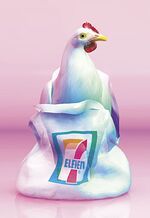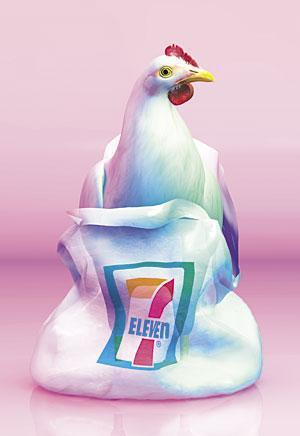 Tyson Foods is the largest U.S. commodity beef and chicken supplier, with slaughterhouses that process an average of 132,000 head of cattle and 41.4 million chickens weekly. But the company is seeking fortune beyond the supermarket meat department. That's why it's rushing to sell piping-hot Buffalo chicken bites near the cash register at many of the gas stations and 149,000 convenience stores across the U.S. Such locales may not be sexy or even particularly appetizing, but their sales are growing while revenue at traditional food stores is falling. The profit margins of prepared foods—even those sold alongside cigarettes and condoms—can be bigger and more stable than those for raw meat.
Springdale (Ark.)-based Tyson, which had $33.3 billion in sales in its last fiscal year, is building up its line of prepared foods to go head-to-head with Hormel Foods and Hillshire Brands. They're all fighting for customers who increasingly buy meals from shops better known for selling gasoline, lottery tickets, or toilet paper during the twilight hours. The chicken king wants to be more like rivals that sell more processed foods, which have higher profit margins. "Tyson wants to increase their value-added and prepared-foods business to become more like Hormel, to get to the higher [stock] multiple," says Bryan Agbabian, a portfolio manager for Allianz Global Investors.
The minimart strategy is designed to capitalize on a shift in shopping habits: Sales at U.S. convenience stores without gas stations grew an estimated 5.2 percent annually from 2008 through this year, while those at traditional grocery stores and supermarkets fell 0.4 percent, according to market researcher IBISWorld. Convenience marts, which account for 35 percent of U.S. retail locations, offer food manufacturers greater sales growth potential than even restaurants.
Tyson is betting that seasoned, breaded, and partially or fully cooked foods will help it boost annual earnings per share by 10 percent on average. It's aiming to increase sales of its so-called value-added foods (think chicken nuggets or its new flatbread ham sandwich) at twice the 3 percent to 4 percent rate it's targeting for the overall company.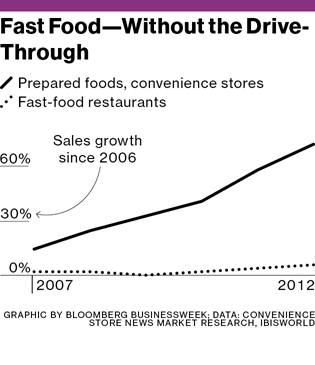 At a 100,000-square-foot facility at its headquarters that Tyson calls its Discovery Center, chefs and food technologists working in 19 test kitchens create new dishes that can be easily reheated for sale at convenience stores. Tyson's prime targets are moms rushing to pay for a tank of gasoline or a quick cup of coffee, says Eric Le Blanc, the company's vice president of marketing for deli and convenience-store foods. While young men might not think twice about buying a hot dog with a bag of chips and a megasize cola, women often veto the idea, wondering how long the meat's been spinning on the roller, he says. "The No. 1 thing that's important to her is, 'Will I be proud to serve this to my family?' " Le Blanc says. "We have to convince her."
In addition to getting busy moms to accept convenience-store food, Tyson has to increase the number of hot entrees and snacks it sells at such outlets. Consumers today would be hard-pressed to find more than one Tyson product in a convenience store, says Jon Kathol, the company's vice president for investor relations.
The company says its Buffalo bites, sold in packs of four or five boneless pieces, are already available at one regional convenience-store chain. Now Tyson's pitching several hot prepared foods, including ready-to-eat charbroiled burgers for a meal-on-the-go and a plastic-sealed Cajun tortellini dish that can be microwaved later. Tyson figures such offerings will resonate with minimart owners. "Convenience stores want to upgrade their food and image," says Greg Luchak, a principal food scientist at the Discovery Center. "They want to become a food destination."
That's the case at 7-Eleven, the nation's largest convenience chain, which sees hot food as a growth opportunity. Although hot dogs have been spinning in its stores for decades—Tyson last year won the contract to supply all of those nationwide—the chain since 2007 has introduced other hot foods, including pizza, chicken wings, chicken tenders, breakfast empanadas, and mini tacos. It offers them in 5,000 stores across the U.S. and Canada for customers who want a snack without the hassle of visiting a fast-food restaurant. Explains Kelly Buckley, 7-Eleven's vice president in charge of fresh food innovation: "The channels are blurring."
Jeffrey Cohen, an analyst for IBISWorld in Los Angeles, says food service has grown to 15.8 percent of sales at convenience stores this year, from 9.4 percent in 2007. As a result, companies such as meat producers "have a big opportunity to expand" by targeting minimarts, he says. Hormel Foods, the $8.2 billion maker of the Hormel, Spam, and Dinty Moore brands of processed foods, considers the convenience-store category to be a "growth vehicle," Deanna Brady, vice president for food service sales, said via e-mail. Hormel's Don Miguel Mexican food unit makes the hot empanadas and mini tacos sold at 7-Eleven. The company's food service business, which has supplied minimarts since the 1990s, is also pitching a new line of flatbread wraps that offer better margins than commodities.
Tyson isn't just cooking, it's actively wooing operators of convenience outlets. 7-Eleven's Buckley says she visited Tyson's Discovery Center last year to discuss potential foods. The visit included a graphic artist drawing concepts and a Tyson chef making the dishes. The retailer, leery of discussing potential new offerings publicly, says only that it is exploring other food opportunities with Tyson.
The meat giant's continuing search for comestibles to whet convenience-store operators' appetites is not always rocket science. In his test kitchen with a reporter, Luchak puts a Lady Aster cheese omelet (a Tyson product) and some Wright bacon (another Tyson brand) into one of the company's Mexican Original tortillas. Voila: A breakfast burrito is born.