T-Mobile's Wacky Plan to Trash the Wireless Business Model
How T-Mobile plans to survive by blowing up one of the most profitable business models around
By and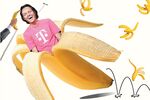 John Legere smiled, the kind of smile reserved for a man who knows he has already won and is just waiting to announce it. Legere, chief executive officer of T-Mobile US, the fourth-largest wireless carrier in the country, was giving an interview to Bloomberg TV in July to introduce a program that would allow customers to upgrade their phones twice a year. The smile appeared when he was asked about other carriers, which had complained off the record about the cost of the phones they sold to their own customers. Legere tugged at the neck of his shirt. "You know what?" he said. "It's the best part of what you just said. I'll tell you what hurts them, is the fact that they're telling you off the record that they don't like this variable about serving their customers, because frankly they don't have the balls to say it." By the end of the summer, AT&T and Verizon had followed Legere's lead with similar upgrade plans of their own.
He wore a T-Mobile T-shirt. Legere (pronounced "ledger") always does when he's in public. The shirt's almost always pink and worn with a silver pendant necklace. He wears his hair shaggy. Telecommunications is not, traditionally, a T-shirt-wearing trash-talker's business. After all, some of these companies have been around since the telegraph. But there Legere has been, for the year since the company brought him on, taunting the rest of the industry, calling out AT&T and Sprint by name, and constantly repeating that T-Mobile is so unlike all of the other wireless companies that it deserves its own genus: the un-carrier. The un-carrier charges less for unlimited texts and data. It sells you an iPhone with nothing down. It doesn't charge you for international roaming, and it gives you a little free data with every tablet.
Legere has not been overcome by a temporary spasm of crazed generosity. His is merely the first company in the U.S. market to acknowledge reality. Wireless telecommunications in the U.S. is on its way to becoming what the industry has fought against for two decades: a commodity business, where carriers and un-carriers all look the same and prices keep going down.
For the last 10 years, AT&T and Verizon, which together have more than half of the market by number of subscribers, have been the quickest to roll out big, fast wireless networks. Their advertisements have focused more on quality and reach than price; they could assume, correctly, that customers would pay a premium for the largest, fastest network. T-Mobile's ads claim no such superlatives, though Legere's network is large enough and just as fast. "Smokin' fast," he likes to say, in both press releases and public appearances.
In October, T-Mobile announced it would offer a small amount of wireless data, free for life, to every customer who bought a tablet. "These aren't carrier moves," Legere told reporters. "We try to design them to be things even we can't believe we're doing." The company is also taking old tablets from customers as a trade-in for a new iPad. Any old tablet will do. "We may take a bushel of corn," Legere said. He is a midway barker, promising something marvelous if we'll just step through the curtain. And the only thing he still needs to pull off his trick is the one thing over which he has absolutely no control. Legere has enough spectrum for now. But in the next several years he's going to need more. It may prove hard to come by.
 
 
Spectrum, a collection of licenses to transmit signals over slices of the airwaves, is the public good that wireless carriers can't operate without. For many years, T-Mobile didn't have enough. But, in one of the strangest twists in recent business history, that changed when AT&T tried and failed to buy the company.
T-Mobile has always been a bit of a stepchild. The pink of Legere's tee comes from T-Mobile's parent company, the formerly state-owned Deutsche Telekom, which has used the color ever since it split from the German postal service in 1990. In 2001, Deutsche Telekom bought VoiceStream Wireless in the U.S. for more than $30 billion. The Germans rebranded the carrier T-Mobile, same as their own domestic wireless provider.
In the early 2000s, T-Mobile's subscriber growth kept pace with the competition, but the company couldn't build out its third-generation network fast enough. Every new generation of wireless technology needs capital and spectrum. Spectrum is expensive and takes luck to acquire. Verizon and AT&T consistently outspent T-Mobile in network investments, and in 2008 the two bigger companies dominated the auction on a band of high-quality spectrum, together spending $16 billion to acquire 60 percent of it. Then they began to outspend T-Mobile by an even wider margin. Next came the iPhone, with its exclusive agreements to run on AT&T's network and later Verizon's. In 2008, T-Mobile's subscriber base had been growing at 14 percent. The next year it was 3 percent, and in 2010 it lost subscribers. Analysts began referring to T-Mobile US as Deutsche Telekom's "problem child," and the German parent was widely believed to be desperate to get out of the American market.
In March 2011, AT&T offered to adopt. It would buy T-Mobile from Deutsche Telekom for $39 billion in cash and stock. But the U.S. Department of Justice sued to block the merger under an antitrust statute. Then the Federal Communications Commission subjected the merger to an administrative hearing, a bureaucratic way of saying "we think this might be a bad idea." Worse, the FCC took the unusual step of releasing a 266-page staff report on the merger, a bureaucratic way of saying "this is just how bad an idea we think this is."
For commercial companies, spectrum licenses are granted and managed by the FCC, which is required to consider the public interest when it makes its decisions. For AT&T to take over T-Mobile's collection of licenses—the most valuable asset T-Mobile has—the FCC had to decide that it was good for America.
Here the FCC is always stuck between two conflicting goals. It wants high-speed wireless service pushed out to as many citizens as possible. To do this, it has to grant spectrum licenses to large, stable companies capable of building out successive generations of service. But the FCC also wants as many companies as possible doing this, so they can compete on price, terms, and quality. T-Mobile had been a "disruptive force," the staff wrote in its report. It had innovated on pricing and contract terms, and it had been the first carrier to sell Android phones. A merger between AT&T and T-Mobile "would result in an increase in subscriber and spectrum concentration that is unprecedented in scale."
In its annual wireless competition reports, the FCC has noted that markets in most developed countries are converging toward three or four national competitors. That seems like enough to keep prices down and competition healthy. The suit, the administrative review, and the staff report together sent a signal from the federal government: We need four national carriers, and we need T-Mobile to keep being one of them. In December 2011, AT&T and Deutsche Telekom announced they were abandoning the deal. Since the German company couldn't escape the American market, it would have to fix its problems. "We think [Deutsche Telekom] will go back to the old-fashioned sort of plan," said Robin Bienenstock, an analyst with Sanford C. Bernstein. "Run the business."
The day the company gave up its planned sale of T-Mobile to AT&T, Deutsche Telekom's CEO, René Obermann, said the company's "biggest challenge is to improve the spectrum situation." With what the company had on hand at the time, he didn't see what he called a "clear path" to upgrade T-Mobile's network to the newest, fastest data standard, called long-term evolution, or LTE. "We'll have to find alternative solutions," he said. But a solution had already presented itself. AT&T had been so certain of its ability to run the merger through Washington that it had offered a breakup fee. If the deal failed to get regulatory approval, Deutsche Telekom would get $3 billion in cash, along with a portfolio of U.S. spectrum rights and network sharing valued at $1 billion. The deal failed, so T-Mobile had cash and a bunch of AT&T's spectrum.
In 2012, T-Mobile continued to lose subscribers, but it began spending money. "We are investing $4 billion on top of the $2.5 billion cash flow that we normally have in the U.S.," Timotheus Höttges, Deutsche Telekom's now-deputy CEO, told Bloomberg News in May 2012. "And with this we have a clear path to LTE." In five months, Deutsche Telekom had found a way where once there had been none. And T-Mobile would sell its bigger, faster network to consumers using what Höttges calls the challenger strategy: lower prices. "We will rebrand in the U.S. in a more aggressive way," he said. T-Mobile would have its new network. It needed an aggressive rebrander.
 
 
"Anybody here from New York? Anybody here using AT&T? Anybody using it happy? Of course not," Legere said. "The network is crap!" Onstage at the Consumer Electronics Show in Las Vegas in January, Legere was wearing a sport-coat-ish cardigan and a Yankees cap over his T-Mobile tee. A screen behind him read simply, "Un-carrier." T-Mobile was rolling out its new brand.

Legere, 55, has run the Boston Marathon eight times, this year at 3:37. He chews on his sentences, a bit like Christopher Walken. He also used to look like Gordon Gekko. In his interviews he says he's new to the wireless industry. This is true but ignores his 33 years in wired telecommunications. Until 2011 he ran Global Crossing, which provided high-capacity connections among Internet service providers. After the dot-com bust of the early 2000s—and a scandal about well-paid executives steering the company into bankruptcy—Legere took Global Crossing through two years of Chapter 11 protection and returned it to profitability. Deutsche Telekom, when it hired him as CEO of T-Mobile in September 2012, needed two things: a turnaround specialist familiar with the economics of data traffic, and a pitchman. Legere got rid of his hair gel and his suit and filled his T-shirt drawer with T-Mobile pink. He tweets. He likes to talk about Batman. (He hates the idea of Ben Affleck playing Batman.) He is tactically wild, although his strategy does not include being wild enough to accept multiple interview requests about his role from this magazine. If T-Mobile is the un-carrier, Legere is the un-CEO.
For the past five years, AT&T and Verizon's capital expenditures have given them a privileged position among the four national carriers. Network investments get a carrier to more POPs, short for points of presence. This is how a carrier refers to any person, customer or not, within reach of its service. The more POPs a carrier has of the newest generation, the more able it has been to charge a premium for its network. Larger carriers can attract more business travelers, who need a fast, national network. They can strike deals with Apple and Samsung Electronics to get the cooler phones first. Carriers with fewer POPs, such as T-Mobile, have been forced to rely more on the prepaid market, which offers service without a contract, generally to young people and those with poor credit, who may move around less.
T-Mobile could fix its network, but it still had a perception problem. For customers in the U.S., a contract with Verizon or AT&T was a kind of economic signal, expensive proof that you were the kind of person who needed a national footprint. Legere's job was to square two slightly conflicting messages. First, T-Mobile is no longer the carrier with the last-generation network. Second, it's OK to pay less for a network that's a little smaller but still big enough.
U.S. carriers have put a lot more capital into their networks than have their European counterparts over the last five years, and they're well ahead on building out LTE. But U.S. carriers charge more, too. A lot more. The wireless industry closely watches a measure called ARPU—average revenue per user. According to Bloomberg Industries, ARPU per month in North America in 2012 was $49. In Western Europe, it averaged $27. After T-Mobile built its American network, Legere had to make the U.S. market more European.
There are two explanations for why ARPU is so high in the U.S. American carriers have either built networks so extraordinary that consumers are willing to pay more for the privilege of being a part of them. Or a duopoly has structured customer contracts to be deliberately confusing—and far too expensive for what they deliver. Legere is betting that potential customers believe the second to be true. "The un-carrier," he told Bloomberg TV in March, "is a recognition that the way the wireless industry works is a complete joke."
Verizon's ARPU has been stable for several years, at about $54; AT&T's, $47; Sprint's, $49. T-Mobile's ARPU was about $46 until the first quarter of 2012, when it started dropping about a dollar per quarter. It's now just less than $40. Initially, analysts treated this like a price war from a challenger, something that might go away after a fierce fight. But Legere has something even more destructive in mind. He wants to ruin it for everyone, forever. In Legere's view, consumers suspect that carriers have been deliberately misleading them, and there's value in being the first to say it. So he's saying it.
In March, T-Mobile finally began selling the iPhone. Traditionally, carriers subsidize expensive phones, then recoup their costs through long, pricey contracts. T-Mobile has decided that selling a phone is just like selling a blender or a couch. It sells its iPhones at retail value, either up front or in installments at zero percent financing. In an interview with Bloomberg TV, Legere produced an iPhone 5 and waggled it at the camera. The addition of the iPhone, and as of October the iPad, are important for the carrier. It needs to give potential customers a justification to pay less for a smaller network. That's easier to accept with an iPhone in your hand.
In July the company said that, aside from its smartphone installment purchase plans, it had given up on yearlong contracts altogether. Standing on the floor of the New York Stock Exchange, Legere was asked whether he was worried that his competitors might just start following his moves. "It's not as easy as it looks," he said. "I don't think they can or will reply, because they're making a ton of money. They're picking the pockets of consumers." Then he smiled. "Come down and fight with us," he said. "We'd love to have that happen."
Verizon, for its part, is reluctant to get into a brawl. "As a brand we remain focused on giving [customers] countless reasons to choose us—from the best network, the best value for that network, and the absolute best customer service experience in the industry," company spokesman Torod Neptune said in an e-mail. An AT&T spokesman declined to comment.
Verizon and AT&T may have to risk getting bloody. Legere's un-carrier strategy is paying off. In January, Guy Peddy, an analyst at Macquarie Bank, predicted that T-Mobile would lose 1.6 million subscribers this year and an additional 400,000 in 2014. But T-Mobile's numbers have grown. In the second quarter of this year, the company gained 685,000 postpaid customers. (Including one of the writers of this piece, who's paying about $180 less a month on a four-phone plan than he did with AT&T.) By comparison, Verizon gained 472,000; AT&T, 153,000.
In October, after a public event with the singer Shakira, now a T-Mobile "collaborator," Legere returned to Bloomberg TV, this time with a black leather jacket over a black T-Mobile tee, to explain the company's new plan to make data free for U.S. customers in 100 cities abroad. The industry-standard roaming charges for international data, he said, were "an outrageous push-on of artificially high prices."
Legere has created an entire identity, for himself and his company, out of his eagerness to violate his industry's standards. In each appearance, he makes sure to announce how many POPs he's reached with the company's LTE network: 100 million in March, 150 million in July, 200 million in October. "He has definitely 'sold' the story of T-Mobile well," said Macquarie's Peddy in October. "So far it's working."
T-Mobile's year of un-carrier behavior has proved that in fact, above about 150 million POPs, customers are sensitive to price. And the simpler plans get, the harder it is to shade price differences with tiered plans and phone subsidies. All the other carriers are going to have to come down and fight with the smiling guy in pink.
 
 
The fight will get more interesting. Since rejecting AT&T's acquisition of T-Mobile, the Justice Department and the FCC have smiled on several other transactions, as long as they guaranteed the existence of at least four national competitors. AT&T is buying Leap, a prepaid service with spectrum holdings in cities. T-Mobile made a similar purchase with MetroPCS. Sprint bought Clearwire, which has a large portfolio of higher-frequency, lower-quality spectrum. None of this, however, is as consequential to the industry as the FCC's work with television broadcasters on an "incentive auction," an arrangement to encourage TV channels to sell their unused spectrum to wireless carriers. This will be called the "600 block" of spectrum. Frequencies at the low, 600-megahertz range are valuable: They can penetrate buildings.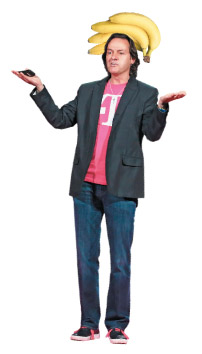 The Justice Department has recommended setting limits on what AT&T and Verizon can buy in the 600 block, after the companies cornered the 700 block in 2008. In their filings, both have argued that an auction by its very nature assigns any commodity to its highest-value use. They are right, to a point, but it depends on how you define "value." To the largest, best-capitalized carriers, a spectrum license offers two kinds of worth. It holds a simple utility value, what the company can earn by using the spectrum to sell wireless service. But it also holds what economists call a foreclosure value: the value of keeping competitors from using it to build out a new generation. That is very, very valuable.
"There is no other low-band spectrum on a scale like this to be sold by the government for the foreseeable future," said Kathleen O'Brien Ham, testifying to Congress in July. Ham runs regulatory affairs for T-Mobile. The 600-block auction, she said, "represents the last, best chance to promote competition." For the next generation of wireless service, Deutsche Telekom needs to come up with enough capital to beat Verizon and AT&T. Or it needs the right decision from the FCC, a matter of pure luck. No amount of un-carrier antics can fix this.
In October, when Legere returned to Bloomberg TV to promote the company's data plan for tablets, he called it "Un-carrier 3, part 2." As he had with the iPhone, he produced an iPad for the camera. T-Mobile, he said, was "unleashing the tablet." People are petrified to use their tablet plans, he explained, and it was a shame to chain a tablet to Wi-Fi.
Legere displayed his Jawbone bracelet and Samsung smartwatch. "People are going to have devices," he said. "As a new connected capability comes about, customers should be able to use it. No reason they should restrict it." By "they," he means the carriers, the other guys, who are trying to cheat you.
Before it's here, it's on the Bloomberg Terminal.
LEARN MORE