Lampert Channeling Bezos Can't Remake Sears as Amazon: Retail
Lauren Coleman-Lochner and Mina Kimes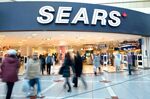 Edward Lampert, Sears Holdings Corp.'s chief executive officer and largest shareholder, likes to ladle praise on digital retailers.
In letters to shareholders and in annual meetings, he lauds websites like Amazon.com Inc. and EBay Inc. while dismissing J.C. Penney Co., Best Buy Co., and Staples Inc. as merchants that struggled even after significant investments in physical stores.
"I kept on looking for Bezos to come out at the meetings," said Gary Balter, an analyst at Credit Suisse Group AG, referring to Amazon's CEO Jeff Bezos.
Now, as Sears mulls another round of asset sales and spinoffs of some of its most profitable stores and businesses, analysts say e-commerce operations are one of its few remaining bright spots. Sears ranks as the sixth-largest online seller, according to Internet Retailer, and in its last fiscal year, its Web sales grew 17 percent, while U.S. same-store sales fell 2.5 percent.
"As a strategy, it makes a lot of sense for them," said Matt McGinley, a managing director at International Strategy & Investment Group in New York."Online is where the growth is."
Yet Sears' digital success isn't enough to reverse the decline in the main business, McGinley says. Store sales still account for more than 90 percent of revenue and those have declined for 26 straight quarters. Same-store sales slid 3.7 percent in the 12 weeks through Oct. 26, Sears said this week.
Apparel Business
McGinley estimates that Sears will use $900 million to $1 billion in cash this year. It had $671 million in cash on its books as of Aug. 3. The company said this week it's considering separating its Lands' End apparel business and auto service centers. While that could raise as much as $2.5 billion, it would only buy Sears a couple more years of liquidity, leaving it enough cash until 2015 or 2016, according to McGinley.
Ever since Lampert, 51, merged Kmart Holding Corp. and Sears, Roebuck & Co. in 2005, analysts have said he's under-invested in the company's brick and mortar stores. Last year, Hoffman Estates, Illinois-based Sears spent about $1.51 per square foot on its Sears stores and $1.04 on its Kmart stores, compared with $5.56 at Home Depot Inc., and $6.25 at Macy's Inc., according to McGinley.
The criticism that Sears is too focused on e-commerce at the expense of its physical stores is unfounded, said Chris Brathwaite, a spokesman for the department-store chain.
Delivery Service
"They're missing the point," Brathwaite said in a telephone interview. "People are ignoring the fact that the online is a component of an integrated retail strategy."
Shares of Sears fell 1 percent to $58.08 at the close in New York. The shares have gained 40 percent this year, compared with a 23 percent increase for the Standard & Poor's 500 Index.
Over the last few years, Lampert has poured money into initiatives aimed at boosting e-commerce. In 2006, Sears started a same-day delivery service, MyGofer, that allows customers to order online for pickup or home delivery. In 2010, the company debuted Marketplace, a website featuring third-party vendors that now sells almost 100 million products online.
At the Sears annual shareholders' meeting in May, Lampert touted Member Assist, a mobile application that customers can use to text message store associates. The CEO also spoke at length about Shop Your Way, its loyalty rewards program.
The retailer also recently created a social network for Shop Your Way members, who account for some 60 percent of the company's sales.
'Enormous Shift'
In his last letter to shareholders on Feb. 28, Lampert wrote, "I believe that we are seeing an enormous shift in the type of talent that will be running retail enterprises in the future, similar to the shift that Google brought to the advertising business and that quants brought to financial services."
Sears has experienced a high level of turnover in its upper ranks, including the departure this month of Lana Cain Krauter, its apparel head, and Steve Haber, its fourth appliance division head in five years. Tara Poseley, the president of apparel at Kmart, is leaving to work at Lululemon Athletica Inc., the yoga-themed retailer said yesterday.
Many of the company's current leaders come from the technology world. In 2011, Lampert hired Lou D'Ambrosio, a veteran of International Business Machines Corp. and Avaya Inc., as CEO. Lampert himself took the reins after D'Ambrosio resigned earlier this year for family-related reasons.
Digital Efforts
Two other technology executives have outlasted many of their colleagues and ascended the company's ranks. Imran Jooma, Sears' president of online, marketing, pricing and financial services, has been with the company since 2007, and Leena Munjal, the head of customer service and integrated retail, joined in 2003.
Some retail experts applaud Lampert's digital efforts.
"I wish Eddie had been at Sears twenty years ago," said Bill Kenney, a longtime Sears executive who left the company in 2008. "Because I think the things he's trying to do today -- to digitize the business model -- are the things Sears should have done twenty years ago. I just don't know if there's enough time," Kenney said in an interview.
Balter, of Credit Suisse, says Sears' online business isn't growing fast enough to offset the decline in store sales. It would take Sears years, he says, to shed enough assets and sell inventory in order to focus primarily on e-commerce.
Online Sales
Balter estimates that Sears' online sales constituted just 3 percent of its total revenue last year, or $1.2 billion. Even if the division grows sales at a rate of 20 percent a year, it would take 15 years for Sears' e-commerce division to reach $18 billion in sales, according to calculations by Bloomberg. That's still less than half of what the entire business tallied last year.
Alexa.com, a website analytics company, rates Sears the 16th most-popular online shopping site, below top-ranked Amazon.com, as well as Walmart.com and Ikea.com, and above Kohls.com, Staples.com and Barnesandnoble.com.
While Sears was a pioneer in integrating its stores and website, competitors such as Macy's and Kohl's Corp. are catching up, with annual online sales growth of more than 40 percent, said Paul Swinand, an analyst at Morningstar Inc. in Chicago.
"He's discovered an interesting play," said Swinand, who is based in Chicago. "But it's not big enough to overcome the problems and losses in its core retail business."
Before it's here, it's on the Bloomberg Terminal.
LEARN MORE