Snowden Weighs Testifying in Germany on NSA Surveillance
Patrick Donahue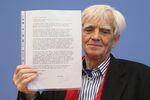 Former U.S. intelligence contractor Edward Snowden offered to testify to German authorities about the National Security Agency's mass surveillance after meeting a Green Party lawmaker in Moscow.
Hans-Christian Stroebele presented a letter attributed to Snowden in which the fugitive accuses the U.S. government of "systemic" crimes and said he faces a "severe and sustained campaign of persecution" for disclosing intelligence secrets. Snowden would be ready to travel to give testimony if he could remain safely in Germany, Stroebele said in Berlin today.
"I hope that when the difficulties of this humanitarian situation have been resolved, I will be able to cooperate in the responsible finding of fact" in an investigation, Snowden wrote in the letter signed by himself and Stroebele. The lawmaker posted photos with Snowden on his website.
Revelations last week that the NSA may have tapped Chancellor Angela Merkel's mobile phone and anger at U.S. surveillance have prompted German lawmakers to call for a parliamentary investigation. Merkel dispatched a team of intelligence officials to the White House this week to "rebuild trust" after she spoke with President Barack Obama on Oct. 23 to vent her criticism.
While German authorities would be open to listening to what Snowden has to say, any invitation to testify would have to come from lawmakers or prosecutors, government spokesman Steffen Seibert said today. It's possible for Snowden, 30, to speak with authorities outside Germany, though Snowden said he opposes such a prospect, according to Stroebele, whose party isn't in Merkel's government.
'Great Crimes'
"We will find possibilities, if Mr. Snowden is prepared to, to speak with German authorities," Interior Minister Hans-Peter Friedrich told reporters today.
More than cooperating with German authorities, Snowden would prefer to testify before the U.S. Congress to expose "not only aberrations, but in some cases great crimes," Stroebele said.
"Snowden didn't strike me as being anti-American at all, but rather the complete opposite," he told reporters in Berlin today at a briefing at which he distributed the letter.
Snowden's lawyer, Anatoly Kucherena, reiterated yesterday that leaving Russian territory would end his refugee status, according to the Interfax news agency.
Open Letter
The former contractor faces espionage charges in the U.S. for disclosing top-secret NSA surveillance programs, including hacking of private Internet systems and widespread spying on allies and adversaries of the U.S. Governments from Brazil to Germany have expressed outrage.
In the one-page letter, Snowden said he was "heartened" by the global reaction to his disclosures, though he said the U.S. government maintains its treatment of "dissent as defection" and criminalizes political speech.
Stroebele said he sent the letter to Merkel's government, to the lower house of parliament, or Bundestag, and to the federal prosecutor. The letter isn't addressed to any of those institutions and doesn't specifically name Germany.
"He's prepared to speak," Stroebele said. The lawmaker said Snowden's technical expertise will help untangle the trove of NSA documents released to media organizations this year.
Snowden's one-year asylum visa, which the Russian government granted him on Aug. 1, has sparked a rift between the Cold War foes and prompted Obama to cancel a planned summit meeting with Russian President Vladimir Putin in Moscow.
No Asylum
The former contractor, who currently has no passport, could receive free passage in Germany and protection from extradition to the U.S. if Merkel's government granted him a visa, ARD television said, citing an assessment of the research office of the German lower house of parliament, or Bundestag.
Seibert, Merkel's chief spokesman, said the government still sees no basis for the American to apply for political asylum in Germany, a process that would require him first to enter the country. Stroebele said Snowden currently won't risk doing that.
The Green legislator traveled to Moscow with two German ARD reporters. The three were picked up at a hotel in central Moscow and driven to an undisclosed location, where they found Snowden healthy and in "good spirits."
"He's able-bodied but also committed and beyond all else, when it comes to his campaign of disclosure, he's very, very serious and poised," Stroebele said. "He mentioned repeatedly what a huge risk he took."
'No Regrets'
Stroebele declined to go into detail about the location of the meeting and much of the substance of the three-hour conversation. He said Snowden confirmed that he was able to move about freely and went shopping in the Russian capital.
In a separate interview released by ARD, Snowden said he has "no regrets" and that the impact for him personally has been lack of contact with his family and loved ones.
John B. Emerson, the U.S. ambassador in Berlin, said he has conveyed "the anger of Germans and the whole German government about these recent allegations" to Washington.
"What I worry most about" is moving U.S.-German relations forward so the countries can focus on joint projects such as a trans-Atlantic trade accord, he said in an interview on ZDF television today.
U.S. Secretary of State John Kerry said yesterday that American surveillance in some cases "reached too far inappropriately."
"There is no question that the president and I and others in government have actually learned of some things that had been happening, in many ways, on an automatic pilot because the technology is there, the ability has been there," Kerry said, speaking via teleconference to a meeting in London on open government.
Before it's here, it's on the Bloomberg Terminal.
LEARN MORE