Why the Longest Nonstop Flights Are Ending
Fuel costs are behind the demise of Singapore Air's 19-hour nonstop
by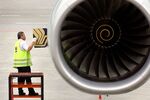 Manpreet Gill, the Singapore-based head of fixed income, currencies, and commodities investment strategy at Standard Chartered's wealth management unit, is preparing for a loss on one of his most valuable assets: his time. On Nov. 25, Singapore Airlines will stop its 100-passenger daily run from Singapore to Newark, N.J., the world's longest nonstop commercial flight. After that, Singapore Air passengers such as Gill who are used to making the 19-hour slog in one sitting will have to fly to New York's John F. Kennedy International Airport after a stop in Frankfurt—adding five hours to their journey. The carrier is stopping the all-business-class service on a four-engine Airbus A340-500 after ending the second-longest flight, from Los Angeles to the island city, on Oct. 22. The routes' well-heeled flyers are not pleased. "The more time you add on the way," says Gill, "the further it keeps you from either working or being at home."
The demise of the two signature flights is the latest sign that the airline industry is putting profitability ahead of glamour. With oil prices tripling in the past decade, Singapore Air has struggled to ferry executives like Gill on the ultralong flights profitably for the past nine years. "The plane burns a lot of fuel but carries very few passengers," says Siyi Lim, an analyst at OCBC Investment Research in Singapore. "It didn't make sense to continue."

The Newark service is more than 10,300 miles, while the Los Angeles flight was about 8,700 miles. The longest nonstop commercial flight by distance will now be Qantas Airways' 8,575-mile flight from Sydney to Dallas, which uses a Boeing 747-400ER.
Scoring a boarding pass on the world's longest flight doesn't come cheap. A round-trip ticket in mid-October on the Singapore-Newark nonstop cost as much as S$13,400 ($10,850). Flights to JFK via Frankfurt are as much as S$10,700. Analysts say the nonstop price premium still wasn't enough for an aircraft with so few seats. "With the current price of fuel," says Brendan Sobie, chief analyst at CAPA Centre for Aviation in Singapore, "it's virtually impossible to make money on ultralong-haul flights." Singapore Air spokesman Nicholas Ionides says the airline doesn't provide financials for its routes.
Singapore Air started the Newark flight in June 2004 with 181 business and economy seats. Almost four years later it was converted to a 100-seat all-business-class configuration. The Los Angeles service, which started in May 2004, was likewise retrofitted. That higher-fare, lower-volume pricing strategy worked fine during the boom. But when the economic crisis hit, many financial companies—key customers for long-haul carriers—trimmed their ranks. Remaining staffers were encouraged to travel less often and less luxuriously. Current demand for premium-class travel remains below the level seen before the collapse of Lehman Brothers.
Singapore Air "got greedy," says Shukor Yusof, an analyst at Standard & Poor's in Singapore. "It became less popular when SIA configured the cabins to all-business, instead of the business-super-economy mix when it was first launched." Rising jet fuel prices made matters worse. Fuel, the largest single expense for Asian airlines, accounts for about 40 percent of their total costs. When Singapore Air started its first nonstop to Los Angeles in 2004, the price of Brent crude, a popular benchmark, was $28.88 a barrel. Today it's about $107. To carry enough fuel onboard to power a plane from Southeast Asia or Australia to North America means carrying fewer seats than on ordinary routes to reduce weight. "It's pretty much a fuel tanker in the air," Yusof says.
The airline began returning the 340-500s to Airbus in October, as part of a deal struck last year in which the carrier ordered more superjumbo A380s, the world's biggest passenger plane. Singapore Air uses the double-decker aircraft, which also has four engines but can carry as many as 471 passengers in three classes, to fly to New York and Los Angeles through Frankfurt and Tokyo. The carrier has a fleet of 19 A380s.
Airbus halted production of the A340 in November 2011, less than 20 years after the aircraft's commercial debut. That made it the planemaker's shortest-lived aircraft program. The company sold 377 A340s, less than half the tally for the twin-engine A330. Airbus next year will begin deliveries of the A350, a more fuel-efficient long-range widebody that can carry 270 to 350 passengers and uses just two engines.
"While the price of fuel will have affected the cost of operating such ultralong flights, the A340-500 has performed extremely well in service and has proven to be a firm favorite with passengers flying on these routes," Sean Lee, a spokesman at Airbus, said in an e-mail.
Before it's here, it's on the Bloomberg Terminal.
LEARN MORE