BitTorrent's Music Industry Team-Up
The peer-to-peer company wants to shed its scofflaw image
by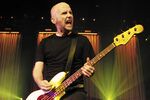 When Moby was planning the September release of Innocents, his 11th studio album, he didn't want to simply put out another collection of danceable songs. In an innovative maneuver, he open-sourced the drum tracks, guitar parts, and keyboard riffs from each song so his followers could make their own remixes. "If someone wants to make a death metal version, that's completely their prerogative," Moby says.
To distribute the tracks, he turned to BitTorrent, the San Francisco-based developer of peer-to-peer file-sharing tools. Many people in the music industry are leery of BitTorrent because it's where outlaw companies and individuals notoriously circulate pirated albums and movies. BitTorrent is striving to change its image, though. In May it launched a service called BitTorrent Bundle, which enables musicians, filmmakers, and authors to release much larger amounts of their work digitally than they could in a single download on Amazon.com or in Apple's iTunes Store.
Moby used BitTorrent Bundle to release all the tracks from Innocents, plus three additional songs and two music videos. Madonna recently used the service to distribute a movie called SecretProjectRevolution, which she appeared in and co-directed with Steven Klein. Alt-rockers Linkin Park put their new recording software in a bundle, while the hip-hop group Death Grips released one containing five tracks from its Epic Records album, The Money Store, along with an exclusive video. It's not clear this was done with Epic's blessing: A spokeswoman for the label says Death Grips is no longer on its roster.
As of now the bundles are free, but BitTorrent hopes to eventually enable artists to charge their followers for customers through the service. The company is also considering weaving in advertising to generate income for itself and its partners.
Matt Mason, BitTorrent's vice president of marketing, says bundles are a crucial part of the company's quest for legitimacy. Most people know BitTorrent as a source of ripped albums and movies. In October a British judge ordered the U.K.'s six biggest Internet service providers to block 21 popular file-sharing websites, including nine that use the company's technology. Mason says people don't realize there are two BitTorrents: the free Web protocol that 14 million users share files through daily, and the company with actual revenue, drawn mostly from gaming ads on its websites and by licensing its technology to foreign consumer electronics companies such as D-Link and Netgear. Mason says the company has been profitable for several years but has grander ambitions. "We want to be to distributive technology what Google is to search and what Facebook is to social networking," he says.
Mason concedes that'll be difficult as long as people associate BitTorrent with stolen media. He acknowledges that some people use the company's technology for such things, although BitTorrent has never been sued by the recording industry because—unlike companies such as Napster—it has never directly enabled illicit file-sharing by storing the material on its own servers. Jonathan Lamy, a spokesman for the Recording Industry Association of America, says that although he appreciates the company's statements, BitTorrent could do more to discourage users' illegal downloads. "We haven't seen any evidence of that," he says. Says Charles Caldas, chief executive officer of Merlin, a London-based agency that negotiates digital rights deals for independent music labels: "I don't think they are friends."
Artists seem more willing to accept BitTorrent's pivot, in part because they see its promotional value. Jet Life, a New Orleans rap collective, recently distributed a mix tape bundled with high-definition video and a coupon for concert tickets. "They saw an increased attendance at shows of 30 percent," says BitTorrent's Mason. "They were able to track that back to us because all of these fans were turning up with our printed-out coupon in their hands."
Moby says he's using BitTorrent because he wants to see what his fans will do with his music. So far, his Innocents bundle has been downloaded 2 million times and yielded 21,000 remixes. Moby likes what he's heard, though he says most of it has been pretty conventional. "I'm still waiting for the Bulgarian death metal remix," he says.
Before it's here, it's on the Bloomberg Terminal.
LEARN MORE