Arthur Levitt on PwC's Deal to Buy Booz: 'We Are Slipping Back'
Ira Sager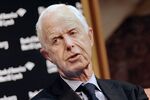 After the 2001 collapse of Enron, auditing firms came under pressure from regulators to separate their auditing and consulting businesses. In 2002, PricewaterhouseCoopers sold its consulting business to IBM for $3.5 billion.
On Wednesday, the auditing firm made it clear it wants back into that business, agreeing to buy the consulting firm Booz & Co. Terms of the deal were not disclosed.
The preliminary agreement (Booz partners are expected to vote on the deal in December) has revived the issue of auditor independence. "We are slipping back," former Securities and Exchange Commission Chairman Arthur Levitt told Bloomberg News. Levitt was a major force behind the push for rules to prevent potential conflicts when firms provide both auditing and consulting services to a client.
Levitt, who is on the board of Bloomberg LP, the parent of both Bloomberg News and Bloomberg Businessweek, clearly isn't a fan of such moves: "As the accounting profession becomes more committed to consulting, their audit activities have got to be questioned."
PwC, with annual revenue of $32.1 billion, in addition to accounting, offers advisory services in human resources and sustainability, among other areas. Booz, with revenue of about $1.4 billion according to Kennedy Research (also owned by Bloomberg LP), would extend PwC's reach into strategy and operations consulting, as well as technology services, a fast-growing area for management consultants. An earlier report suggested that Accenture was interested in buying Booz.
Both Pricewaterhouse and Booz declined to comment beyond a statement announcing the deal.
PwC, according to the New York Times, expects to avoid any potential conflicts by having Booz partners "drop consulting assignments that conflict with existing auditing clients."
Perhaps. As Lynn Turner, the former SEC chief accountant, pointed out to Bloomberg News: "Do you honestly think Booz partners would turn around and vote for this deal if they gave up all of their clients that PwC audits?"