The St. Louis Cardinals Are Destroying the Market for St. Louis Rams Tickets
By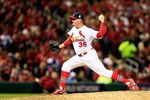 The St. Louis Cardinals and the St. Louis Rams both play home games tonight. The Cardinals host the Boston Red Sox for game five of the World Series at Busch Stadium. Nine blocks north in downtown, the Rams host the Seattle Seahawks at the Edward Jones Dome. According to Elias Sports Bureau, this is only the second time Monday Night Football and a World Series game have overlapped in the same city.1 The coincidence promises to make for the worst traffic St. Louis has seen in a long time. It's already laid ruin to the market for Rams tickets.
According to Will Flaherty of ticket search engine SeatGeek, prices for the football game have cratered as the Cardinals have progressed through the playoffs. Tickets to see the Rams tonight were selling for an average of $116.60 before baseball's playoffs started. By the time the Cardinals reached the National League Championship Series earlier this month, that had fallen to $58.11. Over the last four days, the average is down to $21.52, with some seats going for as little as $8.

The average price for a seat at game five of the World Series, meanwhile, is $700.36. As Flaherty points out, you could take 80 friends to see the Rams for the price of one Cardinals ticket.
It's a rare instance of Major League Baseball trumping the National Football League, though it has taken an uncharacteristic alignment of the stars to make it happen. St. Louis is a baseball-mad town. The Cardinals are playing the pivotal game in a closely contested series. The Rams are mediocre and facing a Seahawks team with a 6-1 record. NFL Commissioner Roger Goodell, who is focused on London at the moment, is not panicking. Last night's game four of the World Series just barely topped a Sunday Night Football blowout in the ratings.
1 The New York Giants hosted the Washington Redskins on the same night as game seven of the 1986 World Series between the New York Mets and Boston Red Sox at Shea Stadium (a night Sox fans are still trying to forget). Though Giants Stadium and Shea (now Met Life Stadium and Citi Field) are nearly 25 miles apart and in separate states.
Before it's here, it's on the Bloomberg Terminal.
LEARN MORE