Walmart's China Expansion Aims to Tap Urbanization
By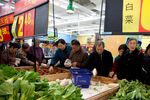 Wal-Mart Stores plans to ramp up operations in China's smaller cities, adding as many as 110 stores during the next three years as the world's largest retailer faces stiff competition from local players. Other key changes to make it more competitive include expanding its fresh foods and adding new distribution centers like the one in Shenyang set to open next month.
"Of all the individual countries we have the opportunity to grow in, China would be the top of the list," said Doug McMillon, president and chief executive officer of Walmart International, during a press briefing in Beijing on Thursday. "We have a tremendous opportunity given the population and the size of this market and the continued growth over time."
Already, Walmart has about 400 stores in China staffed with 90,000 employees. The expansion will see as many as 19,000 retail jobs created during the next few years.
Even as it expands operations mainly in China's third- and fourth-tier cities, with 13 new Walmart supercenters and Sam's Club to be opened this year, the Bentonville (Ark.)-based retailer is closing underperforming outlets.
As many as 30 could be shuttered over the next 18 months. While closures amount to 9 percent of total stores in the country, they represent only 2 percent to 3 percent of total sales through next year, according to Greg Foran, CEO of Walmart China. Until 18 months ago, Walmart had not done "any significant closures in China," Foran said on Thursday. "So this is a little bit of a catch-up here."
Even with the closures, Foran estimates a net increase of 60 to 80 shops in China over the next three years. Also in the mix: renovating 45 stores this year, 55 more next year, and 65 in 2015. We want to "get the portfolio shipshape," he said.
Sun Art Retail Group is the leading operator in China, with a 14 percent share of the 574 bilion yuan ($94 billion) industry last year, according to Euromonitor International. Walmart and China Resources Enterprise each have 11 percent, tied for second place.
The expansion is occurring as China's new leaders say they plan to encourage urbanization by bringing hundreds of millions of rural Chinese to the cities and and building a more consumption-driven economy. Walmart, not surprisingly, sees those changes as good news for its business.
"We absolutely have a mission that aligns very closely with the central government as these people move into these new areas that are being developed, apartments that are getting built," said Foran. "We have an opportunity to put in a Walmart supercenter or a Sam's down there, and give them a place to shop for their daily needs. And not only that, but give them a safe place to shop with very low prices."