U.S. Shoemaker Allen Edmonds Regains Its Footing
After self-inflicted wounds, Allen Edmonds's private equity owner preps for a sale
by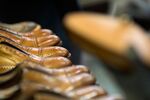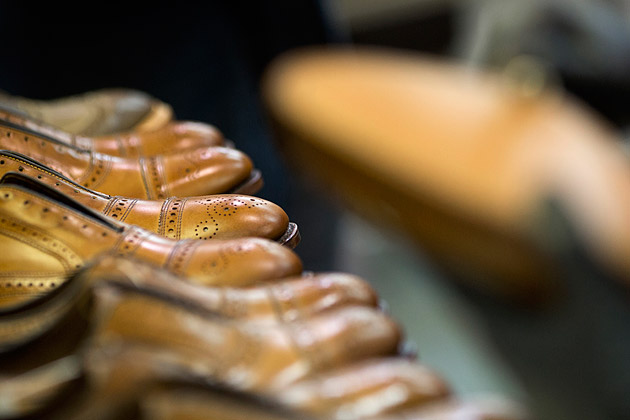 Since it was founded in 1922, shoemaker Allen Edmonds has endured the Great Depression, World War II, and offshore competition. Along the way, its handmade men's dress shoes became mainstays in the boardrooms of many American companies. U.S. Presidents Ronald Reagan, Bill Clinton, and both Bushes wore the Park Avenue, a longtime bestseller, to their inaugurations. It took an Italian love affair, a leveraged buyout, and the Great Recession to trip up the iconic American brand.
In 2004 the Port Washington (Wis.) company began discontinuing some of its classics, replacing them with trendier styles, including one model made in Italy. The company's traditional customers didn't respond well. "We tried to make it look like we could make Italian shoes instead of sticking to what we were good at," says Paul Grangaard, a former investment banker who joined Edmonds's board in 2006 when the company was acquired by Minneapolis private equity firm Goldner Hawn Johnson & Morrison in a $120 million leveraged buyout. Revenue slipped as the U.S. economy went into a tailspin, dropping to $72 million in 2009, he says, from $94 million in 2007. GHJ&M worked with lenders to keep the company out of Chapter 11 and invested an additional $10 million. "It was white-knuckle work because nobody really knew where the economy was going," Grangaard recalls.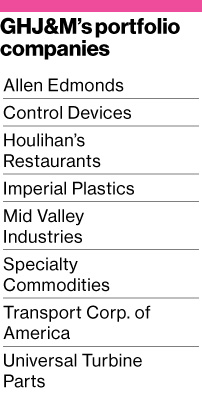 The Minnesota native took over as chief executive officer in fall 2008. He cut expenses, focused on domestic craftsmanship, revamped the company's website, and boosted the number of its branded stores to reduce reliance on department stores such as Nordstrom. Edmonds laid off 45 people—about 8 percent of its workforce at the time—halved Grangaard's pay, and trimmed executives' salaries 25 percent to 30 percent. In early 2009 the company reintroduced four top sellers and began launching casual styles for after work, tripling its offerings. "We were not cheapening anything," says Chief Marketing Officer Colin Hall.
Even though Grangaard estimates Edmonds's labor costs are roughly three times what they would be in China, the company chose to keep manufacturing in the U.S. to ensure quality and highlight its patriotism. Except for a handful of styles it imports from Italy and casual lines it makes in its factory in the Dominican Republic, the bulk of Edmonds's production happens at its two plants on the shores of Lake Michigan.
Grangaard projects a record $145 million in revenue this year. Edmonds's calfskin dress shoes retail from $250 to $450, and it urges customers to pay it to do repairs and refinishing. Billing itself as the world's largest cobbler, it fixes more than 60,000 pairs annually. To keep up with demand, the company has doubled head count to about 1,000 employees. GHJ&M is ready to sell the iconic shoemaker, says Jack Morrison, co-founder and managing director of the private equity firm. A sale "could happen relatively soon; it could not happen for a couple of years." Men's Wearhouse may make an offer, according to a person familiar with the matter who asked not to be identified because it is private. Neither the clothing retailer nor Morrison would comment.
Edmonds's most ambitious recent move is selling its shoes in China through a licensing partnership with Shanghai-based Talent Creations. They launched the first shop in Shanghai last November and have since opened another in the city and one in Beijing, with plans for a second this fall, and at least four more next year. The status-conscious "China consumer really values brand reputation and brand heritage," says Michael Cape, senior vice president for marketing at Talent Creations.
Edmonds is part of a trend of American apparel brands and shoemakers, including Red Wing Shoes, trumpeting their made-in-U.S.A. heritage to spur sales abroad. Less than 2 percent of the $41 billion in shoes sold stateside annually are manufactured domestically, according to Marshal Cohen, chief retail analyst at NPD Group. "Made in the U.S.A. outside of the U.S. has much greater traction than here in the U.S.," he says. In China, U.S.-made goods are "clearly gaining momentum as the country changes and the Internet becomes much more prevalent."
For now, Edmonds's China strategy is focused on building brand awareness. Within 10 years, its market "can be as big in China as it is in the United States," Grangaard says. Rather than import on freighters from China, "we're turning the boats around."
Before it's here, it's on the Bloomberg Terminal.
LEARN MORE