Can a Tribe Sue for Copyright? The Maasai Want Royalties for Use of Their Name
For years, companies have been making millions off the Maasai name. Now the tribe wants its cut
Stephan Faris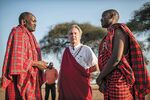 Sometimes, to get your point across to the Maasai people of Kenya and Tanzania, you have to talk in cows. Lawrence ole Mbelati, a tribesman, stands in front of a group of about 70 Maasai leaders and elders from a district in northern Tanzania, holding a picture of a red-and-brown fountain pen. Introduced in 2003 by Italian pen maker Delta, it was part of the company's "Indigenous People" luxury line. Called Maasai, it retailed for upwards of $600. "That's like three or four good cows," ole Mbelati, 35, tells the group.
Ole Mbelati, who works for a Kenyan nongovernmental organization, has driven down from Nairobi. He's speaking in Maa, the Maasai language, but wears jeans and a polo shirt. Most of the elders have come in the clothes they wear every day: bright red shukas, wrapped around them like togas. Some have sneakers on, but many wear homemade sandals crafted from tire treads. The women, as well as some men, wear intricately beaded earrings, necklaces, and armbands. They sit in a concrete building usually used for classes in veterinary medicine. Many have placed black wooden rods, the mark of a chief, on the table. A few hold up mobile phones, recording ole Mbelati as he explains the ways in which others are profiting at the tribe's expense. "Whose name is being used?" he asks. "It's the Maasai name. Who is becoming strong economically? The people who are using the Maasai name."
The Delta Maasai pen is just one of the products on display in ole Mbelati's outreach session, an effort to organize one of Africa's most famous tribes to lay claim to the commercial use of their name and image. Maasai leaders have come by public transportation, in Land Rovers, on motorcycles, and on foot to a small compound of roughly painted buildings to listen to a two-day presentation on intellectual property. According to Ron Layton, a New Zealander who specializes in advising developing world organizations on copyrights, patents, and trademarks, about 10,000 companies around the world use the Maasai name, selling everything from auto parts to hats to legal services.
Layton estimates six companies have each made more than $100 million in annual sales during the last decade using the Maasai name. In 2003, Jaguar Land Rover sold limited-edition versions of its Freelander called Maasai and Maasai Mara. Louis Vuitton's 2012 spring-summer men's collection included scarves and shirts inspired by the Maasai shuka. The shoe company Masai Barefoot Technology (MBT) says on its website that the distinctive curved soles of its sneakers were inspired by "the wonderfully agile Masai [sic] people walking barefoot." Bedding by Calvin Klein, shirts and trousers by Ralph Lauren, and cushions by Diane von Furstenberg have all been sold using the tribe's name. "Most of the value of the Maasai brand is not in the handicrafts the tribe produces," Layton says. "It's in the cultural value of an iconic brand."
Unlike most African tribes, the Maasai, whose population Layton estimates at about 3 million, have held on to their traditions, living in small mud-and-stick homesteads clustered around oval-shaped pens for their cows and goats. The tribe is an important element of the East African tourism industry. Their recognizable red attire makes them as much an attraction as the lions, giraffes, and rhinoceroses.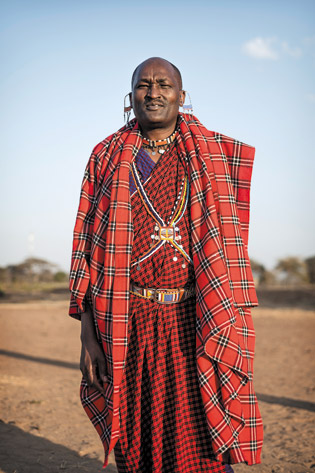 And yet, as a people, they have benefited little from the visitors. They see their images on billboards and their beadwork in gift shops, but they are underrepresented in the industry's craft markets and other trades. They see tourists take their pictures and imagine them sold for riches abroad. Tribal elder Isaac ole Tialolo, 52, grew up near the border of Kenya and Tanzania. Long a campaigner for Maasai rights, most recently for water access for their cattle, he once broke the camera of a tourist who took pictures of him without permission. On a visit to Mombasa, Kenya's second-largest city, he got into an argument with a Chinese restaurant owner who'd used statues of Maasai men and women to indicate the toilets. "I was really angry," he says. "I did not even eat." When a friend told him of Layton's interest, he was quick to get in touch. "We knew there were a lot of misuses of our culture," ole Tialolo says. "We didn't know what to do about it."
 
 
Layton, 62, first became interested in intellectual property in the late 1970s, while seconded from New Zealand Ministry of Foreign Affairs to serve as chief economist in the tiny island nation of Niue. The country, with a population of fewer than 2,000, was a passion fruit producer, supplying ice cream manufacturers in New Zealand and Australia, but its industry was being disrupted by Hawaiian exports. Niue would soon find itself bested on price, quantity, and reliability. "There was only one boat, and it showed up when it wanted to," Layton says. "At that point, I realized there were parts of the world that could never be competitive in a commodities market."
There was one product from Niue that would never face a challenge from abroad: postage stamps, prized by collectors. "A country can issue things like postage stamps, coins, Internet suffixes," Layton says. "And those things are essentially like intellectual property." The message stuck with Layton when he began buying rights to animated children's films in the mid-1980s. It was, he says, a self-made crash course in intellectual property. Fifteen years later, with several lawsuits under his belt, he started a nonprofit called Light Years IP and began looking for groups in the developing world whose intellectual property was being appropriated without adequate compensation. Layton's only income from the effort is the salary he receives from his nonprofit.
His first case involved mediating an agreement between the Aché Guayakí, a small tribe of hunter-gatherers in Paraguay, and Guayaki Sustainable Rainforest Products, a U.S.-based importer of yerba maté. Layton persuaded the company to pay a royalty, a percentage of gross sales. "My time in the film business told me to never take a net deal," he says.
In 2004, Layton contacted the government of Ethiopia, home to some of the world's most coveted coffees, which retailed in the U.S., Europe, and Japan at roughly five times the price of ordinary beans. Ethiopian producers received only a mild markup, about 10¢ per pound. Layton launched a campaign to persuade coffee distributors to recognize the Ethiopian government as the rightful owner of the trademarks for Sidamo, Harrar, and Yirgacheffe coffee. Starbucks held out. After a bruising publicity battle, it agreed to recognize Ethiopia's claims in 2007. The increased control, Layton says, unchained the country's specialty coffees from the commodity market, allowing producers to reap higher prices. He estimates that Ethiopia's trademark initiative netted its coffee industry $205 million in additional profit from 2008 to 2010. Following personnel changes in the Ethiopian office handling the project, the government has lost interest. The price of their beans has since dropped.
At a 2009 retreat on development for Kenyan government leaders in Mombasa, one of Layton's colleagues gave a presentation on intellectual property, explaining how there was proprietary value in cut flowers, tea, and traditional crafts. After her talk, one attendee asked, "Is there something you could do for the Maasai?"
The Maasai's campaign to share in the profits made off its name and likeness has precedents. In Australia the aboriginal people have managed—mostly through a public-relations campaign—to gain control of their cultural symbols. Although the effort has focused primarily on ensuring that aboriginal iconography and stories are treated with respect, some communities have seen money from visiting television productions or art galleries.
In the U.S., descendants of the Lakota warrior Crazy Horse sued G. Heileman Brewing, which made a malt liquor marketed under his name. The case was inconclusive, but the company eventually apologized and agreed to stop producing the drink. More recently, the Navajo people of Arizona, Utah, and New Mexico sued Urban Outfitters for using their name in a line of clothing and accessories, including underwear and liquor flasks. The tribe holds several trademarks on the Navajo name, which the company argues has become a generic term. The case is ongoing, after the two sides failed to reach a settlement in August. "Look at tribes like the Cherokee, the Apache," says David Petite, founder of the Native American Intellectual Property Enterprise Council, a nonprofit. "How many companies use their name selling various goods and services? They have no control over their name, and yet it's their culture, their identity."
 
 
Together with ole Tialolo, Layton has spent the last four years working on the Maasai case, helped by a $1.25 million grant from the U.S. Patent and Trademark Office. Much of the effort so far has centered on creating an organization that could credibly represent the Maasai. Although well organized locally in clans and subclans, the tribe is spread across two countries and lacks a centralized administration. Layton and ole Tialolo need to create one. They've registered a Tanzanian nonprofit called the Maasai Intellectual Property Initiative (MIPI), endowing it with bylaws they hope will reflect traditional Maasai culture and satisfy the requirements of Western courts. Ole Tialolo estimates there are 1,200 Maasai elders and leaders. He's working to persuade the traditional chiefs, elected officials, and heads of civic society groups to join MIPI's general assembly.
Layton and ole Tialolo plan at least 20 recruitment meetings like the one in northern Tanzania. By early next year, Layton says he wants to have enlisted at least 900 signatories—enough that MIPI's right to the Maasai name cannot be credibly challenged. At that point, the group will make an official declaration at Suswa, a traditional place of gathering at a double-cratered shield volcano west of Nairobi, where the tribe has settled issues of war and peace. Then the general assembly will elect a board to represent it, and MIPI will begin laying its claim.
Legally, the claim is weak. The Maasai may be responsible for the creation of their culture, but they've never made an effort to enforce ownership of it, so they face an uphill battle doing so now. "It's a nice idea, but if it would work, the French deficit would be gone by asking for royalties on French fries," says Seth Siegel, co-founder of the Beanstalk Group, a trademark licensing agency and consultant.
And yet, Layton argues, legal avenues are not the only ones available. The Maasai have a strong moral claim. The benefits for a company in associating with the Maasai would quickly evaporate if a half-dozen warriors showed up at its headquarters and accused it of theft. Layton's consultants on the project include Karl Manders, chief executive officer of Continental Enterprises, a consultant specializing in defending intellectual property. In the 1990s, Manders helped Volkswagen reclaim control of the commercial use of the image of the original Beetle, a piece of intellectual property the car company had never enforced. Through publicity campaigns, generous licensing agreements to those already using the car's shape, and a few lawsuits, Volkswagen regained control within two years. "As you establish your rights, people come to be seen as infringers instead of uneducated businessmen," Manders says.
Layton estimates that if the Maasai play their cards correctly they could see licensing revenues as high as $10 million a year within a decade. The first step, he says, will be to seek out friendly companies who will publicly recognize MIPI's assertion of brand ownership. Layton says that Jaguar Land Rover has told him it plans to affirm the claim. In a statement, Jaguar Land Rover confirmed it "has been engaged in constructive dialogue with representatives of the Maasai Intellectual Property Initiative with respect to the Maasai and Maasai Mara trademarks which Jaguar Land Rover were the registered proprietor of."
MBT, which has recently come under new management, says it's moving "away from using the Masai [sic] word in its terminology which was the previous strategy of the past owners." Calvin Klein says it no longer uses the tribe's name and has no plans to do so. Delta and Diane von Furstenberg did not reply to requests for comment; spokespeople for Ralph Lauren and Louis Vuitton declined to comment.
The biggest challenge for the Maasai could come if and when the money starts rolling in. Revenue from brand licensing will be channeled through MIPI to be allocated in Maasai districts for development work. "We're not going so far as to ask for electricity," says Saitoti Oloishiro, 42, a chief from northern Tanzania and one of the Maasai behind the project. "That would be a daydream. What we are saying is, we need maybe some water for our families and our animals, a dispensary. We need schools nearby." Attendee Robert ole Saitabau, 59, a high-ranking chief, owns a Land Rover Discovery. "I had never known the company was associated with us until today," he says. In his opinion, funds from licensing should be used to protect Maasai customs. "This is something exciting," he says. "If we restore our culture, it will bring us even more money."
The strength of the Maasai brand—and the tribe's power at the negotiating table—will to some extent depend on the image the project presents to the world. If income gained from licensing sinks into a mire of infighting and graft, its flow is likely to dry up quickly. Managing the money will be as important as managing the brand. As ole Tialolo tells the assembled chiefs and elders: "Our warriors once went on raids and brought home the cows they found. We have gone out into the world and brought these ideas home. Now it's up to you, the owners, to decide what to do."
Before it's here, it's on the Bloomberg Terminal.
LEARN MORE