A Cheaper Way to Defuse Patent Claims: Kill the Patent
Silicon Valley has a new strategy to avoid costly legal challenges
By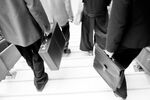 When a tech company gets hit with a patent infringement lawsuit, the odds are high it will settle. So-called patent trolls—businesses or individuals who buy older patents, then sue infringing companies in search of big payouts—win more than half of cases that go to trial. A White House report says more than 100,000 companies were threatened with infringement suits last year by businesses whose sole mission is to extract royalty revenue, and the Government Accountability Office says those outfits filed 19 percent of all patent lawsuits from 2007 to 2011. In cases that went to trial in 2012, licensors were awarded a median $11.2 million per case, according to a PricewaterhouseCoopers study.
Google, Oracle, data-storage provider NetApp, and other tech companies have a new strategy for fighting back: petitioning the U.S. Patent and Trademark Office to revoke the patents they're allegedly violating. These patent reviews, set up under the 2011 America Invents Act, can discourage frivolous patent claims by shifting the burden of proof to the plaintiff. The patent holder can't refuse a review, overseen by administrative patent judges, even if a court case is already in progress. The outcome of a proceeding, required within 12 months instead of years, is legally binding; and although the trial judge isn't required to put a case on hold while the Patent Office conducts a review, most do.
In patent trials, plaintiffs' attorneys are allowed to examine defendant e-mail and all manner of company documents in discovery, which can divulge trade secrets—and provide a huge incentive for defendants to settle. In patent reviews, the focus is narrowed to technical details about the technology in dispute. For tech companies, "the odds of winning a validity challenge are orders of magnitude higher than in other current forums," says Austin (Tex.)-based attorney Scott Cole, who often represents patent owners. Patent Office spokesman Paul Fucito declined to comment.
These newfound advantages for tech companies have shifted power away from the patent holders. Since reviews began this past year, some 41 of the Patent Office's roughly 600 cases have been settled and at least one patent has been invalidated. Compared with protracted court battles, which cost defendants an average minimum of $650,000, administrative challenges cost far less, usually not more than $300,000. "We are looking at the most cost-effective way of dealing with dubious suits," says Douglas Luftman, NetApp's chief intellectual property counsel.
Tech companies are pressing to further sweeten the review system by expanding the kinds of arguments they can use to invalidate a patent. SAP challenged a Versata Software patent on the grounds that the invention—customized pricing based on volume or consumer history—was so abstract that it shouldn't have been patentable. As of now, that only works against patents on some kind of finance-related business concept. Google's patent counsel, Laura Sheridan, says her company wants Congress to pass legislation that would give more patents the same treatment.
The patent-review strategy carries some risks for companies already engaged in court battles, Sheridan says. "If you're not successful, the jury will hear about that," she says. For smaller companies that may be unable to finance patent defenses, Google and NetApp launched startup Unified Patents to help them pool resources. Unified charges clients for subscriptions to its troll-monitoring news feed and tries to buy up patents before trolls can. "All of these companies are seeing litigation on the same patents across all of their products," says Chief Executive Officer Kevin Jakel, former head of IP litigation at Intuit.
The potential savings have prompted some tech companies to attempt a long list of challenges against patent holders. After cloud-services company Rackspace Hosting was sued by licensor Rotatable Technologies for violating its patent on computer image displays, Rackspace "decided to stand up and not be pushed around," says company lawyer Van Lindberg. He says Rackspace is challenging Rotatable's patent and may file 10 other petitions against patent owners that have demanded payments. Rotatable lawyer Austin Hansley didn't return calls seeking comment.
BOTTOM LINE -
The bottom line: Patent trolls are being undermined by a review system that forces them to justify their original patent.
Before it's here, it's on the Bloomberg Terminal.
LEARN MORE