McDonald's New 'Dollar Menu' Goes Up to $5
By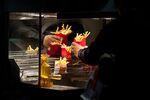 Since McDonald's launched the Dollar Menu nationally in 2002, it has grown to about 13 percent of sales–a whole lot of McDoubles and Sausage Biscuits. But the menu is no longer working for the burger chain, so it's rebranding it as the "Dollar Menu & More" with $1 and $2 sandwiches and even some items at $5. It's more like a neighborhood dollar store now: the name refers to the starting price.
The idea is to promote value at additional price tiers. Hey, maybe packaging a $2 sandwich on the menu will make it seem like a better deal. McDonald's CEO Don Thompson explained during an earnings call on Monday that the menu "gives customers a value ladder of sorts, so that based upon their discretionary spending, they have multiple offers at McDonald's." He emphasized that $1 items will remain–it's still critical to retain customers–and that the chain is not abandoning the old Dollar Menu concept but helping it evolve.
The Dollar Menu & More is already being tested in five U.S. markets, Bloomberg News reported last month. All restaurants will offer Dollar Menu & More starting Nov. 4, and advertising for the menu will launch Nov. 11.
Emphasizing price tiers diverges somewhat from McDonald's "high-low" strategy that focused on value products like the $1 McChicken on one end and premium products like McWraps and Mighty Wings on the other. (The wings haven't performed as well as the chain had hoped.) "We have to be able to balance both of those two ends of the barbell, if you will. And also I would say we also have to fill in what's in between. That's the reason for Dollar Menu & More, when we talk about $2 price points with sandwiches that have a few additional things to offer than our base value Dollar Menu offerings do," Thompson said on Monday's call.
Adjusted for inflation, a dollar bill in 2002 is the equivalent of $1.30 today, making the economics of the Dollar Menu challenging for already strained franchisees. "This is one of the ways that we can maintain the Dollar Menu in the face of rising commodities and labor pressures," Thompson explained, "but also get a little bit more margin basis on some of the products at $2 and some of the products at higher price points from there and the franchisees support this."
That raises another point in favor of the higher-priced menu: As seductive as the $1 price point might be, one day it will be impossible to sell a burger for so little. The new menu will help customers become accustomed to seeing the higher prices at low-end of the menu.