Chasing Windfalls With TLC's Made-for-TV Biopic
VH1 and Epic Records invest in a TV movie about TLC
by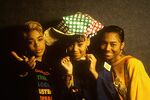 Do you know all the words to No Scrubs? Enjoy tales of music-industry dysfunction? Are you a female human who was alive in the 1990s? If so, you will like VH1's (VIAB) CrazySexyCool: The TLC Story, a biopic about the hip-hop trio premièring tonight at 9 p.m. The film, written by music-movie specialist Kate Lanier, who wrote What's Love Got to Do With It (pretty good) and Glitter (so bad it's good), follows an arc right out of VH1's Behind the Music: Talented unknowns catch a break, sign a shady contract, make some hits, get screwed out of money, start fighting, and stage a triumphant comeback.
CrazySexyCool stars Keke Palmer as Rozonda "Chilli" Thomas, Drew Sidora as Tionne "T-Boz" Watkins, and a standout who goes by Lil Mama as Lisa "Left Eye" Lopes. All three, who look freakishly like their real-life counterparts, are gifted enough singers and dancers to make the musical scenes believably enjoyable. It's hard to mess up Waterfalls.
The movie starts as the girls are struggling to make it in Atlanta's flourishing hip-hop scene. T-Boz and Left Eye impress a young producer, Antonio "L.A." Reid, who's recently formed LaFace Records. Rozonda, a backup dancer, joins the group and changes her name to Chilli, and the pleasing moniker TLC is born. The dialogue is terrible—"We're that tough, positive crew with a real down-to-earth message," T-Boz says—but there are enough nostalgic touches to keep viewers distracted. Remember baggy overalls? Remember beepers? Remember the Roger Rabbit dance?
The group gets famous—its first album, Ooooooohhh … On the TLC Tip, goes triple-platinum; the ­follow-up, CrazySexyCool, sells more than 23 million albums worldwide—but manages to go into debt. "The awards kept coming, but the checks didn't," T-Boz narrates. LaFace head Clive Davis, played by an actor with a very large head, briefly appears and assures the girls he'll straighten everything out. They eventually renegotiate their contract with the help of a new manager, Bill Diggins. Meanwhile, Left Eye drinks too much and burns down her boyfriend Andre Rison's house, T-Boz suffers from sickle cell anemia, and Chilli has an emotionally abusive relationship with music producer Dallas Austin. Their makeup looks great the entire time.
It's no surprise that the movie presents an entirely sympathetic portrait of its stars. Diggins, who's still T-Boz and Chilli's manager, got Lanier on board, and together they approached VH1 about the project. The network's had some luck with scripted series, including the Sex and the City-ish Single Ladies and Hit the Floor, about NBA cheerleaders, and looked at the TLC film as the next step. "Scripted content is something we've had success in, and we're going to build on that," says Tom Calderone, president of VH1. "In terms of that pop culture/music/instant nostalgia beat we try to hit a lot, CrazySexyCool was an easy green-light."
During filming, Diggins invited Reid to the set, and the producer was inspired to sign TLC to Epic Records, where Reid's now chief executive officer. The group quickly put together an anniversary album, 20, timed to the movie's release. "We actually had no intention of doing a record deal with [Reid]," Diggins told the Hollywood Reporter. "We just wanted him to come down and see what we had done … and I think he started falling in love again." (It's unclear whether Reid had seen the movie before showing such love—he's portrayed as a greedy dunce.)
VH1 was thrilled with the doubled-up marketing. "That this album is aligned to the première is something new for us, but Sony [Epic's parent company] has been a great partner," Calderone says. TLC is planning an album of new material for 2014, with Lady Gaga as a featured artist.
The record will showcase the talents of only T-Boz and Chilli, of course, as CrazySexyCool ends with Left Eye's 2002 death in a car accident in Honduras. "Don't go to Central America, Left Eye!" you may want to tell your TV. "Get the group back together instead!" Alas, it's 11 years too late. But if VH1 and Epic have their way, TLC will live on, and a new generation of girls will learn to ignore those broke-ass guys hanging out of the passenger side of their best friend's ride.
Before it's here, it's on the Bloomberg Terminal.
LEARN MORE