Chipotle's Tofu Burrito Moves East
by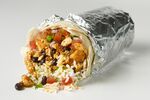 Chipotle is bringing tofu burritos to even more Americans.
The chain introduced what it describes as organic artisan tofu, sold on the menu as sofritas, throughout the San Francisco Bay Area in February, and the item quickly spread across the West Coast and as far inland as Colorado in the following months. Next week, Chipotle is bringing braised, spiced tofu to customers in Chicago, Baltimore, Philadelphia, Richmond, and Washington, D.C.
The organic, non-GMO tofu, made by Hodo Soy, certainly fits Chipotle's sustainable-food mission. And the chain seems increasingly interested in being vegan-friendly: On Thursday's earning call, Steve Ells, co-chief executive, said the company is removing the bacon from its pinto beans to cater to these customers. The rapid spread of tofu also allows Chipotle to test—and possibly cultivate interest in—a meat-free option as the restaurant chain runs up against limited supply of "responsibly raised meat," which are made without hormones or antibiotics and are needed to meet its ideals.
By the end of the year, tofu will be available in 650 locations, or about 40 percent of all Chipotles, up from one-quarter currently. In locations that offer it, sofritas-stuffed items account for 4 percent of sales. Half of the demand comes from vegan and vegetarian customers, and the other half from curious carnivores. "In developing sofritas, our aim was to create a menu item that would offer another delicious option for our vegan and vegetarian customers that would also appeal to meat eaters who might want an occasional meat-free option and that would fit into our service line and not burden our operations or throughputs," Ells said. "So far, we are seeing success in each of these areas."
A Chipotle spokeswoman emphasized, however, that there are no plans yet "to introduce sofritas nationally."
Before it's here, it's on the Bloomberg Terminal.
LEARN MORE