Washing the Formaldehyde Out of Baby Shampoo
By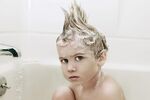 It's hard to think of a big consumer company that hasn't gone green by now, with at least a promise to reduce its carbon footprint, energy use, water consumption, or packaging. Fewer have examined the potentially toxic chemical ingredients in their products, a particular problem for the makers of shampoos, cleaning supplies, and cosmetics. Now they won't have a choice: California (of course, California) has put into effect a green chemistry initiative, known officially as the Safer Consumer Products Act, that will require companies to eliminate certain potentially harmful chemicals from the products sold in a state large enough to sway the entire domestic market.
What the California law accepts—and some companies are starting to acknowledge—is that any dangers probably lie in the cumulative effects of chemical exposure. California has already identified 164 chemicals for testing. By April, regulators will select up to five priority products for analyses and possible reformulation. These potentially include nail polish that contains toluene, carpet adhesive with formaldehyde, and florescent light bulbs with mercury.
Although the law will be phased in over the next couple of years, Bloomberg News identified a few big companies that have already begun to reformulate products. Among them is Johnson & Johnson: Turns out its baby shampoo contains formaldehyde. (I know—formaldehyde? It isn't added purposefully but is released over time by preservatives in the shampoo.) The chemical is considered a "probable human carcinogen" by the U.S. government and is on California's watch list.
J&J says its products are safe, but the company still plans to make its baby shampoo without formaldehyde by the end of the year and eliminate other potentially harmful ingredients by 2015. "As our products and policies evolve, they reflect the latest science, new regulations, and—just as importantly—consumer concerns," Carol Goodrich, a J&J spokesperson, told Bloomberg News.
Proctor & Gamble has said it will eliminate from all products by next year the antibacterial triclosan, which has been shown to alter hormone regulation in animals, and diethyl phthalate, which has been associated with endocrine disruption. Target announced a program that will reward suppliers for removing harmful substances from their products. And Wal-Mart says it will require suppliers to phase out 10 as-yet-unidentified chemicals from cleaners, makeup, and other personal care products by 2015.
Expect a new batch of green consultants to emerge soon.