Japan's Billionaire Brawl: SoftBank's Son vs. Rakuten's Mikitani
A price war at home could wind up weakening two tech titans
by , , and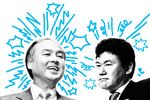 The Japanese are witnessing a rare spectacle: two of the country's business titans, both with global ambitions, openly jabbing at each other. In one corner is Masayoshi Son, Japan's second-richest man and president of SoftBank. Besides being the No. 3 mobile carrier in Japan, SoftBank is also the leading shareholder in Chinese e-commerce powerhouse Alibaba Group and owns stakes in more than 1,000 Web businesses around the world, including BuzzFeed and Zynga in the U.S. This summer SoftBank took control of mobile carrier Sprint in a $21.6 billion deal. In the latest sign of Son's determination to expand his reach beyond Japan, SoftBank announced on Oct. 15 it was paying $1.53 billion for 51 percent of Supercell, the Finnish developer of the popular Clash of Clans mobile game. Son is also in talks to buy a stake in Brightstar, a distributor of handsets based in Miami.

In the other corner is Hiroshi Mikitani, Japan's third-richest man and founder and chairman of Rakuten, a vast online marketplace that's far bigger in Japan than Amazon.com. A Harvard Business School graduate and former investment banker, Mikitani understands that Rakuten has no future if it remains solely focused on a home market with a rapidly aging population. That's why Rakuten bought U.S. shopping portal Buy.com for $250 million in 2010 and has snapped up other online retailers in Europe, Latin America, and Southeast Asia. Rakuten acquired Kobo, a Canadian maker of e-readers, in 2011 and last year led a $100 million investment group buying a minority stake in Pinterest, the Silicon Valley startup that allows user to create digital scrapbooks.
Son and Mikitani have billionaire-size egos—and unlike many Japanese businessmen, don't stick to bland talking points. Discussing his motivation for the Sprint takeover, Son told reporters in Tokyo: "I am a man, and I think every man wants to be No. 1." Mikitani, for his part, has made no secret of his desire to take down Jeff Bezos, and before the Japan launch of the Kindle last year, he presented a Japanese publishing executive with a T-shirt emblazoned with the words "Destroy Amazon."
Instead of focusing on how to best Bezos, Mikitani is now fending off an unexpected assault from Son. On Oct. 7, Yahoo! Japan, the search engine and portal in which SoftBank is the largest shareholder, announced that vendors would no longer have to pay fees to maintain storefronts on its online shopping mall. That's a direct challenge to Rakuten, which is more dependent on the fees it charges its more than 41,000 merchants. E-commerce accounted for 17 percent of Yahoo Japan's 343 billion yen ($3.5 billion) in revenue last year, while 28 percent of Rakuten's revenue of 400 billion yen came from its online mall, Rakuten Ichiba. (Ichiba means shopping mall in Japanese.) Investors, concerned that a price fight could damage both companies, erased a combined $4.3 billion in value in the first two days after Son's announcement. SoftBank and Rakuten declined to make senior executives available for interviews.
The two sides are vying for the affections of merchants such as Shanghai Donya. The Tokyo-based electronics retailer sells mostly through its shop on Rakuten, whose customers voted it the best camera, audio, and TV shop last year. Shanghai Donya also has a storefront on Yahoo Japan, but it doesn't contribute much revenue, says Takayuki Ezawa, a spokesman for its parent, Thirdwave Group. Ezawa says he's impressed with Son and his reputation for going against the Establishment. By dropping fees, Yahoo Japan may woo more retailers to its mall, which should boost traffic. "The market will automatically expand," says Ezawa. "This is what Mr. Son is good at."
Son needed to do something radical to shake up Yahoo Japan. Founded in 1996, the company is 35 percent-owned by its U.S. namesake but operates independently. It has 6 percent of Japan's 4 trillion-yen e-commerce market, compared with 24 percent for Rakuten Ichiba and 12 percent for Amazon, according to data from Goldman Sachs.
Yahoo Japan's online mall "had reached a point of such inertia that a minor change or more effort was unlikely to deliver a major breakthrough," wrote Oliver Matthew, an analyst at brokerage CLSA, in an Oct. 7 report. Doing away with the 25,000-yen ($187) monthly fee and the 1.7 percent to 6 percent royalty on sales it charged merchants is a "bold change," says Yuki Nakayasu, a Tokyo-based analyst with Credit Suisse. Rakuten Ichiba's monthly tenant fees range from 19,500 yen to 100,000 yen, plus between 2 percent and 6.5 percent of sales, according to Goldman. The company doesn't intend to cut fees in response to Yahoo Japan's move, says Rakuten spokesman Jeremy Tonkin.
This may be the right time for Son to be targeting Japanese consumers. After years of economic malaise, Prime Minister Shinzō Abe is trying to jumpstart growth by weakening the yen and ending years of deflation. A consumer revival could be lucrative for Yahoo Japan, since the country lags the U.S. when it comes to e-commerce: In Japan only 3 percent of sales take place online, compared with 7 percent in the U.S., according to Cantor Fitzgerald. "The e-commerce market in Japan is really at the beginning stage," says Gerhard Fasol, chief executive of Eurotechnology Japan, a Tokyo-based consulting company. "Most consumer purchases are done the conventional way, so there's still a lot of growth potential there."
Son has a history of using price wars to weaken his competitors. After taking over Japan's third-largest mobile-phone carrier from Vodafone Group in 2006, he grabbed share from his bigger rivals by cutting prices for wireless services and reaching a deal with Apple to become the first Japanese carrier to offer the iPhone. The strategy is again bearing fruit. Yahoo Japan said in a press release that within one day of Son's announcement, it received 10,000 applications from retailers. "Rakuten is really squeezed from Amazon on one side and SoftBank on the other," says Fasol.
The one player unlikely to be bloodied in this fight is Amazon. It gets the bulk of its revenue in Japan from sales of merchandise it stocks, rather than from vendors.
Before it's here, it's on the Bloomberg Terminal.
LEARN MORE