pursuits
How Chipotle's DJ, Chris Golub, Creates His Playlists
Meet the music obsessive who makes his living choosing songs for Chipotle
By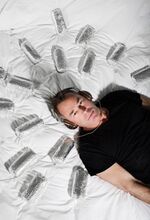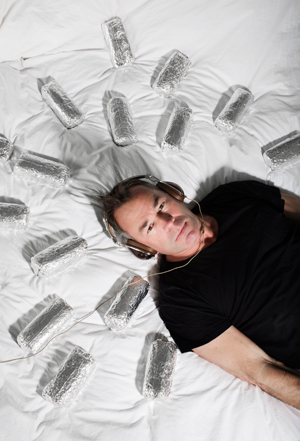 Chris Golub sits in a Chipotle on Eighth Avenue in Manhattan, staring at strangers as they chew. "I see two head bobbers, that's pretty good," he says, pointing to a guy eating a taco salad and another waiting in line to order. He scribbles the observations in a notebook next to a list of artists whose music he's considering for the in-store playlist. So far, hip-hop producer Apollo Brown and Riot Grrrl pioneer Kathleen Hanna's band, the Julie Ruin, are getting the most head bobs and toe taps. He notes which tracks need their volume levels tweaked and which might be better suited to a different time of day and decides to eliminate one dreamy electronica tune that drones on forever.
As the founder and sole employee of Studio Orca, Golub creates customized playlists for restaurants tired of putting their dining atmosphere in the hands of Pandora or Sirius XM Radio. His job consists of researching music, discovering bands, and asking questions such as, "Would you rather hear folky banjo music or classic Motown as you eat your steak burrito bowl?"
Golub, 48, wears leather bracelets and shark-tooth necklaces and spent his early twenties spinning records at a Jersey Shore hip-hop club. He's also a certified sommelier who once owned a wine bar in Denver, where Chipotle has its headquarters. In 1998, Golub befriended the chain's founder and co-chief executive officer, Steve Ells, at a Denver food and wine event. Through Ells, he's made a number of high-profile friends, which is how he once found himself explaining the term "yacht rock" to Starbucks CEO Howard Schultz. "I told him it's calming rock, like Steely Dan, Toto—it was funny, because these guys are people who actually have yachts."
By 2010, Golub was deep into what he calls his "dreadlock phase," surfing in Costa Rica, when Ells approached him, saying he didn't like the music at Chipotle. "At the time, it was mostly blues and classic rock—fine stuff, but you'd heard it everywhere," Golub says. The chain was in the middle of updating its stores to feel more modern, and Ells asked his friend to select songs that fit the new look. Golub realized that acoustics were the main problem. "There are a lot of hard surfaces—windows, metal, wood—and sound really bounces off of them," he says. "You need something with a warm tonality, where it sounds like the mic is down the singer's throat." He made a mix of a few dozen songs, one of which was a remix of Whoever You Are by the 1990s one-hit-wonder band Geggy Tah. Ells loved it and asked Golub to program the music in all of his stores.
"We could've just piped in some satellite radio. It would've been cheaper," says Chris Arnold, Chipotle's spokesman. "But if you're creating a restaurant, you need the right atmosphere. We're sticklers for detail. We wanted something that belonged just to us." With Golub, Chipotle is doing something few restaurants, even high-end ones, have tried. "It's surprising how many Michelin-starred restaurants don't even think of music at all," says Charles Spence, who studies the relationship between sound and taste at Oxford University's Crossmodal Research Laboratory. Most eateries play music, but Spence says they rarely advance beyond simple, jazz-in-a-coffee-shop, oldies-in-a-burger-joint tropes. "It's a shame, really," he says. "There are studies that show music with higher BPMs [beats per minute] causes people to eat faster, and if you play classical music in a wine store, people will buy more expensive wine." Music can affect everything from perceived enjoyment of food—a 2012 Cornell University study found soft music and more formal ambience made people think the food at Hardee's was tastier—to the amount consumed. A 2008 study at the Université de Bretagne-Sud in France said loud music in bars makes people drink more.
Music's also an easy way for companies to appear hip. Urban Outfitters sells indie music and reviews albums on its website. Whole Foods Market just started selling vinyl albums at select locations in Southern California, and Converse has its own recording studio. The most famous example is Starbucks, which in 1999 bought music retailer Hear Music for $10 million and began curating its own compilation discs and releasing albums by artists such as Joni Mitchell and Paul McCartney. "Creating your own identity through music is really an emerging practice," says Eli Mishkin, whose firm, BrandJuice, focuses on audio branding. "We talk to companies all the time that say, 'Wow, we haven't even thought about this.' "
Golub runs Studio Orca out of his spacious apartment in a Brooklyn high-rise. There he spends 8 to 10 hours a day researching music for Chipotle, which lets him play anything he wants. "I'm looking for songs that make you want to dance around your kitchen in your socks and underwear before you've even had your second cup of coffee," he says. "Not many songs can do that." Golub listens to about 500 songs before he finds one that will work.

Chipotle's 1,500 stores all play the same music. "The lunch and dinner rush have songs with higher BPMs because they need to keep the customers moving," Golub says. Four times a month he loads up his iPod with 15 to 20 new tracks and goes to a restaurant in Manhattan's Chelsea neighborhood to see how they sound in the store. He checks to make sure the artists he's selected have record deals; they have to get their music copyrighted before Chipotle will play it. Once a month he sends the updated list to Mood Media, formerly known as Muzak, which then streams the mix over the online service Rdio and into every Chipotle store.
Thanks to Golub, Chipotle has gained some music cred. There's a Facebook page called the Music Played at Chipotle, where people can ask for help identifying the restaurant's songs. The company obliges when it can or forwards the questions to Golub. "Looking for a song, sounds sorta like reggae, but the main lyric sounds like 'Jelloooooo,' " a woman named Emily posted in June. (The answer: Jah Love by Anthony Johnson.) Golub once helped a man track down a song his girlfriend heard at Chipotle so he could use it when he proposed to her.
The company won't say how much it pays Golub for his services, but it's enough to make it his full-time job. Although Studio Orca does have other clients, Golub's exhaustive curatorial methods have kept him from taking on other Chipotle-size customers. "I have companies with revenues from $500,000 to $5 billion a year asking me to do their music for them, but I've had to say no because I'm just one person," he says. He recently decided to start hiring other people and is taking on another national chain, though he declines to say which one. "Let's just say they have 1,600 locations and an outdated image that they're trying to change," Golub says. "When they called, I thought, 'Dude, no way. You have bicycles on your walls.' " He came around. "If I can get one person to start dancing in a restaurant, to get into a song they've never heard before, then I've done my job."
Before it's here, it's on the Bloomberg Terminal.
LEARN MORE